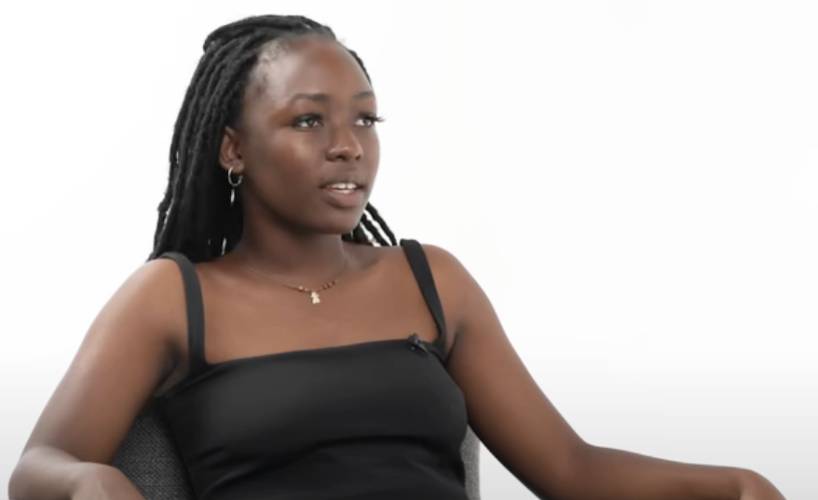 Kenyan comedienne Elsa Majimbo has rubbed a section of Kenyans on Twitter the wrong way.
It is out in the open that the 19-year-old prefers being linked to South Africa than her native country, Kenya.
She has, in the past, accused Kenyans of cyber-bullying and rubbishing her talent.
Due to her opinion on Kenyans, the teenager, who has the South African flag on her Twitter username, has created virtual enemies with several online users, who accuse her of being unpatriotic.
Majimbo on May 25 reiterated her stance on Kenyans – that some of them are a bunch of cyberbullies.
Speaking to Saudi Arabian entrepreneur and online content creator, Anas Bukhash, Majimbo suggested racism, even at its smallest degree, is being exercised in Kenya.
"Anyone who is light-skinned will always be treated better [in Kenya]," she said, when asked whether she has been a victim of racism or cyberbullying.
On how deeply entrenched the vices are, she said: "I have a very bad relationship with Nairobi. I think I have faced a lot of bullying there. [While growing up], it seemed like everyone in the city was against me. So, I have a home in South Africa, and I am really glad I do. I feel safe there; Kenya is not that place," she said.
The above comments landed Majimbo in trouble with a section of Kenyans.
The critics took issue with how Majimbo markets Kenya when she's given an international platform.
A Twitter user, whose name is Yano (@_Yanoh), said: "Elsa Majimbo felt like the whole city of Nairobi was against her because of her skin colour (adds laughing face emoji). You might think Nairobi is some city in Europe where black people are a minority."
Lawyer Cliff Ombeta, (@OmbetaC), said: "Elsa Majimbo, umetuchomea (you have ruined our reputation as Kenyans). You have chosen smoke screens over truth? Fame over reality?"
Another Twitter user, FETTY WAPI? (@am_mathenge), said: "How dark is Elsa Majimbo to be racially abused by fellow black people? (Adds rolling on the floor emoji). I Wonder!"
Twitter user Victor Rop, whose handle is @VictorRopK, said: "I don't know Elsa Majimbo personally nor do I have a problem with whatever she does, but on this particular interview, I think she's being narcissistic. We have our problems as Kenya, but I'd feel safer here."
Another online user whose Twitter name is Kenyan soon to be South African, (@mu__nga), joked: "I can't wait to be successful and deny Kenya like Elsa mMajimbo. South Africa are you ready for me?"
In her characteristic comedy, Majimbo usually records herself on video while holding a bag of chips in one hand and her sunglasses in the other as she cracks jokes, complementing the production with animated laughter.
She rose to fame in the Covid-19 pandemic era. She has since bagged a number of interviews with both local and international media platforms, where she has emphasised her approval for her South African audiences over her Kenyan followers.
In November, Majimbo won 2020 People's Choice Award by E! in the African Social Star category.
The award came after the 19-year-old took social media by storm after sharing a hilarious video of how the Covi-19 lockdown had actually given her an opportunity to avoid seeing people.
As part of her continuous global marketing, she was recently – on May 25 – interviewed by Saudi Arabian YouTube content creator Anas Bukhash, who sought to know Majimbo's journey to the top of comedy.
It was in the hour-long interview, posted to YouTube on May 25, that Majimbo said she was aware of the hate she receives from Kenyans.
Anas Bukhash's YouTube show #ABtalks shines the spotlight on celebrities, influencers, and achievers.
"Each guest is known for being an inspiration and for being influential as experts in their respective fields," says Bukhash on his YouTube page profile.
Related Topics