When the head of Athletics Integrity Unit (AIU) Brett Clothier recently toured Kenya on a fact-finding mission, athletes told him why there was a need to tighten the noose on cheats and persons aiding doping in the country known globally as the powerhouse of the sport.
Athletes were pensive, but candid in their remarks. On the other hand, Clothier listened as sportsmen and women said what they felt should be done to get Kenya out of the doping watch list.
Clothier chose to listen to athletes based in Eldoret, Kapsabet and Iten – the country's bedrock of athletics talent.
The athletes poured their hearts out to the AIU Chief Executive Officer (CEO) and top Athletics Kenya (AK) officials about their experiences in the war against doping, the menace that has soiled Kenya's image on the global stage.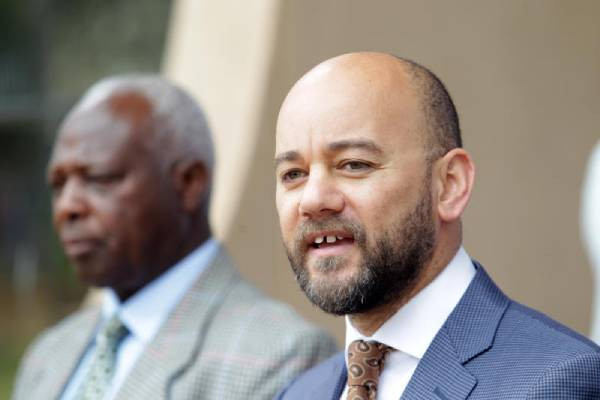 Airport reception
Some athletes and federation officials said that the song and dance that characterize athletes' reception at the airports after winning major city races are hushed today because of doubts about whether an athlete won clean or doped.
AK Central Rift chairman Abraham Mutai told AIU and the federation that he has since stopped going to the airport for celebrations whenever an athlete was jetting into the country after exploits in races staged in foreign countries because he feared whether the celebrated athlete was 'clean' or not.
"I stopped going to the airport to receive and celebrate with athletes who have their races in international competitions because it is embarrassing to read the news of the same athlete you celebrated on arrival to the country having been found to have doped," Mutai said in his remarks.
The AK regional chairman went ahead to say: "Bad news of athletes I have celebrated at the airport for impressive results have hit me severally forcing me to put to end celebrations at the point of entry. It is that bad. You ask yourself what if the athlete you want to celebrate is not clean?"
He asked AIU to work closely with the Anti-Doping Agency of Kenya (Adak) and AK to step intelligence in the war against doping the doping menace. He said intelligence on doping should be gathered at the training bases.
"We are ready to give intelligence to AIU, but make whistleblowing channels simple for athletes and support personnel," Mutai added.
Three-time world 1500m champion Asbel Kiprop who completed his four-year doping ban early last year said before the AIU boss that he had again been caught up in a hereabout trouble with doping control officers (DCO), reiterating that he was innocently accused of doping.
Doping control
He allegedly tested positive for banned Erythropoietin (EPO) in 2018. He said the one-hour period given for athletes to avail themselves for testing in the whereabouts rule was inadequate for sportsmen to meet doping control officers for sample collection.
"Last month, the doping control officers came to check my whereabouts in Iten and at the time I had gone to Eldoret. When they called, I rushed to Iten and gave my sample of urine and blood 15 minutes later. I have now received an email from ADAK notifying me that a missed test had been recorded against me," Kiprop revealed in Iten.
He added: "The one-hour period is challenging because you don't know when the DCO comes. We also have our own negligence as athletes because sometimes we forget to log into the whereabouts system. You delayed a little bit and we found that DCOs have arrived in your location. What we do is that we run to the DCO and not away from them. You have arrived seven minutes or so later, and they go ahead to record a missed test against you despite your effort to reach them."
The AIU boss maintained that the whereabouts rules should be followed if the war against doping should be fought vigorously.
Marathon record holder Eliud Kipchoge said athletes attended anti-doping workshops for allowances and called for a change of tack in the manner in which sportsmen and women were being trained.
"There was a time I requested AK to allow me to address athletes in the anti-doping training but I did not get any request. What you (AK and ADAK) have been teaching does not get into the minds of athletes. We need to teach athletes more about integrity," Kipchoge said.
Related Topics