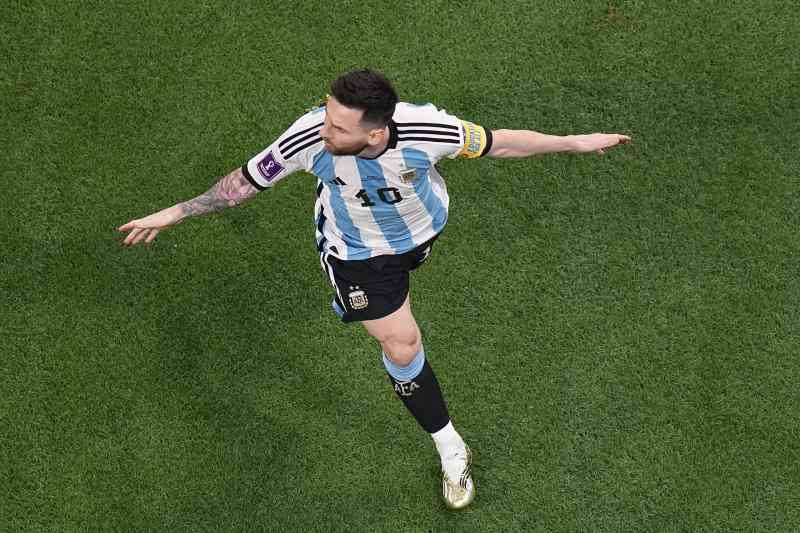 Lionel Messi marked his 1,000th professional game with his first goal in the knockout stage of a World Cup, leading Argentina into the quarterfinals with a 2-1 win over Australia on Saturday.
With a flourish of his famous left foot in the 34th minute, Messi put Argentina ahead with his third goal at this year's tournament and ninth in total at the World Cup - one more than Diego Maradona.
Julian Alvarez pounced on a heavy touch by Australia goalkeeper Mathew Ryan to tap into an empty net for the second goal as Argentina set up a meeting with the Netherlands in the quarterfinals.
Australia scored a 77th-minute consolation goal when Craig Goodwin's shot deflected into the net off Argentina midfielder Enzo Fernandez.
For Australia's squad of unheralded players, it was a match too far at a World Cup in which the team has exceeded expectations by reaching the knockout stage for only the second time. Australia also lost in the last 16 in 2006, to eventual champion Italy.
Maybe it's an omen for Argentina, which has fully recovered from its shocking loss to Saudi Arabia in its opening group match and won three straight games.
As for Messi, he now has 789 goals in a career that might yet reach a crescendo on Dec. 18 by winning the soccer's biggest trophy in his fifth and likely last World Cup.
Meanwhile, Memphis Depay and Daley Blind scored in the first half and Denzel Dumfries added a late goal as the Netherlands eliminated the United States from the World Cup with a 3-1 victory yesterday that advanced the Dutch to the quarterfinals.
Second-half substitute Haji Wright cut the U.S. deficit to 2-1 in the 76th minute when Christian Pulisic's cross hit his trailing foot and popped over goalkeeper Andries Noppert and into the net.
But Dumfries, who assisted on the first two goals, scored on a volley in the 81st.
Runners-up in 1974, 1978 and 2010, the Oranje extended their unbeaten streak to 19 games and face Argentina or Australia on Friday.
It was a disappointing end for a rebuilt U.S. team hoping to advance past the round of 16 for the first time since 2002. Using the second-youngest squad in the tournament, the Americans achieved the bare minimum to consider the World Cup a success, beating Iran in their group-stage finale to reach the knockout round.
But just like in 2010 against Ghana and 2014 against Belgium, the United States was eliminated in the round of 16. The Americans are winless in 12 games against European opponents at the World Cup since 2002, losing six, and are 1-7 during the tournament's knockout rounds.
Pulisic, playing four days after getting hurt during his game-winning goal against Iran, had a chance to put the United States ahead in the third minute.
Related Topics