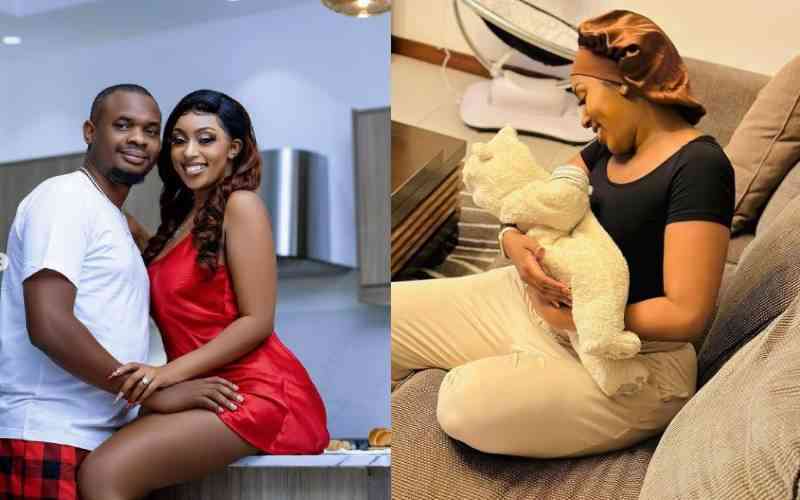 Social media sensation, Amber Ray, captivated her followers once again as she took to her Instagram stories to share a deeply personal and heartwarming moment.
In a post, Amber Ray provided a glimpse into the beautiful bond between her partner and baby daddy, Kennedy Rapudo, and their newborn daughter.
Amber Ray shared a touching video that showcased the tender act of Kennedy washing their baby girl.
The heartfelt moment depicted Kennedy's active involvement in caring for their little one, defying cultural expectations and embracing his role as a loving father.
The video served as a testament to their shared commitment to parenting and shattered stereotypes that confined childcare duties to women alone.
Accompanying the video, Amber Ray poured her heart out in a caption that resonated with her followers.
She expressed her profound gratitude for Kennedy's willingness to challenge societal norms and actively participate in childcare responsibilities that were once considered taboo.
She shared the challenges she faced with her previous Kikuyu partner, who adhered to traditional beliefs that restricted certain tasks to women only.
However, Amber Ray joyfully celebrated Kennedy's break from these outdated norms and wholeheartedly embracing his role as a hands-on father.
In her own words, she shared, "My Kikuyu baby daddy, it used to be a big taboo, saying 'those are women's duties, my culture doesn't allow it.'
"And during that time, without any househelp, I would get tired from fetching water, washing clothes (nappies), cooking, and still staying awake all night to care for the baby. So, my dear friends, this is truly one of my answered prayers."
Amber Ray and Kennedy Rapudo welcomed their precious baby girl, Africanah, into the world on May 15.
To announce this special moment, Amber Ray shared a touching video on her Instagram page, accompanied by the soul-stirring melody of "Sweet Love" by Wahu.
Related Topics