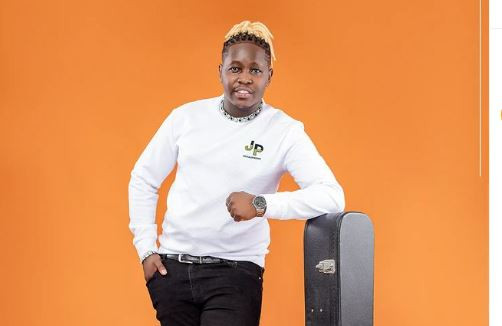 Mugithi singer DJ Fatxo has expressed concerns about his personal safety, alleging that his life is in danger just days after being cleared of any involvement in the mysterious death of Jeff Mwathi by detectives.
The artist recently faced a distressing incident when he was denied access to his own house, a video of which circulated on social media. Accompanied by his friends, DJ Fatxo attempted to enter his apartment but was denied entry.
In an interview, DJ Fatxo expressed his frustration with the ongoing conflict and claimed that his life was being threatened as he was unjustly kept out of his house from 7:00 pm to midnight.
He stated, "I'm tired of all this conflict. I'm a God-fearing person. We have a law, and I think when it gets to this point, somebody should be guided. I don't want all this drama. I feel my life is threatened and still somebody is keeping me out of my house from 7:00 pm to midnight. It is not fair."
According to Duncan Okatch, the lawyer representing DJ Fatxo, the artist was cleared of any suspicion or criminal involvement in the death of Jeff Mwathi as investigations failed to provide any evidence linking him to the incident.
The lawyer stated, "It is clear that there is no single shred or iota of evidence to suggest any remote criminal culpability by our client or suspicion thereof. In fact, it is very clear that our client was not even at his house at the material time that his friend, Jeff Mwathi met his death."
However, the family of the deceased rejected the investigation's findings and alleged that DJ Fatxo may have collaborated with the investigators to evade justice.
Recently, DJ Fatxo took to his social media platforms to express gratitude to the Directorate of Criminal Investigations (DCI) after being cleared of suspicion in Jeff Mwathi's death.
In a statement provided by his lawyer, he addressed his fans, followers, and the general public, offering his condolences to Jeff's family and friends as well as anyone affected by the situation.
DJ Fatxo sought to clear his name and reassure everyone that he had been found not guilty after thorough investigations by the DCI detectives and the Office of the Director of Public Prosecutions (ODPP).
He said, "I also want to take this opportunity to clear my name and to assure you all that I have been found not guilty after thorough investigations by the DCI detectives and the ODPP."
He acknowledged that some individuals may still be experiencing anger, frustration, and disappointment and urged everyone not to jump to conclusions or engage in cyberbullying based on mere accusations or hearsay stories.
He shared, "As many of you know, I have gone through a very difficult period both emotionally and physically, and I know firsthand how damaging and hurtful it can be to be on the receiving end of false accusations and cyberbullying."
Related Topics