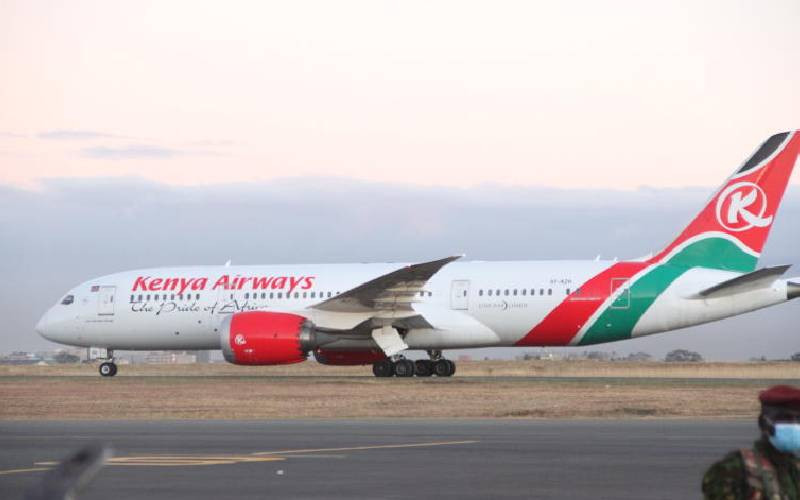 Kenya Airways and South African Airways are expected to launch their much anticipated Pan African carrier by the end of next year.
The two carriers hope to have emerged from their loss-making ways. They have also concluded their restructuring processes.
Allan Kilavuka, CEO, Kenya Airways on Monday explained that the plan to consolidate operations with SAA is phased and the two companies have completed their first phase that entailed increased cooperation, including the code share agreement signed in July last year.
It is now moving to the next step that will include getting exemption from clauses of competition laws that could hamper their planned union. This will then give way to the formation of the continental aviation body by end of next year.
"Our estimate is that the Pan African Airline Group will be live either towards end of 2024 or at the very latest in early 2025," said Mr Kilavuka. The carrier announced its worst ever loss of Sh38.2 billion.
"We had three phases - the first phase involved increasing cooperation. Phase two aims at deepening cooperation including a joint venture and seek immunization when it comes to anti-competitive behaviour; also improve the balance sheets of the two airlines so that when consolidation happens, you have two healthy airlines supporting each other."
He continued: "the last phase will be the setting up of the Pan African Airline Group and restructuring the ownership of these airlines to point to this group. That can only happen after the clean-up of the balance sheets which is going to happen between now and 2024."
The two airlines have reported losses over the last decade, which has led some critics to discredit the planned consolidation.
KQ said while there were challenges last year, it fared well and the loss to high cost of fuel and foreign exchange losses. The carrier on said a one-off transaction in 2022 led to a forex loss of Sh18 billion.
The transaction was in relation to the government's takeover of a dollar denominated loan that it had guaranteed and on conversion of this to local currency, the carrier had to book the difference in its profit and loss account. This saw finance costs increase by Sh23 billion.
Kilavuka noted that KQ was "a profitable business" last year were it not for the headwinds especially the high fuel costs and the higher finance costs occasioned by the forex loss.
Revenues grew 66 per cent to Sh116.79 billion over the period, up from Sh70.22 billion in 2021, while operating losses reduced to Sh5.6 billion from Sh6.8 billion in 2021.
"We are going to be in a positive position in 2024. It is not going to be significant but it is going to be positive. It is the first step of having a sustainable and efficient airline," he said.
He added that KQ is nearing completion of its restructuring, having concluded optimisation of its fleet and network. Among the outstanding issues include the balance sheet restructuring, which Kilavuka noted had partly been addressed when the government took over the dollar denominated loan as well as renegotiation of some aircraft leases.
"We are also at the tail end of competing our aircraft lease restructuring. We have finished 90 per cent of restructuring those leases. There is one or two aircraft which we are in the process of doing and then we will be done with that area," he said.
This is even as it readies to wean itself off relying on government support, which has said it does not intend to continue giving money to the carrier by end of this year.
SAA, which like KQ has been making losses for the last decade, has been undertaking its own restructuring that has seen it significantly reduce staff levels as well as its fleet.
The carrier had ceased all operations in March 2020 as it struggled to stay afloat amid crippling debts. It resumed operations in September 2021 with the government deciding and is currently scaling up operations, including resumption of long haul flights.
It had been placed under business rescue - a form of bankruptcy protection - in December 2021 and exited in May 2021 after government agreed on a bailout to the tune of 3.5 billion South African rand (Sh24.5 billion) to settle some debts.
The government has since released one billion rand (Sh7 billion). The carrier in February said following improved performance in the course of 2022, the total amount it needs from the South African government had reduced to 2.6 billion Rand (Sh18.2 billion).
KQ and SAA will be the anchor carriers in the Pan African Airline Group and are expected to recruit more airlines.
While the two are yet to make clear the details of the pan African carrier, KQ said it will take the form of a holding company that will have shares in the airlines.
The holding company will also take care of joint activities of the airlines such as training, repair and maintenance of aircraft. Each airline will however continue to operate on its own.
Related Topics