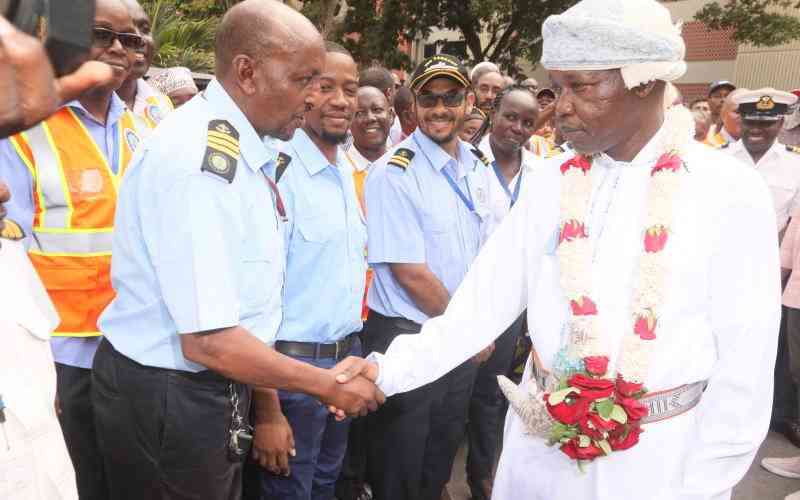 As the new Kenya Ports Authority (KPA) managing director settles in his office after receiving a rousing welcome by port workers, he has a huge task ahead.
Captain William Kipkemboi Ruto has committed to tackle long-standing staff grievances, pay attention to business community, oversee the building of a key berth to serve the multi-billion shilling Dongo Kundu special economic zone and market Lamu Port to make it viable.
Ruto is the fifth KPA managing director. He is the first substantive boss in the last three years after the exit of Daniel Manduku.
Rashid Salim handed over the mantle to John Mwangemi a year ago who last week on Monday ushered in Ruto to the port where the turnover of chief executives has been high.
Port workers were excited to have a KPA insider take over the ports and hoped he would understand and tackle their grievances.
Dock Workers Union General Secretary Simon Sang said port workers want payment of the annual bonus which KPA management has skipped for two years.
They also want management to revert to the old system of paying workers overtime and abolish the new medical scheme which has a limit that has seen workers removed from hospital beds in critical condition after exhausting the amount allocated to them.
The new scheme has been on trial from January 1 this year; this was to continue for six months.
The workers want the new KPA management to revert to the old medical scheme which had no limit when workers are admitted to hospitals.
At same time, port workers have rejected the overtime pay that has been capped to 30 per cent of each worker's basic monthly salary and want it reverted to the old system where all overtime hours are paid in full.
The workers also want the MD to address overdue promotion of 700 employees who have worked on an acting capacity for many years.
Productivity bonus
"We want the productivity bonus to be reviewed. We want him to agree that overtime should not be less than 128 days as is being done for port workers in Tanzania," said Sang.
But in his address Ruto challenged the workers to improve their performance and desist from absenteeism so that KPA can raise more revenue to reward them.
"As we journey together, I need to remind you that we are a lifeline of the economies of the region and we cannot afford to lose focus and the big picture. I believe in your outstanding skills and talents so let us put our energy in full gear," said Ruto.
According to stakeholders, the image of the port was dented following confusion over where the cargo which had landed at Mombasa port should be cleared.
Kenya International Freight Warehousing Association (Kifwa) national chairman Roy Mwanthi said the confusion made several port users to shift to ports such as Dar es Salaam and Djibouti which should have not been the case.
"What we want from the new MD is the streamlining of operations at the port so that there is smooth cargo clearance and efficiency," said Mwanthi.
Sang said KPA want the new MD to have all labour cases pending before court withdrawn so that those who have been acting are confirmed and others promoted.
"All labour related cases must all be withdrawn and balanced joint industrial council reconstituted to deal with the cases currently pending before courts which were caused by HR department," said Sang.
"Ruto is a down to earth worker who loves working with the lowest rank in the port."
Sang concurred with workers who celebrated the elevation of Ruto by the board of directors under the chairmanship of Benjamin Tayari.
The port workers celebrated Ruto's appointment. As an insider, he had worked as general manager for operations before he was posted to head the Kisumu Port.
"We are happy as workers. One of our own who has seen reforms in the port since they started being implemented has been elevated.
"He is the most qualified employee after he demonstrated sterling performance during the first year of the Standard Gauge Railway implementation when meeting the target was unachievable," said Sang.
Ruto is a seasoned mariner who has practiced and worked in private and public sector. He has worked in the maritime sector for 30 years.
He trained as a cadet Marine Deck officer between 1991 and 1998 when he was employed by KPA as Deck Officer Trainee Pilot.
Upon his employment at KPA, he was granted permission to continue his sea training until 2001 when he completed his seatime training and attained the highest qualification as a ship captain 1 Master Mariner from the UK.
Related Topics