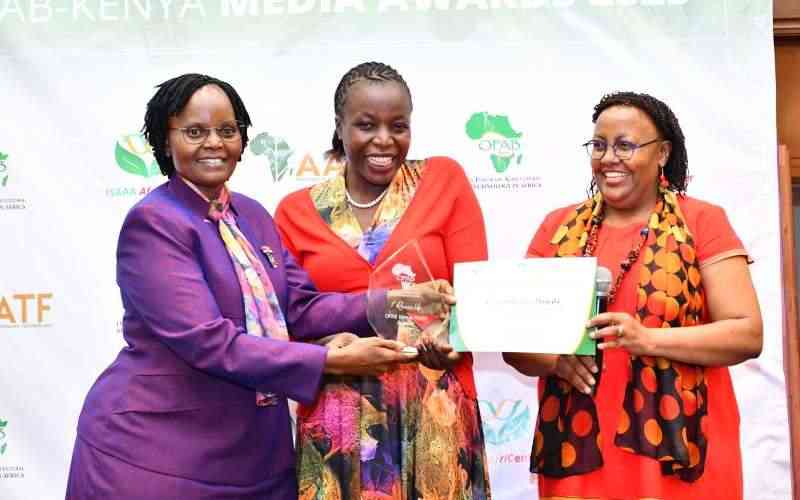 A Standard Group Plc science editor is among the journalists who were feted for excellence in biotechnology reporting in Kenya.
Hellen Miseda, Editor of The Smart Harvest, a weekly agribusiness pullout, is among the top three journalists feted for excellence in this year's Open Forum on Agricultural Biotechnology (OFAB) Media Awards Kenya Chapter.
Miseda scooped the first runners-up award in the awards ceremony that was held at Serena Hotel on Friday evening. Thousands of journalists across Kenya submitted their articles for the awards.
She was recognized for her contribution to creating awareness of agricultural biotechnology in a bid to fight misinformation. Miseda won under the print category after presenting three articles namely. The articles are about decades and depths of research Kenya has invested in developing GMO crops, Numbers do not lie: Harsh realities that forced Kenya to go GMO way and 'Fear not! GMO is just a tool of farming.'
Speaking at the gala, OFAB-Kenya Chairperson Dr Margaret Karembu urged the government to enact policies that support advancement in bioscience research and development.
"Let's embrace scientific innovations to enable the transformation of Africa's agriculture, into an efficient and competitive enterprise,'' Karembu said. "Let it be a wake-up call to our country to invest more in science, technology, and innovation to combat challenges such as disease epidemics, drought, and food insecurity."
An elated Miseda thanked God for the win and The Standard for giving her a platform to tell stories on agricultural biotechnology.
"I am humbled and must thank my employer for the platform to educate the public on agricultural biotechnology," said Miseda. The Nation Media Group's Brygettes Ngana was named the overall winner while Sammy Waweru was the second runners-up.
The three journalists have been invited to a bigger gala event for journalists in Africa.
Ms Miseda is also a finalist for the African Journalism Excellence Awards under the Environment and Climate Change category.
Related Topics