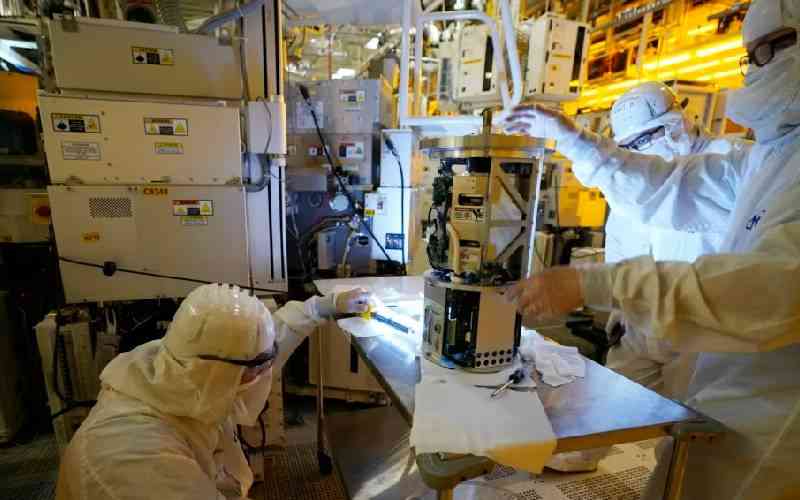 Just after the G7 Hiroshima Summit ended, China's Cyberspace Administration of China, or CAC, issued a statement requesting that "operators of critical information infrastructures in China should stop purchasing products made by Micron Technology" due to "national security risks."
The U.S. Department of Commerce dismissed the ban issued Sunday as "unsubstantiated," while Micron, the biggest U.S. memory chipmaker, said in a written statement, "We have received CAC's notice. … We are evaluating the conclusion and assessing our next steps. We look forward to continuing to engage in discussions with Chinese authorities."
VOA Mandarin's email requesting Micron's comments on whether it will appeal China's decision or consult with the U.S. government went unanswered as of the press time.
The news of China's decision to block Micron after nearly two months of investigation came as a shock to the foreign business community in China. The company is the first U.S. chipmaker to be targeted by Beijing after Washington in October placed export controls on some American-made components and tools for chipmaking to prevent them from being used to expand China's military capabilities.
China's Micron Ban Revives US Trade Tensions, Fuels Asian Chip Rally
Michael Hart, president of the Beijing-based American Chamber of Commerce in China (AmCham China), said in a written response to VOA Mandarin on Monday that U.S. businesses are worried about being the next target of China's security review.
Hart said in his emailed reply, "Our members are asking us two things: will they be targeted because they are American, and how can they ensure they remain compliant in a business environment that appears to be increasingly influenced by national security concerns?"
This image from CCTV video shows the name of Capvision at its Shanghai offices. Chinese intelligence officials raided Capvision locations in several cities May 8, 2023, as part of a crackdown on foreign businesses that provide sensitive economic data.
Representatives of AmCham China expressed concerns about the Micron case in late April. When asked about the case at a video news conference on April 26, Lester Ross, chairman of the Chamber's policy committee, said that China's "taking action against particular foreign individuals or companies…It is a major concern because China lacks transparency in many dimensions in law and policies. In the absence of data and real evidence showing that Micron's products are understood as an example is of particular vulnerability to China."
He said "it is a concern on the part of other companies, in other industries as well that they could suddenly be singled out without any clear evidence being presented on the basis of unclear suspicions [and] that their ability to do business…will be jeopardized and their investment will go away."
Hart said at the same news conference that China was traditionally known for its "predictable investment environment, whether that be predictable rules and places to invest." But recent Chamber polls show that U.S. businesses are less comfortable with the predictability. The uncertainty comes from both last year's COVID controls and China's increasing security probes.
In this image taken from video, Chinese Premier Li Qiang speaks at the opening ceremony of the Boao Forum for Asia in Boao in southern China's Hainan Province, March 30, 2023.
European businesses also worry
European companies in China are also worried, especially about the possible impact on the semiconductor supply chain.
Jörg Wuttke, president of the European Union Chamber of Commerce in China, said in a Monday email response to VOA Mandarin that the chamber issued a report in January 2021 outlining the impact that decoupling will have on company operations. In this regard, he wrote, "geopolitical and COVID 19-releated factors have shone a spotlight on the fragility of global supply chains, including their susceptibility to chip shortages."
As a result, Wuttke said, the Micron case "could potentially add to these [supply chain] pressures."
He said, "European companies operating in China need to closely monitor the situation, evaluate the risk that the U.S.-China technology competition poses to their supply chains, and make contingency plans accordingly."
Founded in 1978 and headquartered in Idaho, Micron is the leading memory chip company in the U.S. and the third-largest memory chipmaker in the world, behind Samsung and SK Hynix in South Korea. Micron's main products are DRAM (dynamic random access memory) and NAND Flash (flash memory). According to the company's 2022 financial report, DRAM accounts for about 73% of total revenue and flash memory accounts for 25%, for 98% of total revenue.
Micron's products are used in cell phones, personal computers and servers. Their components can be found in the automotive, industrial and consumer markets as well. China, the world's biggest semiconductor buyer, has gradually reduced its reliance on foreign-made chips as part of a years-long push to develop self-sufficiency.
Micron has offices in Shanghai, Xi'an and Shenzhen, China, and a test and assembly facility in Xi'an. Because of the U.S.-China trade war, China is no longer Micron's largest market. China revenue has reportedly plummeted from 57% of its global revenue in 2018, or about $17 billion, to 10.8% last year, or about $3.26 billion, according to its 2022 financial report and other reports.
Escalated sanctions
In an interview with VOA Mandarin, Lin Tsung-Nan, a professor at the Department of Electrical Engineering at National Taiwan University in Taipei, said that in the face of the G-7 joint statement on China, Chinese President Xi Jinping must show toughness with nationalistic sentiment to the Chinese people. Externally, based on a confrontational strategy, Xi must also show the democratic and free world that he is capable of imposing sanctions, Lin said.
Ukrainian President Volodymyr Zelenskyy, center, meets with G-7 leaders before a session about Ukraine during the G-7 Summit in Hiroshima, Japan, May 21, 2023.
He said blocking Micron is a geopolitical retaliation, one that hurts China and others. "This is a bit like the 'Seven Wounded Fist' in martial arts novels, which will hurt Micron and of course itself [China]," Lin said. "However, China should have calculated, that is, when it hurt itself, it's not fatal."
According to the Wuxia Fandom Wiki the skill Lin refers to "allows the user to inflict severe internal injuries on his opponent while suffering grave internal injuries at the same time."
He said that even if the ban on Micron hurts the domestic market, the Chinese Communist Party would not hesitate to do this to defend its authority.
In addition, after the Micron ban takes effect, South Korea will likely play an "important but awkward" role, Lin said, explaining that with Micron's exit, South Korea's Samsung and Hynix may take over Micron's market share. This is especially true for Samsung, which has made extensive DRAM production investment in China. Samsung's recent poor sales in China will motivate it to grab the share, Lin said.
Samsung Cutting Memory Chip Production as Profit Slides
Even if Seoul is constrained by Washington's request for South Korean factories not to export supplies to China, the Chinese Communist Party may exert pressure on Samsung's Chinese factories for "secret deals," according to Lin, who added,
"This is Xi's plan to kill two birds with one stone: to show China's assertiveness, and to rope in South Korea, or to divide South Korea and the U.S. on their China stance."
Related Topics