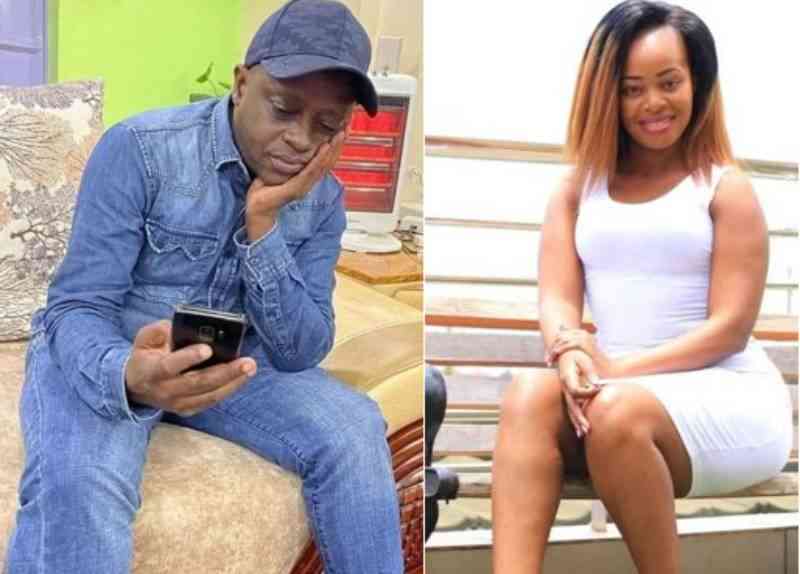 Popular Central region gospel artiste Mary Lincoln's music career is in turmoil after photos of her in her birthday suit emerged online. Blogger Martha Mwihaki Hinga, who is popular for publicising celebrity scandals, shared the nude photos and videos of the musician. Many are still wondering why Lincoln took the photos in the first place, given the risk of them leaking. The faceless Hinga has made a career out of posting anything and everything about celebrities in Mt Kenya region, especially those in the gospel industry.The photos quickly became fodder among social media sites users.
However, it still remains unclear how the blogger got the images and videos that sources claim were taken in an apartment on Kiambu Road. There are speculations about who they were sent to. The leaks triggered a flood of comments online, many wondering how, in this day and age, one could dare to electronically send sensitive personal images.Sources intimated to The Nairobian that her husband, veteran Gikuyu radio presenter Njogu Wa Njoroge, was shocked by the viral images of his second wife. One of her close friends told The Nairobian the incident has resulted in a major storm in her marriage.
She said her man had threatened to repossess his gifts that includes a house and posh ride. Lincoln was a salonist in Nairobi's Gikomba market, before her music career took off, allegedly backed by her celebrity suitor. She is popular for hits like Kururíra hau, Ngacibú, Ndúkaríkanie nanií, Kamúhari, Matukú matanathiathia and Ndúkegerekanie nanií among others.
Njogu is proudly polygamous. Njogu and Mary formalised their union in August 2020 in a wedding that was the talk of town.
Dow on her kneesTheir traditional wedding was attended by top Kikuyu celebrities, among them musician Samidoh and comedian Muthee Kiengei."Nothing you do now can change the past, but I promise you everything you do now will determine your future," Mary captioned one of her photos after the wedding.Theirs is a blended family, with the couple having children from previous relationships.
So tense is the situation that Lincoln was forced to seek divine intervention at the Christian Foundation Fellowship (CFF) church for a repentance and forgiveness prayer. Images of her on her knees, weeping as the clergy prayed for her, were shared online.
"Yes, we went to the Christian Foundation Fellowship church for repentance and forgiveness prayer. Our God is merciful and offers those who repent a second chance to resume service to him," Lincoln told the media.
Neither here nor there
She said the viral footage is "now neither here nor there. What is important is that I am now full of renewed energy to continue ministering and spreading the love of our merciful and forgiving God."
She was accompanied by several artistes who included Karangu wa Muraya, another victim of Hinga who also has been trending online on allegations of taking someone's wife, also a celebrity, for a holiday in Dubai. After the prayers, Lincoln took to her social media accounts and thanked God. "For your love…. Bishop Michael Wanderi and Rev David Mwangi for the prayers…May God bless you," she said.
She thanked fellow entertainers who stood by her in the week the viral videos made waves online, led by Shiru Wa GP, Joyce Irungu, The Bosslady, Karangu wa Muraya, Anne Lawrence, Judie Masila, Wairimu Muchiri "and all my fellow artistes and all friends who have been praying with me."
Mr Muraya said the prayer session was a spiritual re-energising drive. While the media personality has not addressed the viral photos, fans have asked who could have released them and under what circumstances led to that.
Related Topics