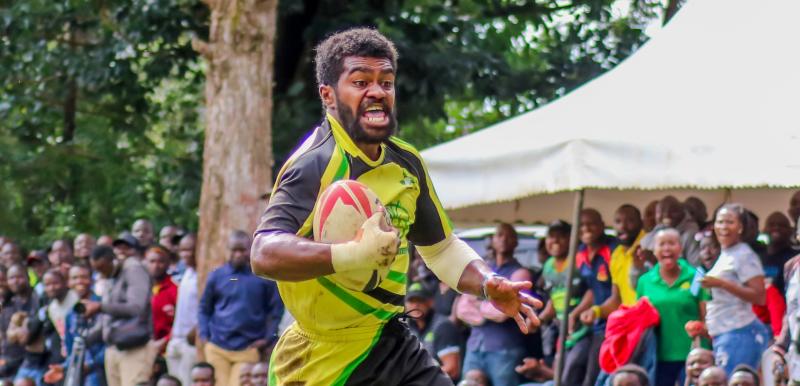 Fijian-born full back Jone Kubu is in contention to feature for Kenya Sevens when the World Rugby Sevens Series resumes for the third and fourth legs in Spain on January 21.
Kubu, who debuted for Kenya last year for the national 15s rugby side Simbas is in Shujaa camp.
Shujaa head coach Innocent Simiyu called up Kubu alongside 26 other players as Kenya seeks to improve on their performance after a slow start to the 2021-2022 season.
Kubu is joined by teammates Derrick Ashihundu and Kevin Wekesa who made his World 7s Series debut in 2021.
Other players called up in the camp Menengai Oilers Timothy Okwemba and John Okoth, Blad's Ernest Kuke, Benson Salem, Arcadius Khwesa, Zedden Marrow, Collins Shikoli and Hannington Wabwire.
Nelson Oyoo, Jeff Oluoch, Bush Mwale, Alvin Otieno, Billy Odhiambo Timothy Mmasi, Herman Humwa, Johnstone Olindi, Mark Kwemoi have all been retained after featuring in the opening legs while Vincent Onyala returns.
Spain will welcome teams for the first time in the World Sevens Series history where Malaga, the first of three new locations on the 2022 Series, will be hosting the opening men's and women's tournaments of the year between January21-23.
The Spanish venues (Malaga and Seville) temporarily replaces traditional hosts Sydney, Australia, and Hamilton, New Zealand who have very strict Covid-19 restrictions not favorable for mass sporting events.
Shujaa are in Pool D and they will battle with France, Canada and Wales in Malaga with the 16 sides set to feature in the tournament. Wales are set to make a return after missing the 2021 Sevens Series and the opening two legs of the 2022 World Sevens Series.
Kenya are eighth in the World Sevens Series standings after registering poor results from the two legs of the Dubai Sevens played last year in United Arabs Emirates.
Shujaa collected 10 points during the first leg where they finished eighth after losing to Ireland in the seven and eight classification match playoffs.
In the Dubai Sevens second leg, Innocent Simiyu's charges registered an improvement where they collected 12 points after thumping USA 29-0 to finish sixth.
Overall, Kenya are eighth in the standings with 22 points after a tough outing that saw them register only three wins out of the 12 matches played across the two legs.
Simiyu is working to build a strong squad that will represent Kenya at the Commonwealth Games in Birmingham.
Shujaa Squad in Camp:
1. Nelson Oyoo (C)- (Top Fry Nakuru), 2. Jeffrey Oluoch – (Homeboyz), 3. Bush Mwale – (Homeboyz), 4. Alvin Marube – (Impala Saracens), 5. Billy Odhiambo – (Mwamba), 6. Johnstone Olindi – (KCB), 7. Alvin Otieno – (KCB), 8. Levi Amunga(KCB), 9. Edmund Anya(Impala Saracens), 10. Antony Omondi(Mwamba), 11. Timothy Mmasi(MMUST), 12. Herman Humwa(Kenya Harlequins), 13. Mark Kwemoi(Menengai Oilers), 14. Collins Shikoli(Homeboyz), 15. Kevin Wekesa(Kabras), 16. Vincent Onyala(KCB), 17. Derrick Ashihundu(Kabras), 18. Ernest Kuke(Blakblad), 19. Zedden Marrow(Homeboyz), 20. Richel Wangila, 21. Benson Salem(Nondies), 22. Arcadius Khwesa(Blakblad), 23. Jone Kubu(Kabras), 24. Hannington Wabwire(Top Fry Nakuru), 25. Daniel Taabu(Mwamba), 26. John Okoth(Menengai Oilers), 27. Timothy Okwemba(Menengai Oilers).
Related Topics