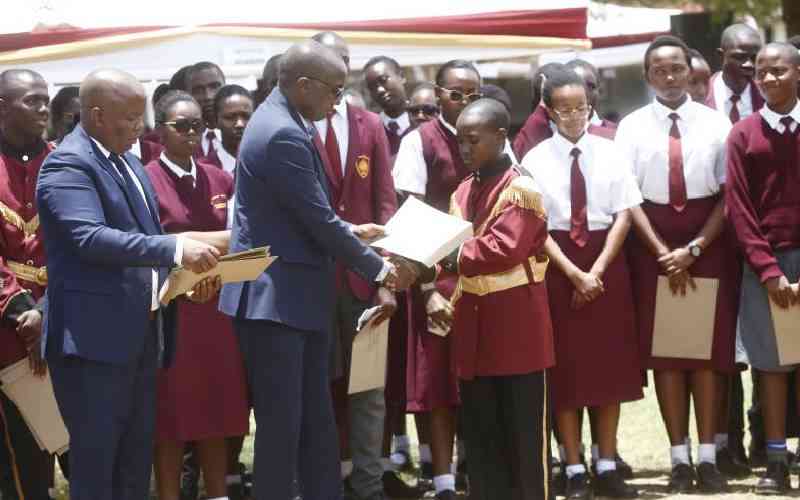 Innovative teaching and use of technology at the peak of the Covid-19 pandemic boosted 2022 KCSE results at Moi High school Kabarak.
The school, which emerged among the top schools with a mean score of 10.13 managed a 99 per cent transition, an improvement from 2021.
The Board of Directors Chairman, Gideon Moi, said that the highly-trained and committed staff, as well as focused and disciplined students, have been the engine behind the outstanding academic excellence at the school over the years.
In a speech read on his behalf by Kabarak University Vice Chancellor Henry Kiplagat during a thanksgiving ceremony at the school yesterday, Mr Moi said consistent excellent performance is a true testimony and a demonstration that despite the pandemic's disruptions, excellence is attainable where there is will.
"The good performance is a clear indicator that despite pandemic disruptions, excellence can be attained where there is a will," said Prof Kiplagat
According to the school chief principal Elisheba Cheruiyot, despite the pandemic disruptions and lack of breaks by the time the schools resumed learning, innovative teaching ways became a life-changer to many learners.
"This was a class that only enjoyed a normal academic calendar for only one year while in Form One. It is interesting that the same class, despite juggling up a year's academic calendar within six months when schools resumed, actually excelled and improved the school's mean grade from the previous year," Elisheba said.
She noted that the 2022 KCSE exam results reflected the hard work and adoption of technologies where some classes were being conducted online.
"These results reflect what dedication and hard work births. It did not matter what challenge there was or how little time they had but our 2022 candidates recorded an improved mean grade of 10.13, an improvement from 2021," Elisheba said.
Eunice Moi, a representative from the late former President Daniel Moi's family said that the collective efforts by both teaching and non-teaching staff have contributed to the success of the students.
"Over the years, the school has defended its position among top academic giants that molds morally upright students. We are proud of these achievements," Eunice said.
Nakuru deputy governor David Kones said the institution has been consistent in performance and discipline in the country and has cut its own niche in the education sector.
Related Topics