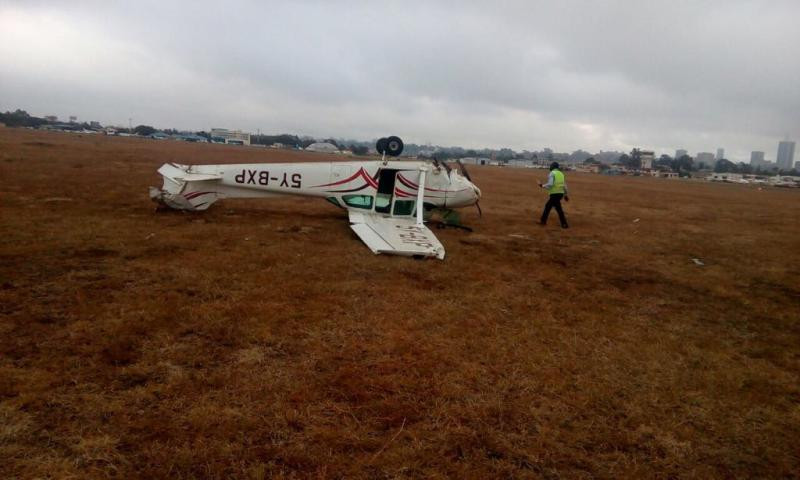 A 17-year-old boy has been arrested after he crashed a light aircraft he had illegally accessed at a ranch in Gilgil, Nakuru County.
According to a police report seen by The Standard and corroborated by a senior police officer, the minor trespassed into the property.
Peter White, the ranch owner where the Piper aircraft registration number 5Y-AZA was parked, reported the matter at Gilgil Police Station vide OB number 28/24/03/2023.
"At around 9:30 am, a stranger male juvenile (name withheld) aged about 17 years, walked into the ranch and boarded into the cabin of the aircraft parked at the yard," the report read.
While it remains unclear on the boy's familiarity with the plane used to dust crops with chemicals at the ranch, he was able to start off the engine and taxi it ready for takeoff.
"The juvenile started the engine and taxied the plane but was unable to take off. He hit the edge of a live fence and the engine went off on impact."
According to the police report, the plane's propeller and a section of its front were damaged upon impact but the suspect whose intentions were not immediately established escaped unhurt.
"The suspect is in police custody and is aiding investigations. The scene was processed by crime scene personnel from Naivasha. The motive of the incident is still unknown," the report indicated.
Gilgil is among areas in Nakuru County with ranches producing various horticultural products most of which are sold outside Kenya.
Efforts to reach Gilgil Sub County Police Commander Francis Tumbo and Nakuru County Police Commander Zack Kimani were futile as calls went unanswered.
Related Topics