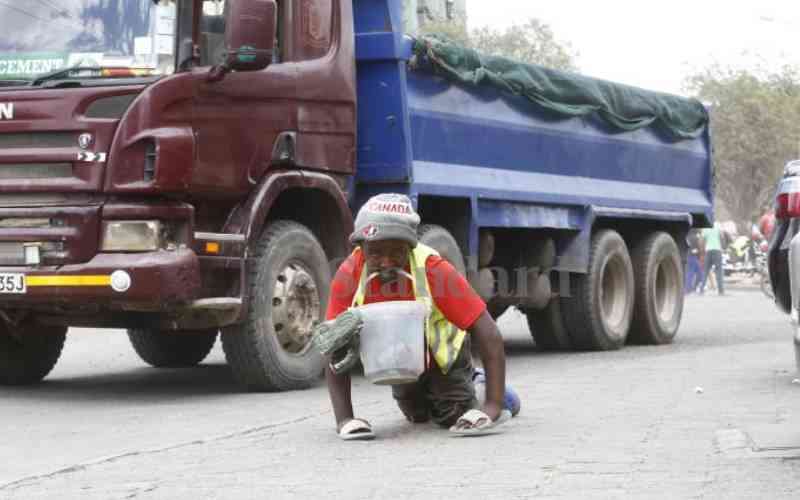 Samuel Mwangi, 30, crawls along Kenyatta Avenue, Nakuru town, dragging his feeble feet while holding a bucket full of groundnuts and candies.
He stops to serve a customer, who picks a packed groundnut and three sweets from the bucket and replaces them with Sh60.
This is the new life Mwangi has been living since 2019, when he decided to change from a beggar to a small businessman.
As a beggar, Mwangi was so popular in the Nakuru City streets that he had been nicknamed 'mkora' (crook), as people associated him with being a 'shrewd beggar'.
He says residents believed he used his inability to walk as an advantage to cunningly appeal to residents to drop him coins.
The man, who has been cripples since he was three months old, had his begging station along Kenyatta Avenue in Nakuru CBD.
"I used my voice to sometimes demand money from people; some gave me whole-heartedly while others mocked me," he says.
Unwanted at home
His life was not always a struggle, especially for a man with 11 siblings and both parents are still living.
Mwangi recalls he was only 12 years old, when he realised that he was unwanted at his home at Maji Mazuri in Eldama Ravine, Baringo County.
He says he heard rumours from his cousins that he was a cursed child after his mother wronged his grandmother while pregnant with him.
"I asked my mother why I was her only child with a disability but she said nothing. My siblings ignored me," Mwangi says.
When he turned 18, he wanted to marry. However, he says, his mother refused to help him get a bride, saying he would never marry because of his condition.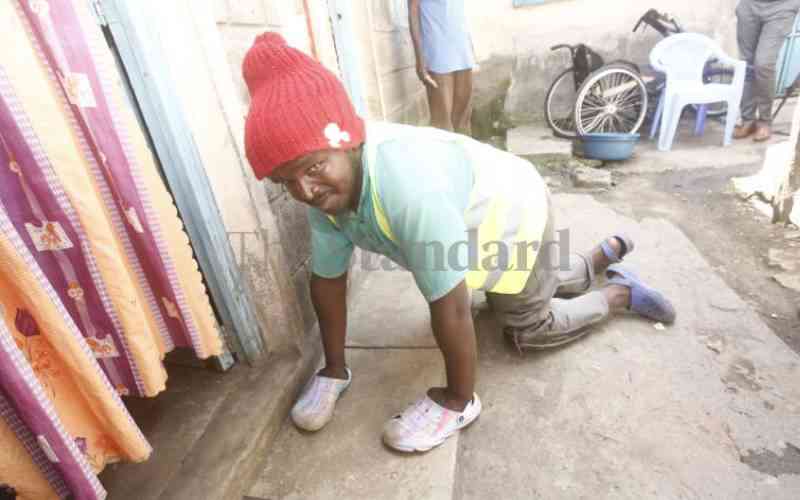 "Her words forced me to flee from home and take a four-day journey on my wheelchair to Nakuru to look for my father," he says.
Due to his father's drinking problem and the fact he demanded money from him, Mwangi left and looked for his aunt. However, he says his aunt treated him worse.
"My aunt insisted that I had to buy food for her and her children because she was giving me shelter. I was forced to the streets to beg for money in order to get shelter," he says.
When he could no longer handle the pressure from his aunt, he left and moved to Nakuru town in 2012 and continued begging. He made the cold streets his home for eight years.
"People said I had been sent by my parents to beg on their behalf. It was hard for my mental health and I could not stomach the mockery," he tells The Standard.
When he realised no one was willing to support him, he sought help and advice from people he considered friends.
One such friend, he recounts, advised him to save money and start a small business.
Ditch the wheelchair
"In 2019, I looked for Sh500 and gave my friend Paul who prepared groundnuts for me to sell," he says.
Mwangi started selling using his wheelchair but he only managed to get about Sh200 per day. He decided to ditch the wheelchair in 2020 and started crawling within the streets of Nakuru as he looked for customers.
He says at first people shied away from buying from him, citing hygiene, but with time, they embraced him.
"The mockery from residents turned into encouragement and from the support I was able to raise money to rent a house within months," he says.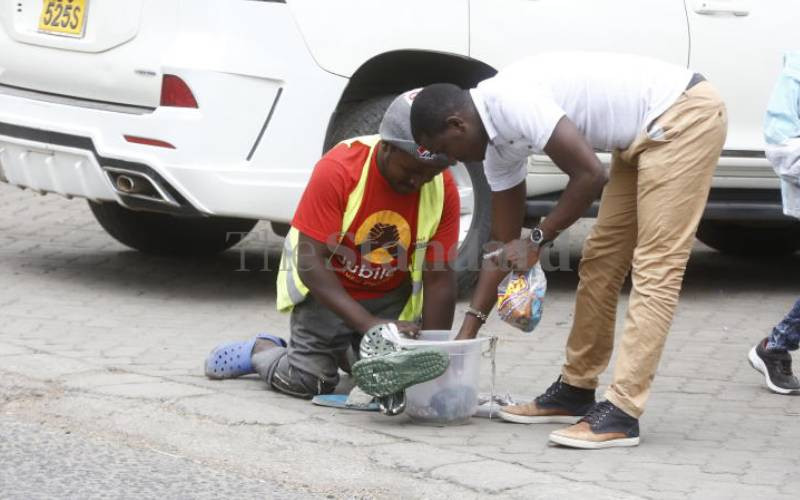 Mwangi started making between Sh1,000 and Sh1,500 per day before Covid-19 struck and he had to close shop.
He revived it in 2021 and even though he does not make as much as he used to, he can raise between Sh700 and Sh1,000 per day.
"I use the money for rent and transport because I sell better without my wheelchair and for food and water. My life has now changed," he says.
Mwangi wakes up at 6am, prepares and leaves the house at 7.30am. He rides his wheelchair and leaves it where he buys groundnuts. In a day he can crawl for up to 10km, he says.
He says his neighbours in Kisulisuli area have been helpful and have made his life easier.
Mwangi wants to grow his business into a shop to reduce his movement.
He advises people living with disability to avoid begging for money and look for ways to change their lives.
Lidya Awinja, Mwangi's neighbour, describes him as a hard-working man who cares about children and his neighbours.
She says he never complains of his disability and uses it as an opportunity to connect with people.
"I plead with the county government to help him grow his business," says Awinja.
Related Topics