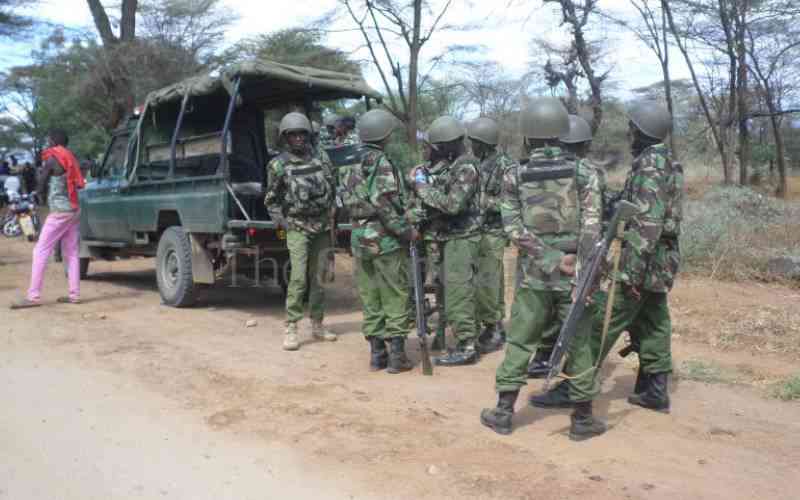 Hopes of calm in Kerio Valley were signaled on Saturday by the launch of a security surveillance drone for monitoring the movement of bandits.
But a day later, during the new year celebrations, bandits stormed Ketut village and shot dead two sisters, Martha Kibowen, 17 – a form three student at Kabulwo Secondary School and her sister Consolata Kibowen, 14, who was in Standard Seven at Kabetwa Primary School.
The bandits made away with an unknown number of cows and goats during the midday attacks, according to the police.
As the armed assailants suspected to be from Baringo County were invading Ketut area in Marakwet East, residents of West Pokot and Elgeyo Marakwet highlands were congregating at the border town of Kapsait for their annual peace prayers, an event that has been happening for the past 23 years.
While the peace prayers led by the bishops of the Catholic dioceses of Eldoret and Kitale Dominic Kimengich and Maurice Crowley, respectively, were going on, news of the attack broke.
Kerio Valley residents said the raid was a mockery of the efforts taken by counties and security apparatus to tame perennial gunfights and cattle theft.
Evans Kipkorir, a resident of the troubled area said the armed bandits ambushed children who were looking after their parents' cattle in Kabetwa area, barely three kilometers and shot at them.
"The two sisters were among the children who were looking after cattle. Parents had gone to churches and left their children playing in the grazing fields because the area has been calm for more than four months," the resident said.
Elgeyo Marakwet Governor Wisley Rotich, who was attending the peace prayer meeting, said: "It is sad and disheartening that as we prayed for long-lasting peace among our communities, we lost two innocent lives at Ketut location through banditry. We recently tested a surveillance drone in Tot that will aid security officers in tracing and trailing bandits."
Governor Rotich said he is optimistic that the drone will help tame criminal activities in Kerio Valley.
"I want to call upon all security organs to ensure that perpetrators of the attack are brought to book and all stolen livestock recovered," he said.
Elgeyo Marakwe police commander Francis Nguli yesterday said a special police unit had been deployed to track down the killers of the two minors.
"There is tension in the area following the killings. We are intensifying our patrols as we restore calm. We are using a number of methods to track down the suspects," Nguli said.
Elgeyo Marakwet county administration had reported during the launch of the surveillance drone that it had been tested and would monitor the movement of bandits within a radius of ten kilometres even at night.
Related Topics