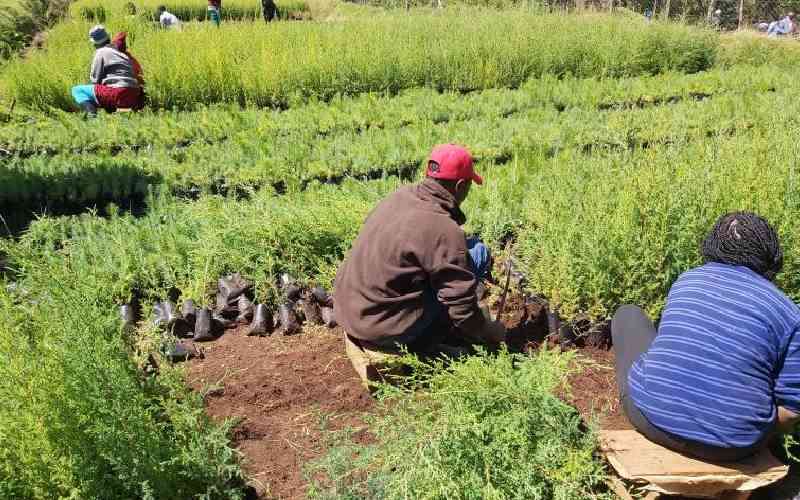 Except for the light bursts through the dense canopies in Songi forest in Eastern Mau, all seem calm and under control in the forest that has traditionally been a bread basket to the indigenous Ogiek community.
Leleito Malainget, 79, is a constant visitor here. He lives barely 200 meters away from the forest which he says, means life to him.
It is in forests like these, Malainget says, that the Ogiek cultural beliefs and practices revolve around.
"I do not dig the ground; my farm is that beehive up there. I neither buy drugs for minor ailments at the chemists, I get them just here," Malainget said.
But Mailainget, just like Benaline Toroigo, is an unhappy man.
The forest they knew once as fully indigenous and lush is under threat.
They say, exotic plantations being promoted under the shamba system, also known as Plantation Establishment for Livelihood Improvement scheme (Pelis) are fast overtaking areas that initially hosted lush forests.
"The problem is that they do not promote indigenous trees at all. This is Mau forest, a key water tower and it does not make sense at all if the system is promoted here. Within the areas under the shamba system, people use chemicals and it kills our bees which in turn affects our livelihoods. These exotic trees do not support bee-keeping at all," Malainget said.
Under the shamba system, the Kenya Forest Service through the Community Forest Associations allows members of the community living adjacent to the forest to farm within an earmarked section that requires replantation.
Within these sections, farmers are allowed to grow food crops on a subsistence basis while participating in replanting and nurturing tree seedlings for three years.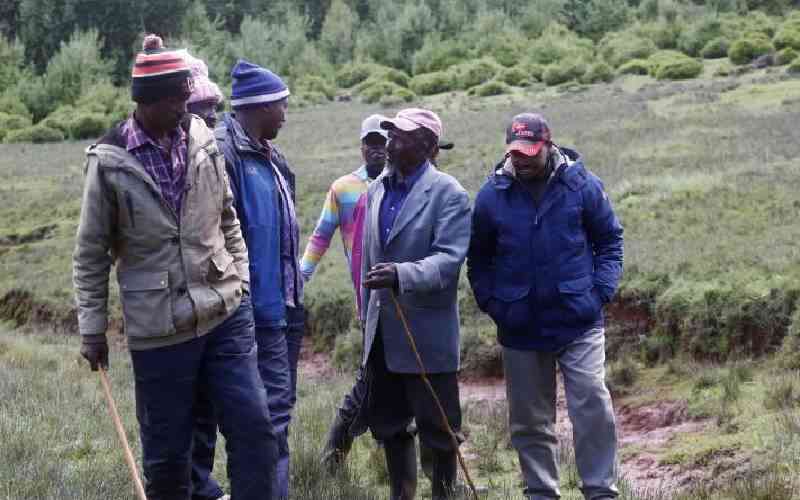 To fully implement the shamba system, KFS is supposed to work with CFAs to allocate sections of land and supervise the planting of crops and the replanting of the tree seedlings to ensure that the seedlings are not interfered with.
"But the shamba system has been abused. It no longer serves the purpose it was intended for and it is saddening that they are clearing indigenous vegetation to create chunks of land to farm on. For people like us who extract traditional medicine and honey in indigenous forests, it is traumatizing," Ms Toroigo said.
Songi forest lies within Kiptunga block, where the shamba system is practised, an activity that has seen people farming within the areas under the scheme coming from far and wide. This has also seen makeshift structures mushrooming within the forest, activities that are illegal.
Within the expansive areas under the shamba system, freshly felled trees are a common feature. The trees are felled to create makeshift structures and also fence the farms.
To the local communities living around the forests, the activities are just paving way for the clearance of forests in the promotion of farming activities.
"It might never be possible to rid someone who has been living and farming and making money from the forest for the past three years. It is not fair and it is disheartening that the scheme has adversely been abused such that people from miles away are being brought in here to farm," Sara Osasi said.
Within the vast farms, it is not a secret that agri-business is thriving, with lorries ferrying produce out of the farms often. While some farms bear struggling pine trees, the majority are devoid of trees.
"What do you expect from people who came here to conduct businesses? They do not feel the value of trees because they lack that connection with the forests. The scheme is now promoting corruption and should be re-looked especially here in the Mau," Osasi said adding that the scheme has further promoted charcoal burning and felling of indigenous trees.
And while the local communities feel like the scheme has been majorly abused, for others like John Kamau, a resident of Nyandarua, who farms in places where the shamba system is taking place in Kiptunga, the scheme is a blessing.
"We are benefiting a lot from the shamba system because we tend trees and grow crops. If the scheme is expanded, we will benefit a lot more," Karanja says.
According to Karanja, those undertaking the shamba system within the section he farms in comes from Nyeri, Meru, Nyandarua and Kisii and have all been allocated places to farm.
For him, he farms half an acre which he paid Sh590 to the Kenya Forest Service but would wish to expand so that he can cultivate more."The crops here are really doing well and I will not mind being allocated a bigger plot. The government should expand this scheme because we are all ready to work," he said.
The contention on the conservation of the Mau forest Complex and approaches to conserving the water tower is not new.
"But Mau has suffered from encroachment and now it is being stripped of its indigenous trees by a scheme that is abusing it more than it saves it," Osasi said. Despite the ongoing logging moratorium on all state forests in the country, a spot-check by The Standard revealed a thriving trade of Cedar trees deep within the heart of Kiptunga.
From the edges of the lush forest along the Njoro-Olenguruone road, all looks serene, a perfect picturesque of endowed indigenous forests which are nothing short of breathtaking. On the inside, is a shadow of the edges.
Inside the forest are freshly excavated charcoal kilns, a number of felled trees and spots where illegal loggers chop cedar into round posts. These areas are marked with hundreds of chippings located a few kilometres apart.
"Although these activities have drastically reduced since the ban on logging, they are still rampant here," Alex Koech, a resident said.
Experts say that while Kenya needs timber, the promotion of exotic plantations should not override that of indigenous trees.
"We need indigenous for water, we need them to keep rivers and dams running for the generation of hydropower. We need indigenous forests to achieve the carbon sequestration targets that Kenya promised," Paul Matiku, Nature Kenya director said.
He added that growing crops in the forests have been used to degrade indigenous forests, yet the country's food security will not be sorted by growing food inside public forests.
Alternatively, he said communities living adjacent to forests should instead be encouraged to adopt a scheme known as Trees Establishment & Livelihood Improvement Scheme (Telis) where all trees planted on forest sites are indigenous to avoid conversion of indigenous forests into plantations.
Related Topics