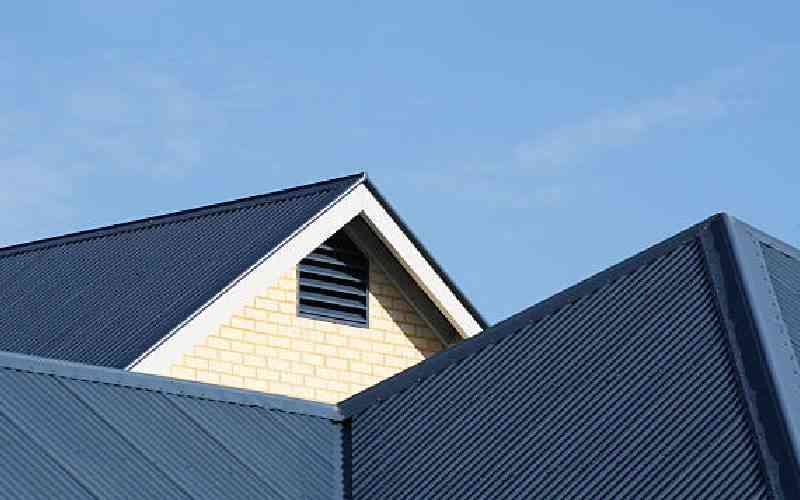 Just as you plan for hours on what to wear depending on the occasion, weather conditions and your mood, so should you for your house's roof.
While most people pick the colour of their roofing material simply based on aesthetics, which is dependent on their personal perceptions of what attractive colours should be, there are a number of other factors that should be considered if one is to get their ideal roofing solution.
Beauty and appeal will, of course, top this list. But that is just a tiny part of the ensemble.
While a dark colour could be your favourite, it could soon make your house your least favourite place. This is especially if a dark-coloured roof is used in regions where the weather gets very hot.
Interior temperature
"Darker colours tend to absorb more heat than lighter colours. This can be a problem in climates with hot summers, where the absorbed heat could raise the interior temperature of the home and lead to increased air conditioning costs," writes Stronghold Roofing and Colour, a blog on roofing solutions.
"Homeowners in colder climates should also consider the colour of their roof when choosing a new one. A light-coloured roof will reflect more sunlight and will help keep the home warmer during the winter. A dark roof in a cold climate can actually cause the home to lose heat."
In Coastal areas, for example, most of the houses sport white facades. Most of the Arab architecture is white.
While other factors prominently come into play concerning white colours, such as the fact that white is considered a symbol of holiness and dignity, the colour helps in the reduction of heat buildup in houses in the coastal belt.
Most of their roofs reflect the sun's heat and with the Swahili architecture which favours open-terrace roofing, the top slab that directly faces the sun for the majority of the day absorbs very little heat.
Ken Juma, the projects lead at Embakasi-based Mabati Yetu Factory, says that roofing material, which he equates to a lady's hairstyle, is made in such a way that there is a specific material for specific climates.
"With technology, climate control and house design can address different climatic conditions in roofing to facilitate adequate circulation. In most dry areas, people prefer iron sheets in a matte or glossy finish to facilitate rainwater harvesting," he says.
Suitable colour
While keen to get a roof of a suitable colour, a house owner should also consider the type of material they wish to have as their roof.
Rhino Mabati Chief Executive Andrew Muriungi says environmental factors such as proximity to the coastline, "which means the area has high salty humidity (and therefore) this would lead to fading and corrosion of metallic roofing sheets", should be considered ahead of seeking roofing solutions.
"Hot weather also would mean the application of insulation layer before roofing. Also need for reflective material, because black material would absorb and retain heat," he says.
The colour of the roof should also be in such a way that it fits right in the environment, blending in with the surroundings.
This is also for aesthetics but is something design experts consider when recommending the type, and colour of the roof that a house builder should consider.
"You go for colours that contrast well with surroundings and enhance the house's beauty. Most common colours in matte finish are charcoal grey, maroon, tile red which contrast well with the green environment in most parts of Kenya," Mr Juma says.
A black dress will be ideal for a funeral but could raise questions if a bride, on her wedding day, decided to spot it. In some environments, some colours just don't cut it, experts say.
The house's architectural design also should determine the colour of the roofing material.
"Some home styles look best with certain colours. For example, a cottage-style home might look best with a light-coloured roof that reflects the sun's rays, while an older home might look best with a colour that is traditional for that era," writes Stronghold Roofing and Colour.
"On the other hand, a more modern home might look better with a dark-coloured roof that creates a sleek and elegant appearance."
Integrity Roofers, a Toronto-based roofing company, says that the colour of the roof chosen could determine the "size" of the house. "Dark hues can make your home look small while light colours can make it appear large," it says.
The roofing company also says that the appearance of the rest of the home should determine the shade of the roof that a builder adopts.
"The rule of thumb is to consider the appearance of the rest of your home before selecting a shade for your roof. If it has multi-colour bricks or multiple paint colours, you may want to tone down the shingle colour. If your home has a monotone feel, consider choosing a vivid shade that is aesthetically pleasing and can enhance the curb appeal," says Integrity Roofers.
But buyers may find themselves unable to select their favourite colours when the type of material that they would fancy does not come in the colour they would love.
In some instances, the colours of the roof also determine the cost of a new roof, or a roof replacement writes Stronghold Roofing and Colour.
A search for "aesthetic harmony" requires that just as much as the colour of the roof contrasts that of the exterior walls, so should there be a pattern that brings out the perfect balance.
Lovely balance
A contrast could be where the exterior walls are white and the roof of a very dark hue, and in many instances, this is seen to create a lovely balance.
A blend is where the roof could be of a lighter colour so as to look almost similar in appearance to the walls.
Roof Crafters writes that people intending to sell their homes in the future should consider roofs that are neutral-coloured.
"This includes tan, brown, black, and grey. These colours tend to stay in style over time, along with roofs including shingles that are mixed with different colour combinations of browns, blacks, and greys."
However, writes the site, while all the other factors on the best roofing solutions should be carefully considered, it finally boils down to the preference of the house owner.
"If you are a flannel, purple polka-dot pant, yellow sombrero-wearing type of person...some colour schemes simply look better together than others, as well as material types and roof pitch."
House owners and developers should also consider the durability of colour on the roofing material used, with longer-lasting colours favoured.
Mr Juma says that fading is a product of quality, colour and finish. "Glossy Finish fades faster," he says. "Matte is more durable. Charcoal grey, blue and green are popular in the glossy finish - used for commercial projects and outside major towns."
According to Muriungi of Rhino Mabati, Kenya's dominant roofing colours are charcoal grey, coffee brown, tile red, green, blue, and brick red.
Related Topics