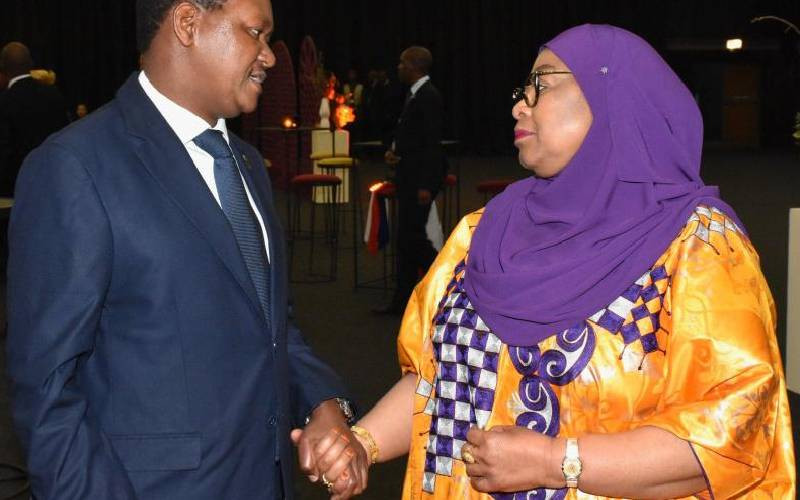 Nairobi this week hosted more than a dozen African leaders and some of the world's fiercest climate change activists for the maiden edition of the Africa Climate Summit.
The event, held from Monday to Wednesday, had been convened to address Africa's increasing exposure to climate change and its associated costs on the continent.
This was President Ruto's first major diplomatic assignment and Kenya had to roll out a red carpet, mount a military guard and a troupe of dancers and singers to entertain presidential and high-level delegations during arrival.
Every gesture, every word, and every action mattered in the hectic hallway of the presidential pavilion at Jomo Kenyatta International Airport (JKIA), Kenya's busiest airport.
This was unlike in South Africa during the BRICS summit, where a welcoming protocol dispute emerged between India and the host nation, after Prime Minister Narendra Modi allegedly refused to disembark his plane, due to what was perceived as lack of seniority in the welcoming delegation of the South African government.
A Cabinet minister had been sent to receive the Indian leader, but Narendra declined to get off his plane at the Waterkloof Air Base in Johannesburg, until the South African Deputy President saved the situation.
Back home, a seemingly innocent act happened during the Climate Summit that highlighted the need for a crash course in protocol.
At the centre of the event was Nyandarua Senator John Methu who had been designated to serve as one of the summit's escorts of honour and was to guide the Mozambican President, Filipe Nyusi, from the airport to his hotel and then to the summit.
A responsibility that should have been conducted with dignity and respect changed dramatically when the youthful and charismatic senator took advantage of the opportunity. He leaned in, extended his arm, and snapped a selfie with the visiting President sitting in the back seat of the car.
The image quickly made its way onto X (formerly Twitter), where it was met with a barrage of outrage and disgust.
The uproar was not unjustified. In the world of diplomacy, where every action reflects the character of a country, such an act is a breach of protocol and privacy, and a slip in decorum.
However, this was not an isolated instance. It was a harsh reminder of the importance of training in protocol for appointed escorts and foreign ministry officials, as well as their entourages.
These individuals are the face of their countries, charged with upholding etiquette, respect, and courtesy expected during high-level diplomatic events. Diplomacy, it turns out, is about etiquette as much as it is about international relations.
Lack of knowledge
Understanding the motivations behind protocol violations is very critical. Senator Methu's mishap brought out issues about whether his behaviour was motivated by a desire to outdo others, or simply a lack of knowledge.
Methu's incident was not an isolated one involving a Kenyan official. The Foreign and Diaspora Cabinet Secretary, Alfred Mutua, exhibited similar behaviour during the summit.
The former Machakos governor was spotted on numerous occasions pocketing during chats, even when strolling alongside prominent international figures such as United Nations Secretary-General Antonio Guterres.
During the 13th annual BRICS meeting in South Africa, which brought together leaders from Brazil, Russia, India, China, and South Africa, Alfred Mutua, who is ironically a communication expert, was among those present representing Kenya, and his conduct at the conference raised eyebrows.
What started the debate was Mutua's encounters with international leaders. As photos surfaced on social media, observers remarked that the former government spokesperson appeared to be particularly insensitive with some of the presidential delegations in attendance.
Mutua was spotted holding the hand of Tanzania's President Samia Suluhu, a Muslim woman, in one image that drew a lot of attention. Many Muslims follow cultural and religious traditions that prohibit physical contact with people of the opposite sex who are not family members or close friends.
The reality is the mannerisms by which we greet each other vary vastly across cultures. Latinos, for example, often greet each other with a hug and a kiss on one cheek. Europeans kiss on both cheeks, and Arabs three! So, there is no one way to greet a person!
Diplomatic blunder
Was it a friendly gesture or a diplomatic blunder? Mutua's engagements with leaders from Comoros and South Africa also gained attention.
He was spotted clutching Comoro President's left hand while playfully pointing at him in a group photo with Tanzanian President Suluhu.
While the mood was lighthearted, several questioned whether such intimacy was in accordance with diplomatic procedure.
When having a light chat with South Africa President Cyril Ramaphosa, the summit host, the Mutua appeared to be anxious to make personal contact, but the South African leader appeared to be more restrained by keeping his hands to himself.
One can't help but question whether Mutua's actions were motivated by pure excitement or a desire to stand out on the international scene. He is no stranger to the political spotlight, having served as a two-term governor and a former government spokesperson.
Diplomacy, on the other hand, necessitates a distinct set of skills, including the ability to read the mood in a room and accept differences.
While it is stated that our Foreign Service Academy's mission is to provide world-class diplomatic training to Kenyan government foreign officials to better advance Kenyan interests and deliver on behalf of the people, the big question is whether this academy is up to the task.
Diplomacy is frequently compared to a delicate dance, with each step meticulously designed to show respect, cooperation, and goodwill. The activities of foreign ministers and their teams at such gatherings can either strengthen or, in certain situations, unknowingly undermine relations.
Related Topics