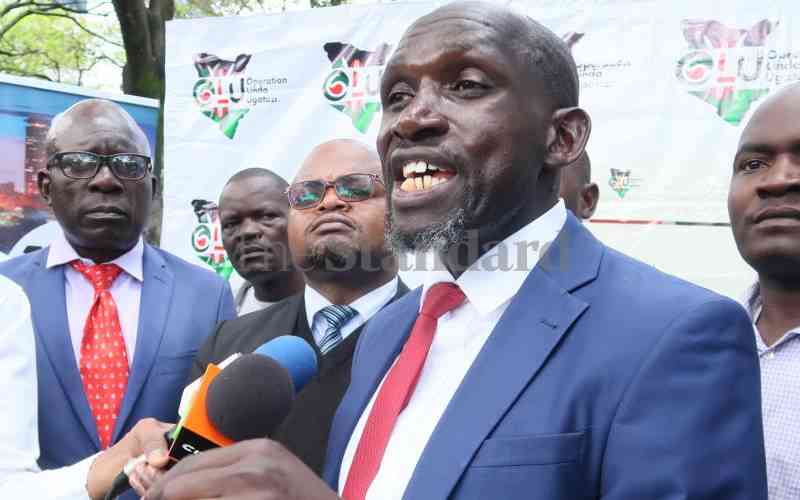 Activist Fred Ogolla has told International Criminal Court (ICC) Prosecutor Karim Khan to keep away from Kenya political affairs.
Khan was in the country to receive an honorary Doctor of Laws degree from Mount Kenya University.
His presence caused jitters especially from Azimio la Umoja One Kenya side that claimed the ICC prosecutor would interfere with its planned case at The Hague. Azimio plans to take police to ICC over their handling of protests.
However, Khan has since clarified that he was in the country in his private capacity. "Please note that pursuant to Article 42.7 of the Rome Statute, Mr Karim A.A.Khan KC, in his capacity as Prosecutor of the ICC, has recused himself from all Kenya cases before the ICC," said Khan's office in a statement.
Ogolla says Khan's visit was in bad taste, coming at a time when police have heavily been criticised for using excessive force against protestors.
"We strongly believe that his visit to Kenya came at the wrong time and that it could compromise on-going investigations into police brutality and human rights abuses committed by several state officials," noted the Operation Linda Ugatuzi leader.
Ogola alleged that Khan is not fit for the job due to his past history of associating with influential individuals linked to abuse of human rights.
"Over the years, he has been consistently aligned with powerful individuals accused of human rights abuses, thereby leaving victims to question his dedication to justice and accountability,'' he said.
According to Ogolla, the Prosecutor's visit was used as scapegoat by the government to run away from being accountable.
"We are concerned that Mr Khan's presence could be utilized to shield the Kenyan government from accountability for its alleged involvement in human rights violations. The victims of police brutality in Kenya deserve an unbiased and transparent process to seek justice, and we cannot afford any compromise in that pursuit,'' he said.
Like Azimio, Operation Linda Ugatuzi plans to file a petition at the ICC over police brutality. "We shall be presenting a joint petition at the highest court seeking prayers from the court to demand that the government compensates all who were affected," said Ogolla.
Related Topics