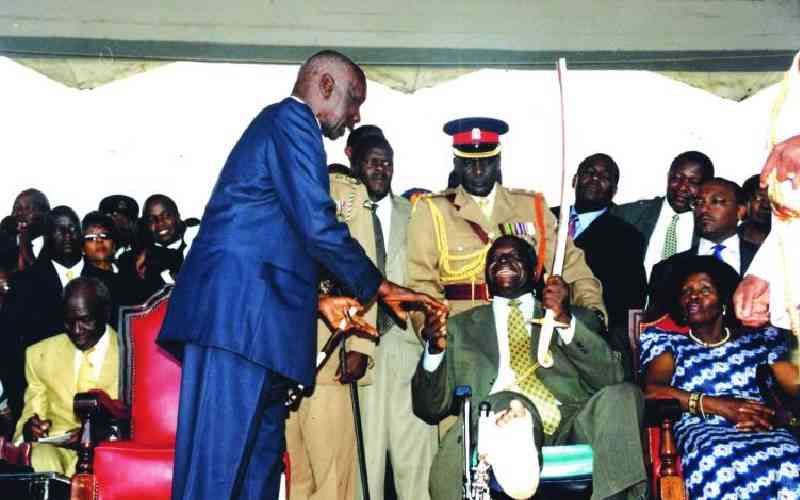 The current state of affairs in the country mirrors what President Mwai Kibaki was confronted with after taking office from President Daniel arap Moi at the end of 2002.
The biggest problem was the poor state of the economy that he inherited which is also the challenge facing President William Ruto and his Kenya Kwanza government.
Unlike Kibaki, Ruto has, however, taken to repeatedly blaming his predecessor, Uhuru Kenyatta for allegedly running it down and leaving empty coffers at the Treasury.
Then there is the issue of allowing independent institutions to function without interference which President Kibaki did so effectively and enhanced good governance as opposed to what is being witnessed today.
Prof Gitile Naituli, who teaches leadership and management at Multi Media University in Nairobi, credits President Kibaki for creating hope in the population and giving the country an image of stability.
"Those were important factors and building blocks that became very important for socio-economic development that the country was yearning for after the mismanagement by the Kanu regime," says Naituli.
Unlike his predecessor, Kibaki also strived to rid the country of cronyism by picking experts to serve in his Cabinet and as permanent secretaries.
That is why Prof George Saitoti, a distinguished scholar served as the Education minister, David Mwiraria (Finance), Peter Anyang Nyong'o (Planning), Dr Mukhisa Kituyi (Trade) and Kiraitu Murungi (Justice and Constitutional Affairs), among others.
Political analyst Martin Andati also thinks President Ruto should have picked more qualified and competent people instead of merely rewarding friends and cronies with jobs.
"Kibaki was very particular about competence but the current leadership is more obsessed with loyalty than the ability of people to perform," says Andati.
His leadership style was also dissimilar to the current one that keeps blaming President Uhuru for everything, including allegedly sponsoring the opposition to cause chaos and failing to pay taxes.
Unlike Ruto, Kibaki quickly embarked on the business of running the country without engaging in spats and grand standing with those who had left office.
Prof Naituli regrets that today, high ranking public servants spend more time discussing past leaders and harassing former ministers than espousing policy in their public engagements.
"Kibaki never mentioned his predecessor's name for his government's challenges except only once during inauguration and that tells a lot about his character and leadership qualities," says Naituli.
Andati adds that by always blaming Uhuru and his famous handshake with Raila Odinga in 2018, all they are doing is telling the country that the 2022 election is not over.
It keeps the country in campaign mode and in the process undermines investment and economic performance because money does not circulate in an environment of insecurity and unpredictability.
"I advise them to stop confrontation, look at everybody as a partner, meet opponents in good faith to discuss and resolve all issues amicably because nobody wishes the government to fail," says Naituli.
The other problem is that President Ruto and his team appear to be listening to everything that the opposition is saying and agitating for.
Andati asks them to look back at what Kibaki did when Raila began grumbling over the power sharing MoU they had signed in 2003 but the president ignored the noise and focused on service delivery.
He cautioned the current government that it won't do much if it continues focusing and blaming the past because the former leadership did their bit and left office and will, therefore, not bear responsibility for whatever pitfalls they are encountering.
"Why are they obsessed with ile serikali ya handshake (handshake government), yet Raila was not in government. Uhuru did his bit and whether he did a good job or not is not for Ruto to judge. It is Kenyans who will say who among the two performed better," added Andati.
The expectations that the government created during the campaign are so high with nothing much done as August, when Kenya Kwanza will celebrate its first year anniversary looms.
Other accusations that the current government faces include interference in the functioning of independent institutions like the Office of the Director of Public Prosecutions (ODPP) and the Judiciary.
Makueni Senator Dan Maanzo is among leaders who have questioned the willingness of the current government to fight corruption after several high profile grand corruption cases were recently withdrawn by the ODPP.
President Ruto has repeatedly alleged that the ODPP was forced to prosecute innocent people among them his deputy Rigathi Gachagua because of their political stand.
But Maanzo argues that before the DPP allows any prosecution, he should be already satisfied that there is watertight evidence to warrant prosecution.
He was surprised that the same DPP who was in office in the previous administration is now turning around to claim he was forced to prosecute.
"Why is the current regime encouraging corruption. Why is it withdrawing cases instead of recovering money looted from public coffers?" asked Maanzo.
The Senator argued that if the DPP was forced then it is highly possible that he is again being forced to withdraw these cases and yet his office is supposed to be independent from the executive.
He also submitted that Kibaki made a very big attempt to stabilise the country, making people to believe in his leadership and voluntarily pay taxes unlike the current situation.
People believed in his leadership because he was determined to fight corruption and never allowed money to be siphoned through fake projects, tenders and looting by well-connected cartels.
"People queued at Kenya Revenue Authority (KRA) offices to pay taxes and the country's economy stabilised unlike the current situation where the cost of living is unmanageable because of the high cost of fuel and electricity," said Maanzo.
Speaking in Parliament, nominated MP John Mbadi also cautioned the Kenya Kwanza government against weaponising KRA.
"The President can never be a tax collection agent. We have competent people in KRA," said Mbadi while opposing the government's plan to integrate the KRA tax system with M-Pesa and other online payment systems as it targets to raise Sh3 trillion in the next financial year.
Prof Naituli rates Kibaki as an economic genius who picked the best brains to work for him and that alone sent a message to the business community both locally and internationally that the country was ready for business and progress.
He set on delivering his campaign pledges and fulfilling promises by putting in place free primary school education in the first month, which quickly attracted donor support.
The third President of Kenya then told Kenyans they needed to work hard and pay taxes without getting any favours because the government could not deliver services without their commitment.
He set a level playing field in the business sector and when international banks operating in the country refused to lower interest rates, he simply licensed microfinance enterprises and transformed them into banks in a few months.
Soon after, the banks started hawking money in the streets and business thrived with people expanding trade and building houses.
"The difference is that Ruto is solving problems through importation, which undermines local production and yet if he only removed taxes on all agricultural inputs and farm equipment people will flock into agriculture," said Naituli.
He also thinks The Hustler Fund, which appears to be the only promise the president has so far fulfilled, was not well thought through because it should have been managed through bank with experience of funding microenterprises.
In so doing, it could have created employment through small enterprises of between 0 to four people and five to 19 employees and thereafter grow to bigger groups.
"When things are not clear and look fishy, people shy away from investing in the economy and it can only worsen," he added.
The President has so far come up with the fertiliser subsidy programme which the government expects to lower the cost of food when farmers harvest maize especially in the bread basket areas of Rift Valley and western this season. But allegations in the newspapers over a scandal in the fertiliser import programme amounting to Sh320 million has confirmed corruption fears that critics had when it was launched.
Previous imports of fertilizer were mired in similar corruption allegations involving officers from the National Cereal and Produce Board and cartels pretending to be farmers.
"You have a body like KNTC facing such a scandal, yet it has managers overseen by a board that is also answerable to the government and other shareholders, who are also oversighted by parliament that is accountable to the citizens," said former Laikipia Governor Ndititu Muriithi.
Another good thing to be emulated Kibaki did was to cancel foreign trips that were unnecessary and the holding of seminars by public workers in big hotels in Mombasa and Naivasha instead of government boardrooms.
Officers in the current administration keep on junketing off to high end hotels in the south and north coat for seminars and workshops at an alarming rate, amid complains that the government has no money.
Within a year, Kibaki had managed to wean Kenya off International Monetary Fund loans, including those from other all multi-lateral lenders and was depending on funding from Kenya.
He was also opposed the award of government tenders to friends but things changed after he left because import and local tenders are only given to friends along tribal lines or through bribery.
"Once people learn that you are running a client state, they will move their money to Rwanda, Tanzania and Ethiopia where things are done in a transparent process," says Naituli.
Analysts, however, point out that Kibaki failed in creating inclusivity and harmony for all leaders to pull in one direction and provide a conducive environment for political stability.
That created a political challenge leading to him almost losing elections in 2007 to Raila who is now embroiled in another stand-off with President Ruto because of alleged lack of inclusivity and skewed appointments.
Related Topics