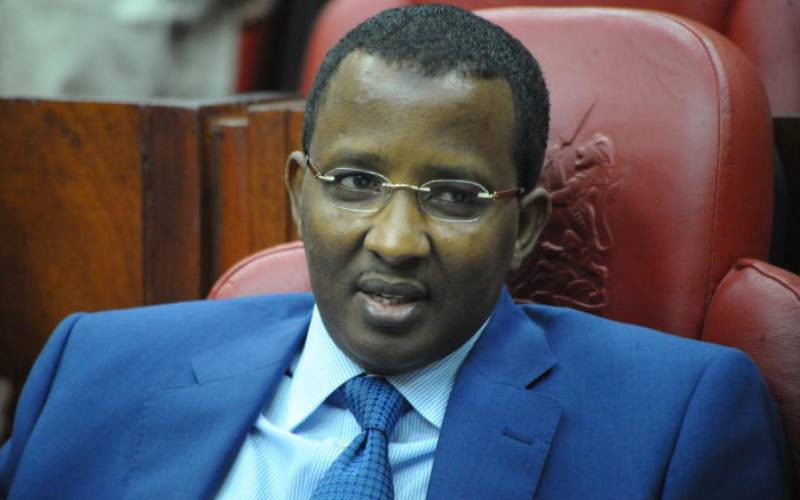 At the height of 'Teargas Mondays' protests, former Independent Electoral and Boundaries Commission chairman Ahmed Issack Hassan's mother travelled from Garissa to Nairobi to ask him what was unarguably an immortal question coming from a mother: "When are you going to resign?
The campaign against him had reached fever pitch, and the Coalition for Reforms and Democracy (Cord) leadership led by the most aggrieved man, Raila Odinga, wanted nothing to do with him. 'Teargas Mondays' was on, and police had ran out of teargas and had to make a fresh order.
Issack's mother had been everything to him, especially following the death of their father way back in 1986. She had been praying for him every day at the crack of dawn, and had gathered a group of 10 women in their village for a similar cause.
"I will call the President in your presence and tell him I want to see him. I will mention your concerns and what you are telling me about my safety, so that I can get his assurance on the matter," Issack writes in his memoirs, "Referee of a dirty ugly game."
"Your Excellency, I am here with my wife and my mother who has travelled from Garissa. They are both convinced that I will be persecuted and that I will be arrested and jailed," he explained when Kenyatta picked his call.
He went on to remind the President the day his own mother, Mama Ngina Kenyatta, prayed for him before he travelled to The Hague, Netherlands to face crimes against humanity charges at the International Criminal Court.
"Its getting ugly with what is going on and I would like to come and see you on this matter," he submitted.
Uhuru asked him to see him at State House the following day. When he turned up the following day at State House, it was to push for his word that he will not be persecuted.
"Chairman, the moment you mentioned my mother, I understood what you meant. But don't worry, hakuna kitu umekula. You are not guilty," the President retorted.
He told him to go assure his family that everything would be alright. But nothing would ever be alright for Issack. He had betrayed the mighty Raila despite all he had done to him.
Before this meeting with the President, Issack had a few months before driven to Foreign Affairs Cabinet Secretary Amina Mohamed's home to request her to accompany her to see the President. At the time, he was determined to quit.
"I don't think you should do that, Chairman," Uhuru counselled. "You are going to confirm everything they are saying. I will not support you in this. No, you cannot go home now," the President rejected the offer.
In short, Uhuru was asking him to 'Kaa ngumu" in Kenya's political parlance, with a rider to Amina to stop encouraging Issack on it.
The third time Issack would meet the President was in the thick of it. He had added a section of Jubilee leadership to the list of people he had fallen out with. The parliamentary committee on Justice and Legal Affairs led by Jubilee's Sam Chepkonga was on his case.
The Auditor General Edward Ouko had just released a damning report on IEBC and JLAC was following up on some of the items. Chickengate scandal was throbbing. When he appeared before Chepkonga's committee, things did not go down well, with a Commissioner breaking down and Issack losing his cool.
"With all due respect, how were you all elected?" he posed when the committee asked the them to present all the results of the 2013 General Election. It was not going to end well. He ran to his ultimate succour; President Uhuru who he confesses he had taken a liking to him.
"Tukutane kwa nyumba ya yule mtu ya maskio," the President answered him.
For some reason, Issack assumed the President meant Majority Leader Aden Duale's home, and proceeded to drive there. He was at the parking when the President called: "Kwani uko wapi, Chairman?"
"Nimefika kwa nyumba ya Duale," Issack responded.
A hearty laughter ensued, as a bemused President laughed himself silly: "By mtu ya maskio I meant yule anaskiza sisi, yaani intelligence."
Issack proceeded to drive to the house of National Intelligence Service (NIS) Director General Major General Philip Kameru where he found the President and the spy chief waiting.
"We have a Somali proverb, your Excellency, that a man who wants your wife will not be placated by your daughter," Issack opened up the conversation.
He was worried what Chepkonga's committee would say in its report to Parliament. When the President sought to know what exactly he wanted him to do, Issack went straight to the point, asking him to talk to Chepkonga.
In the book, Issack says Uhuru called Chepkonga and conversed with him for a while.
"By the following week, the Constitutional Implementation Oversight Committee and JLAC wrote a joint report. They found no evidence against the commissioners, and they cleared us, a move that CORD quickly dismissed," he writes in the book.
Issack was learning quickly the rules of the game. He had joined the fray, read politics, in an attempt to save his skin. Soon, thereafter, Ethics and Anti-Corruption Commission (EACC) and the Office of Director of Public Prosecutions (ODPP) cleared him of the allegations.
Advisors and friends had kept on warning him about the true nature of politicians. In the book, Issack recounts countless pieces of advice on how to deal with politicians. He seemed to have dropped his guard on President Uhuru, and his deputy William Ruto.
For instance, when he went complaining to Ruto about Chepkonga, he found a DP who was relishing in the moment and the optics of it. For Ruto, it was good in the public eye to see Jubilee MPs going hard on him.
When the die was cast and both sides of the divide united to swallow him and his team, Issack was still latching onto Uhuru's support. In turn, Uhuru was still encouraging and assuring him that he was not in support of what was going on.
"I don't agree with what they are doing. This is very wrong, Chairman. What has happened to you guys is very wrong," Uhuru told him.
At the time, Issack was walking into Harambee House's Office of the President to negotiate his exit package with the President's men. The noose had tightened on him and he had given in. The President had long caved in to the pressure to have the commission disbanded, and had told the interlocutors to "give him whatever he asks for" in reference to Issack's exit package.
"I want you to know that I do not support this at all," the President assured him, still.
In the book, Issack says the younger Uhuru struck him as a gentleman, an honest person and a good leader who was aware of his heritage as the son of the founding father.
"He was approachable, humble and easy going. He had charisma and could effortlessly charm a room. He wanted to lead well and leave a good legacy. He had a firm handshake and would look at you straight in the eye as he greeted you," he says.
He also says he noted that the President had very little interest in political gossips and mudslinging.
In the final deal, Issack's team walked away with Sh164 million which he says "was much less than what it would have cost had we strictly followed the law." He says of all the perks of IEBC commissioners that he lost when he resigned, the loss of a driver impacted him the most.
"What I missed the most was having a driver. The convenience of not having to be concerned about parking, or worry about being on the road, were a resounding reality check when I had to get back behind the wheel myself."
He describes his removal as IEBC boss as a "watershed moment." Still, he would dabble in President Uhuru's re-election campaign strategy meetings at a safe house in Nairobi's Lavington area. After two meetings, however, he quit.
"I knew the team was good and had crafted an excellent winning plan. But after much reflection, I realised that my anger and bitterness against CORD and Raila had clouded my judgment."
When the President was re-elected, Issack set out to get a job both for himself and the axed commissioners. Head of Public Service Joseph Kinyua had assured him they would be considered for government jobs.
"A year passed without any response from the Office of the President. I then went to see DP Ruto and shared with him the disappointment and betrayal of former IEBC commissioners felt. He promised to give the matter his attention. As for me, he thought I would be a suitable candidate for the Court of Appeal," he writes.
He was in Kabul, Afghanistan working for the country's electoral commission when he was appointed as chair of the board of Kenya Industrial Property Institute (KIPI). It was a big disappointment to him to come down from Court of Appeal to chair of a nondescript body.
"I reminded my friends of a famous quote from Raila; hata mkia ni nyama. The good thing about the appointment was that it was a part time engagement.
Issack Ahmed Hassan had been used, and dumped.
Related Topics