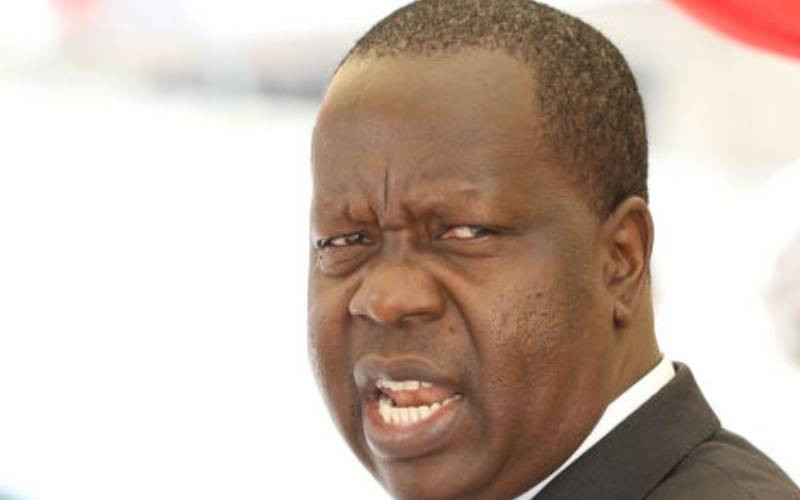 President William Ruto has launched an onslaught on Azimio leader Raila Odinga's Gusii backyard to slow the ongoing countrywide mass action aimed at forcing the Kenya Kwanza administration to bring down the cost of living.
The President's latest move to push former President Uhuru Kenyatta's point man, Dr Fred Matiang'i, to ditch the Raila camp, is seen as a deliberate attempt to scatter the opposition plans in the Nyanza region.
Matiang'i attended a meeting on Sunday in Karen with a section of leaders from Gusiiland, a meeting South Mugirango MP Sylvanus Osoro, who is also the Majority Chief Whip in parliament, told The Standard, had President Ruto's blessings.
"I attended the Sunday meeting. It was sanctioned by the President," Osoro said but did not disclose what the talks entailed.
And less than 12 hours after the Karen meeting, Matiang'i was cleared of any wrongdoing in the recent DCI investigations.
Acting Deputy Director of Public Prosecution, Ms Lilian Obuo, said the evidence provided was insufficient to sustain charges of conspiracy to commit felony and publication of false information.
The new development came when the opposition led by former Prime Minister Raila Odinga is planning countrywide protests against the rising cost of living standards where Matiang'i's woes are featured prominently.
Matiang'i has a following in his home County of Nyamira and coupled with his financial capital and a majority at Nyamira County Assembly where the UPA party is linked to the former CS.
The meeting held at Karen in Nairobi was chaired by Education Cabinet Secretary Ezekiel Machogu and attended by leaders such as North Mugirango MP Joash Nyamoko and Solicitor General Nominee Shadrack Mose.
Also in the meeting were wealthy businessman and Matiang'i's close associate John Simba, former Deputy Majority Leader Jimmy Angwenyi and a section of church leaders led by Pastor Samuel Makori, The President of East Kenya Union of the Seventh Day Adventist Church.
The meeting comes a few days before President Ruto's grand Gusii tour. The tour would culminate with Machogu's homecoming ceremony.
In what seems to have been a well-cut plan, the culmination of Sunday events begun with a meeting at State House on Thursday, where President Ruto held a private talks with three ODM legislators form Kisii; Dr Daniel Manduku (Nyaribari Masaba), Anthony Kibagendi (Kitutu Chache South) and Patrick Osero (Borabu).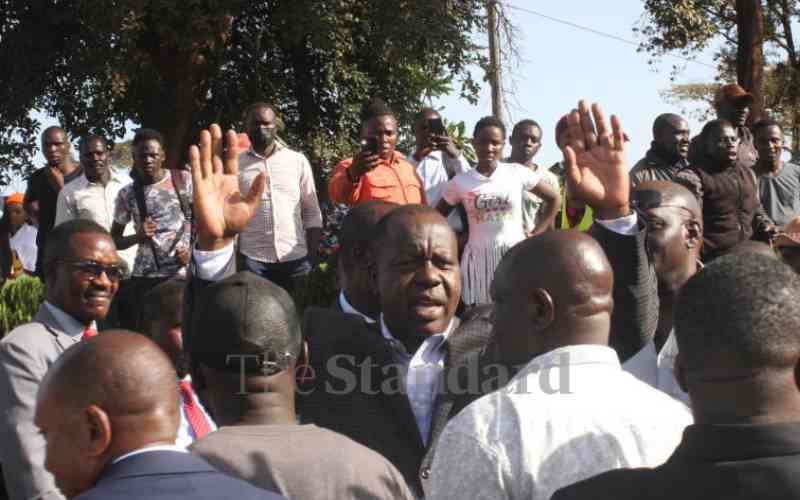 Before jumping ship to ODM, Kibagendi was a youth director in the Office of the Deputy President, Osero has been a close business associate with President Ruto while Dr Manduku has been a close ally to the President.
The three legislators presented various grievances to President Ruto, including their exclusion from some high-level meetings.
Kibagendi termed some leaders purporting to unite the community as a busy bodies without any unifying factor. "We are sometimes closed out of meetings. Some of them think we are going there to have tea."
He said he doesn't recognise some of the plans advanced by a clique of leaders.
"We will embrace Matiang'i. I attended the Thursday State House meeting and told the President we need exactly that. I am strongly in ODM and will remain objective."
Education Cabinet Secretary said he would do anything possible to unite the Gusii community and its leadership.
"We have started the process, and those who will not support the journey will have themselves to blame. The community is eager to have a share of our national cake. It does not pay to have a community split along clans and on political affiliations," he said.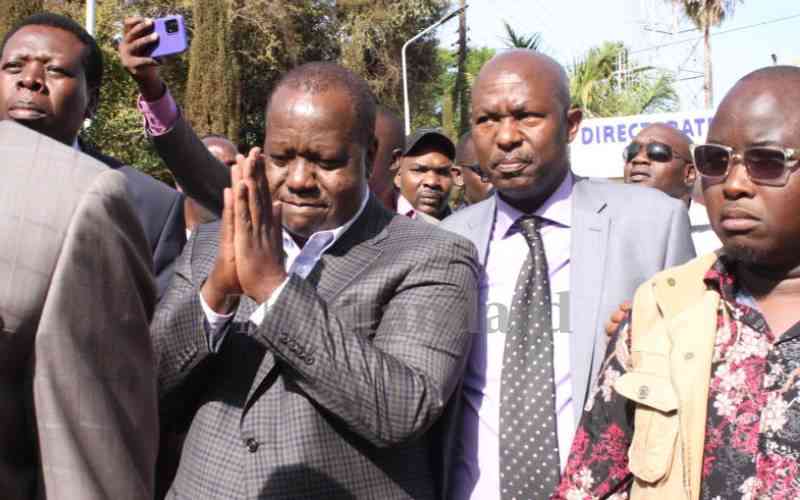 The CS said he had, together with other Gusii leaders, held meetings with top government officials to revive some of the stalled projects and commission more to boost the region's economic stake.
"We are not in Government for the sake of it, the President understands that we will push for the achievement of the Bottom Up Economic formula. He has given us an assurance that he will support our people to achieve their development objectives."
Political analyst James Ombuna says the starting point for the Gusii leaders and community should be answering the question as to why previous attempts aimed at uniting the elite and the masses have terribly failed either immediately at inception or shortly after.
"Is it the problem the leadership or the people? Why are others failing where the late Simon Nyachae succeeded? Surprisingly, Nyachae succeeded while in opposition. From the successes of 2002, disunity is not enshrined in our efforts. It definitely lies where it can be amputated, but until we know where, unity will remain a mirage; the nearer we approach, the further it lies."
Two months ago, former ODM leaders; Ex-Governor James Ongwae and Ex-Woman Rep Janet Ongera ditched ODM and vowed to support President Ruto's Kenya Kwanza Government.
The move is perceived as a strategy to weaken the ODM party's presence in the region and eat into Raila's political backyard.
Related Topics