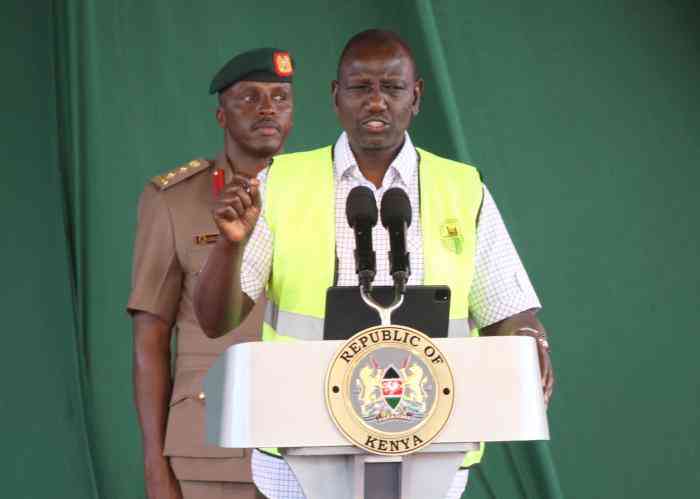 President William Ruto has dared Azimio la Umoja-One Kenya leader Raila Odinga to make real his threat on mass action.
Odinga declared mass action countrywide in the next 14 days to protest against the high cost of living and President William Ruto's administration.
Odinga made the declaration at the Jeevanjee Gardens in Nairobi on Wednesday, February 22.
The former prime minister said Kenyans had "grown tired of the Kenya Kwanza administration's hide-and-seek games on the cost of living".
"The ongoing process of reconstituting IEBC must stop immediately. A bipartisan task force must be put in place to restructure IEBC in a manner that ends its monolithic operations. If these demands are not heeded within 14 days, we shall lead Kenyans to massive mass action across the country to take their power back and restore sanity," said Odinga.
Speaking in Korogocho during the launch of the Nairobi Rivers Commission on Wednesday afternoon, President William Ruto dared the former Prime Minister to keep true his threat.
"They are threatening us with mass action. They will demonstrate till they grow tired, because Kenya is going is going to be a country ran on the basis of the rule of law and the constitution. And all citizens have an equal opportunity and no citizen is greater than the other," said Ruto.
Odinga in the rally at Jevanjee gardens called out the government for high cost of living.
"We have been talking about the rising cost of basic commodities like unga, electricity, diesel, petrol, paraffin, sugar, milk, among others for far too long. We have complained about rising taxes, and we have lately talked about children dropping out of school for lack of fees," said Odinga during the event dubbed Azimio prayer rally.
"Withdrawal of subsidies to food and education in the middle of drought and famine was reckless and heartless. Consequently, the subsidies must be restored, the cost of basic commodities and taxes must come down in the next 14 days," said Odinga.
The head of state castigated the call for mass action.
"As president, I am going to make sure that we avoid and banish impunity. There is nobody who is going to threaten Kenya with impunity. Everybody must respect the law, and this country is going to be governed by the rule of law. We will make sure that everybody obeys the constitution and works and respects the rule of law.
I want to tell our friends who are used to impunity and forcing their way, they will have no way because this is going to be a country based on the rule of law." said Ruto.
The head of state also asked the opposition to give the government more time.
"I want to tell them to give us time to clean up Nairobi city, to eradicate sewage and litter from Nairobi river, and show them how the city should look like.
I want to plead with our friends not to ask us about the 2027 elections... they are five years away, we want to talk about the affairs of our citizens at the moment and in the near future until that time comes." Said Ruto.
Related Topics