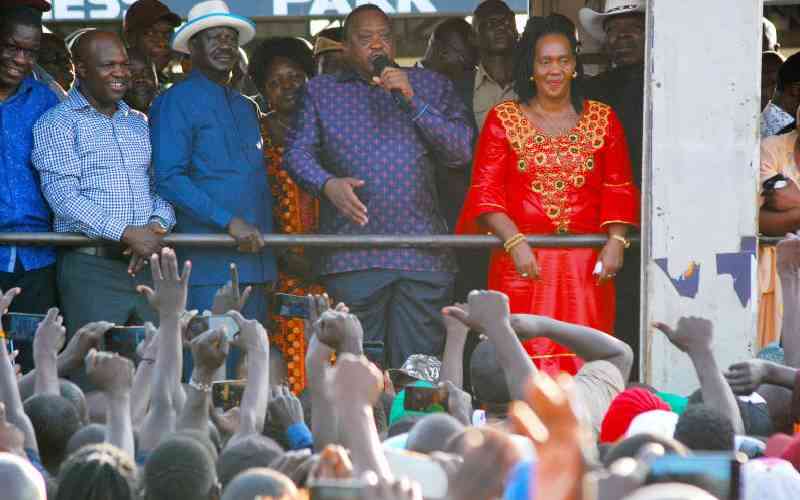 Azimio-One Kenya coalition principals retired President Uhuru Kenyatta and ODM leader Raila Odinga have said the coalition is intact and united and urged their supporters to remain steadfast.
The leaders are putting on a brave face in the wake of discontent by some members in their coalition who have embraced President William Ruto's administration and are threatening to quit the coalition.
After attending the burial ceremony of former Education CS George Magoha yesterday, Raila, Uhuru, former Defence Cabinet Secretary Eugene Wamalwa and their troops made a stop in Kisumu and told residents that their coalition was intact.
In a show of unity, the leaders said they were keen to continue working together to help achieve the goals that they had for the country as a coalition in the past polls.
Cracks in parties
This came as the retired president, who addressed jubilant residents in Kisumu, claimed that although he was not active in politics, he was still a member of the Azimio coalition.
Uhuru's comments came as a section of members of his Jubilee party began the process of quitting the coalition. On Friday, the party's National Executive Committee (NEC) suspended Secretary General Jeremiah Kioni and replaced him with a member of the East African Legislative Assembly (EALA), Kanini Kega.
The party's NEC also resolved to leave the Azimio la Umoja-One Kenya Coalition. Yesterday, however, former president Uhuru appeared to distance himself from activities of NEC and maintained that he was firmly in Azimio and that Raila was his party leader.
"I am retired but not tired. You know very well that my party leader is Raila. We are still in that party we formed with him. Even if we are not in active politics, we are still in that party we formed with him," said Uhuru.
He said he was steadfast and would ensure that they completed all the activities that they had started with the Orange Democratic Movement leader.
According to Uhuru, development must reach all Kenyans as enshrined in the Constitution.
Earlier on, the former president -- who used his tribute of the late Magoha to rally Kenyans to embrace national unity -- evoked cheers from mourners when he referred to Raila as his "party leader". The statement was uploaded on the Jubilee Party official Facebook page moments later.
Kioni, who accompanied the former president, said the coalition was united and focused on the journey they had started with Raila.
And keen to ensure that he has a united force committed to the cause behind him, Raila urged his supporters not to lose hope, saying he was optimistic they would achieve their goals.
"We are in a difficult time but our people must remain firm," said the ODM chief in Gem.
He criticised leaders who had abandoned ship, maintaining that they would not accept traitors. He expressed optimism that they were on the right track.
"We do not want traitors. We will go slowly but we will reach our destination," said Raila.
During the burial, Raila and his troops hit out at leaders they said were betraying their cause by courting President Ruto's administration.
Politics of betrayal took centre stage as the Azimio la Umoja-One Kenya coalition leader told off those he branded as traitors.
This comes days after a section of leaders from Jubilee and his ODM party met President Ruto at State House, Nairobi.
Raila, while urging his troops to remain steadfast, told mourners that at the moment they were at a crossroads but expressed confidence they would achieve their goals.
He told his support base that the journey ahead was not for traitors and as such they must remain united and walk together.
According to the ODM chief, the results of the last presidential elections were neither a loss nor a draw. He believes he won the elections.
"We must remain steadfast. This journey we have ahead of us cannot succeed with traitors. We must walk together, but as for traitors, they must go away," said the ODM leader.
Among leaders allied with Azimio who visited the Head of State are Lang'ata MP Phelix Odiwuor alias Jalang'o, Kisumu Senator Prof Tom Ojienda, Kisumu East MP Shakeel Shabbir and Gem MP Elisha Ochieng.
Others are Gideon Ochanda (Bondo), Mark Nyamita (Uriri), Caroli Omondi (Suba South), Paul Abuor (Rongo) and Walter Owino (Awendo).
ODM leaders who accompanied Raila to Magohas's burial, including Siaya Governor James Orengo and House minority leader Opiyo Wandayi, who is also the Ugunja MP, told off politicians whom they claimed were starting to write off Raila's political career.
"We are in a fight for power... It is not proper to mingle with people who gossip your kin. Worse off, going to where your kin is gossiped and not invited," said Governor Orengo.
"Let us not kill what those who founded this nation and fought for our Constitution and better laws achieved. I am afraid that where we are going right now, we might even kill multi-partyism," he added.
Orengo used a Luo parable that no child can leave their mother's house because it was leaking.
On his part, Wandayi said Nyanza would remain steadfast behind Raila.
"We are proud because we do not eat in anybody's house. Anybody who thinks Baba is done politically is in for a surprise. Whatever he says, we will do," said Wandayi.
Former President Uhuru Kenyatta said it was time for less politics and more work.
"Let us strive to have a better country where we all fit in and are happy, and this is all we can do to remember the late Magoha," he said.
Yesterday, Raila announced that the coalition would hold a meeting in Kisumu next Saturday.
"We are still in Azimio. Some are trying to break Azimio but we have decided that it is better to have a small group instead of a larger group that is not loyal," said the ODM leader.
[Reporting by Harold Odhiambo, Clinton Ambujo and Olivia Odhiambo]
Related Topics