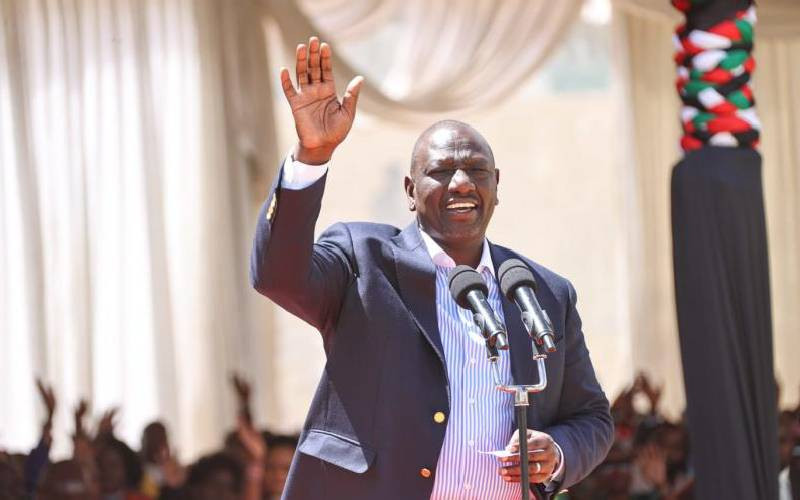 Hours after former First Lady Mama Ngina Kenyatta waded into the tax debate, President William Ruto has said Kenyans must give what is due to the government irrespective of their social status.
In what seemed as an appreciation that Mama Ngina acknowledged that paying taxes is a necessity, the president said he was glad everyone was "reading from the same script."
"Lakini hata mimi nimefurahi ya kwamba hata wale wadosi wame kubali ushuru watalipa. Ile maneno ya zamani ya waiver ya huyu, waiver ya yule kwa sababu ana julikana, kwa sababu ni mtu ya mtu mkubwa hio mambo wasahau. Kila mtu atalipa ushuru Kenya hii. I am happy that even the rich have agreed that we must pay taxes. We will no longer have tax waivers for some people in society, everybody must pay taxes in Kenya)," he said.
Addressing residents after attending a service at Deliverance Church International in Ruai, Nairobi, yesterday, Ruto said he was glad the country was coming to a consensus that paying taxes is a must for growth.
He called on tax evaders to have a sit down with the Kenya Revenue Authority (KRA) so that they can agree on a payment plan.
"I am happy that as a country we have built consensus that irrespective of your status, the region or religion you come from, there will be no waiver of taxes for anybody,'' he said.
"We have all agreed that there will be no big people, we are all equal before the law and the Constitution and we will all pay taxes according to our income. That is commendable because we will not be looking at tribe, class, religion or whether you are young or old when we discuss tax matters," he added.
Addressing residents during a church function in Lamu on Saturday, the former First Lady said no one should be exempted from paying taxes as it is a requirement of the law. She declared that she pays taxes and told the government to sell her property if she is found to have defaulted.
"Paying taxes, whether it is income tax or any other tax, is mandatory for everyone, big or small, to pay according to their ability and income. This is not a matter for discussion in newspapers, public rallies, or on TV. If you do not pay taxes, you go to court. That is the law," she added.
At the same time, President Ruto said he hopes the economy will rebound and get to a place where other nations seek loans from Kenya and not vice versa. He reiterated that by paying taxes, the country will be free from the shackles of loans
He said it was time for the country to act smart and adopt a better saving plan that will enable it to go slow on borrowing.
He said the only way to get out of debt is by paying taxes so that we are able to finance our own development.
He further urged government agencies not to take the taxman to court but embrace dialogue and come up with a payment plan of taxes.
"Remember when you go to court, it's the lawyers that are enriching themselves. The government is losing money in the process. If there is a challenge let there be discussion," he said
Ruto also urged KRA not to harass Kenyans when collecting tax, but to instead do it in a friendly manner.
Related Topics