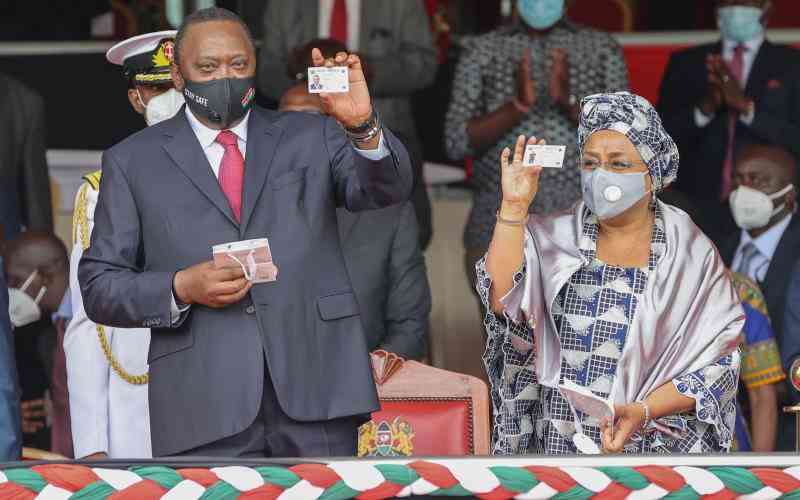 My humble take on last year's elections is that the smarter team won. Period. We can then argue long into the night about whether or nor Kenya Kwanza is the better team. We may scream and shout until kingdom come about IEBC's general competence (if they were sitting the KCSE exam, they get a C+; there are definitely systemic challenges in the house, but it's a passing grade).
C+ indicates significant room, and potential, for improvement. It's not about how many times Raila Odinga shouts and William Ruto shouts back. It's about our constitutional quest to create credible and sustainable institutions. And this is why I will repeatedly classify IEBC as an economic risk to this country. Our main trouble is that our politicos prefer not to de-risk it. So we would still have issues if Jesus was IEBC Chair.
Is there a case for a proper independent inquiry into the elections? Let's see. We've had fewer post-elections petitions than ever before. We're not hearing much noise around the "down ballot" voting (governors, senators, MPs, women reps and MCAs). But we set ourselves up by over-complicating the procedure for the presidential vote. National tallying centre. National returning officer. Bomas of Kenya. Public portal. Maybe if we did this for all the voting, and not just the presidential, we have less noise after the fact. But we think episodically, not systematically. And every half-smart Kenyan will tell you any election rigging today happens before the fact.
Let's briefly indulge this idle theory. IEBC reportedly purchased two sets of ballot papers for the presidential election. By personal voter recollection, every ballot was pre-numbered, and since we had to identify ourselves before we voted, it is not beyond the realm of technical possibility to imagine that there is a way to know who voted for whom (and IEBC is sitting on that server). Which could help us answer how many actual humans vote these days, and how many were "vifaranga". By the time we get to the cleverness of announcements at the polling station, it is way too late.
This would be a "vote aggregation" scenario, but there could be a reverse "vote suppression" theory which leads to the thought that there are those who voted, but their vote was not counted. In this scenario, it doesn't matter how many truckloads of evidence are brought to the Supreme Court, because if the votes are suppressed, they are simply not there. But remember, every ballot paper was pre-numbered, and everyone had to sign-in to vote. This might then require an audit of some sort of integrated national identification database that independently points us to the truth.
My sense is this will not happen for 2022, however long these two guys keep shouting at each other in a way that will definitely lead to disruptive "mchongoano" before "maandamano". It is easy to see Raila's perspective. Since Monday's "Kamukunji", I have met people who were taken ill by his loss. One lady told us she went to the local doc and found a queue of Kenyans seeking treatment. Another friend has told us she has stopped watching news. That is Kenya today.
Taking the bait
It doesn't help that President Ruto is happily taking the bait. The records tell us that he won an election that was too close to call. His job is not to endlessly respond to Raila but to understand that he has a razor-thin mandate (wasn't this our closest election ever?). He sounds more prime ministerial than presidential, before we get to a deputy who sounds like the chief minister of the dreaded provincial administration that our constitution was supposed to delete forever and ever.
Indeed, Ruto's language needs to step away from "no handshake" to the idea that, to repeat, a quarter of eligible adults voted for him, another quarter voted for Raila, but critically, a third quarter registered but did not vote while the fourth quarter did not bother to register. I have never understood why we don't want to do compulsory voting like in places such as Australia. Or more radically, like India once did, why don't we have a voter option that says "none of the above".
In a completely roundabout way, this brings me to the president's latest command to his ICT ministry to revive the Huduma Namba experiment that he was particularly silent on through his campaign trails. Let's be clear here. Ruto is the president. With this mandate comes a responsibility to build on what has worked in the past, and fix what failed, or is failing.
As said before, Huduma Namba's failure was about profit and political motivations, as well as terrible procedure. Yet, in what is clearly a personal quest to do better than Uhuru, Ruto's task is not vengeance (as his deputy is clearly programmed for) but progress.
Permit my bias, but here's what progress looked like when Huduma Namba was envisaged as an inclusive, world-beating Umoja Kenya idea at levels that world-leading Estonia would marvel at.
The idea, from Uhuru's digitalisation agenda in the early days of Jubilee rule, was an integrated national digital identification infrastructure around four pillars - people, land, assets and establishments. Yes, I have made this endless point a thousand times before, but persistence helps.
The logic was simple. Identify people. Link people to assets. Link those assets to land and establishments (including companies) and vice versa. Mostly, create one identity; our single source and version, of the truth. It was the digital government base that digital Kenya needs.
But here's the real trick. Properly communicated, it was the sort of data integration dream that we continue to reduce to disparate tenders, and endless KRA efforts to invade our personal space. Properly implemented, it was the way to finally fix our identification systems which currently rely on our half-decent and far from fit Integrated Population Registration System (IPRS) developed by firms from Pakistan and Ukraine. Sadly, Uhuru came to believe that IPRS was the answer.
And then proceeded to support all manner of technical efforts that have now created disparate land, company, transport systems that claim to be integrated in themselves; basically stand-systems. Beyond the juicy tenders, we remain in the sort of space where "Ali Baba" cannot be identified.
With integration; KRA would not need to procure drones and place spies in factories while spending the rest of its collection budget peering through our mobile money transactions. Don't we already have these databases? If the president is serious and thinking forwards not backwards, he could start with the apparently "off-books" military as youth work commissioned by his predecessor to digitally map Kenya, from our properties to our mineral resources.
The point here is that a return to Huduma Namba misses this big picture. We have spent billions registering about 40 out of 50 million Kenyans. For most of us, there is zero feedback. A brave conclusion is that this was a profit and political experiment that went pear-shaped. Legal challenges have been largely sorted, but the policy opportunity is not yet apparent to our Cabinet.
But here's the real game changer. A view that takes us from Huduma Namba to Umoja Kenya does a couple of interesting things. Think painless and seamless. Voting. Taxes. Service Delivery. Proper Land and Assets Ownership. Means-tested access to basic rights, not perpetual registration of old people, farmers and many others through disparate and non-integrated counting.
A reference to the Nordics in general is useful here. Not billions on costly census episodes, but continuous counts built on dynamic data over time. It is our third world thinking that gets foreigners to pay for a census to count ourselves, get per-diems and then say we are middle-income.
To be clear, digital and a better take on Huduma Namba towards Umoja Kenya is not a short-term fix. Digital is no solution for bad behaviour, and as the smart people tell us "technology is not democracy". It offers an experience in change management, but M-Pesa shows that we are ready.
Let's put it this way. With more courage, and less "mchongoano", President Ruto has an interesting opportunity to transform Kenya for better, by thinking big, not bad. And my bias tells me that this is the project that moves us forward to the real Digital Kenya that we believe we are.
At which point, nothing is impeachable, and we get back to our leapfrog moment without noise.
Related Topics