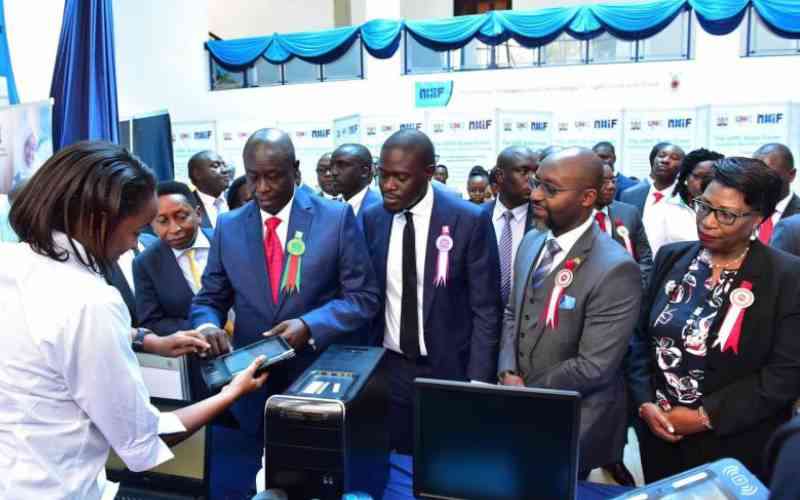 When Deputy President Rigathi Gachagua tweeted that he had very early morning faced Mt Kenya on a 'nostalgic' prayer visit last Friday, he probably could still hear faint crackling behind him as embers refused to die out in Nairobi.
That was before Monday's Executive Order number 1 of 2023 that allocated him the role of pushing for reforms in a sector he has been passionate about; coffee.
The serenity of the mountain, which he visited as national leaders congregated for the Cabinet and senior ranks of the Executive retreat at Fairmont Mt Kenya Safari Club, must have been a welcome reprieve after incessant, gruelling battles in the capital.
A bare-knuckle altercation erupted between Mr Gachagua and Nairobi Governor Johnson Sakaja end of last year over business people's welfare and, with more political players throwing their weight behind the newly minted nemeses, temperatures have been simmering since. It is reminiscent of the World Wrestling Entertainment's Royal Rumble, only for this one there is no end in sight.
The latest in the rumble is Monday's statement by Nairobi Senator Edwin Sifuna that was, to say the least, hard-hitting.
Said Sifuna, "Deputy President Rigathi Gachagua is effortlessly turning himself into a national joke, delivering illegal decrees and generally behaving like a DO from a bygone era."
Truly firebrand, Gachagua, now famously referred to as Riggy G, had exploded when Sakaja's plans to reorganise public transport in the city was announced in late 2022. On December 20, he asked the governor to go slow on the reforms, which sought to replace matatu termini within the city's central business district (CBD) with the new Green Park terminus.
This plan has been cooking for years. The idea was to reduce vehicular congestion within the city's CBD.
However, Gachagua was seen to make comments that suggested the governor's move was punitive on traders from Central Kenya, while also insinuating that the region, or Gachagua and cronies, helped Sakaja win his seat. When he referred to Sakaja's 'destiny helpers' as "we", it was cleverly ambiguous.
Suddenly, the disagreement morphed into a battle of tribe against another, a faction of Western Kenya leaders threatening the DP's ouster while his Mt Kenya backyard launched its own missile defence.
"If you don't respect yourself as the deputy president of Kenya, we will not respect you. In fact, at some point, I will bring a motion in Parliament to impeach you," said Bumula MP Jack Wamboka.
A swift response from Central Kenya saw Kieni MP Njoroge Wainaina refer to these threats as "hot air".
"Any person who thinks that he has the wherewithal or the power to bring an impeachment motion should know that we shall be ready to tackle them on the floor of the House," said Nyeri Governor Mutahi Kahiga.
"One thing we must say is that the deputy president must be respected for who he is."
With barely four months gone since their inauguration, President William Ruto and his deputy have run into occasional self-propagated headwinds.
Gachagua's tiff with Sakaja is not the first controversy he has found himself in. He has been accused of constantly being in campaign mode and focusing on blaming the past regime for what he calls runaway plunder.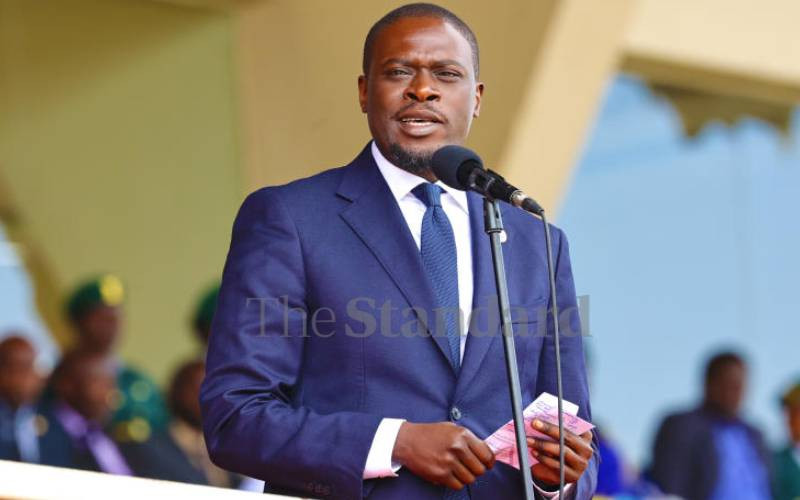 He was also faulted over his 'shamba system' utterances, and faced public backlash when he suggested the formation of a kitty to which the salaried would contribute to help the government fight hunger. A statement he made on the shortage of forex reserves in October was promptly refuted by the Central Bank of Kenya.
He has also recently claimed he has become a beggar for the country, asking for food aid "even from our colonisers" as Kenya fights to recover from a debilitating drought.
This protracted fight between him and Sakaja is seen by some as a showdown between the national and county governments which, according to the 2010 Constitution, have clearly defined, and in many instances barely overlapping, functions.
Sakaja has said "there are duties for the county and national government and we will work together", while seemingly playing down the tiff but in an interview with Inooro TV on Sunday, the deputy president was adamant he would keep battling for the welfare of an electorate who elected the government "on the promise of promoting investments by ordinary Kenyans and empowering them financially".
As such, some of the governor's decisions could not be allowed to stand.
Gachagua does not shy away from speaking his truth, however controversial. During, and even after, the campaigning period, he alleged his party faced persecution for siding with then DP Ruto. On the day of their swearing-in, in front of visiting dignitaries, Gachagua went all out and hit out at outgoing President Uhuru Kenyatta in one of the most unexpected occurrences of the day.
With power in his hands and the mantle of Mt Kenya kingpin dangled in his direction, Gachagua takes the bull by the horns when need be. Often, his take is controversial. Many accuse him of not embracing his role as a national leader and, instead, of constantly fighting for his Mt Kenya backyard.
The current disagreement between him and Sakaja, also of Kenya Kwanza, follows a conviction that small traders will have trouble accessing markets. This, says Gachagua, will be ruinous to their businesses and will go against the very promises the government was elected on.
"Locking matatus out (of the CBD) is completely finishing Nairobi with all the business therein. Those complaining of congestion live in Karen, Runda and Lavington and never set foot in town. Those who come to town do not complain because that is where they get their daily bread," he said in the Sunday interview.
"When the (city) planners bring trains and buses to navigate around the city, we will let these matatus go (to the new terminus). You want people to alight at Pangani and walk to town?"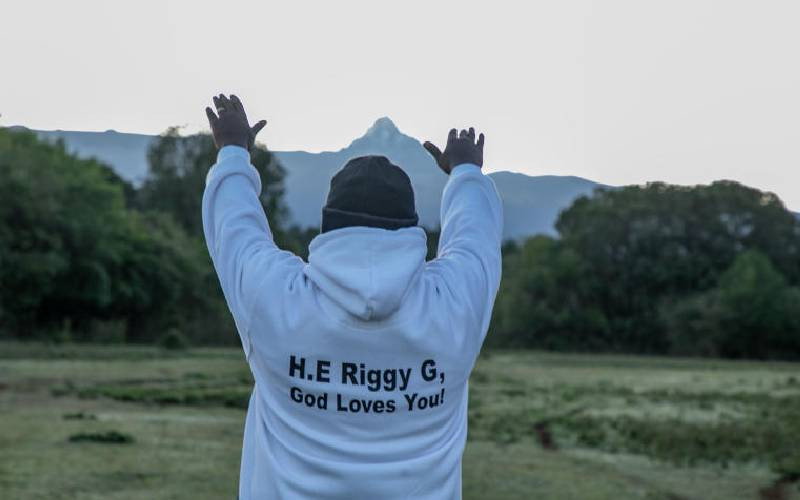 He also faulted what he considered an abrupt directive to nightclubs to cease operations in residential areas. Governor Sakaja had ordered, and after an outcry by bar owners reiterated, that licences for nightclubs operating in residential areas be revoked due to complaints of noise pollution by residents.
Gachagua said while the government does not condone noisy clubs, it was imperative to realise it was the same government that had licensed the traders, who in turn pumped money into their ventures. Discussions with the traders on how they could reduce noise pollution, complete with sensible time allowances to comply, needed to precede any attempts to close their businesses, he said.
Sakaja has had to play down the disagreements with one of his bosses. He would have loved to avoid it altogether. While he admits the county will continue with its reorganisation plans, and as masses urge him on and remind him he will be held accountable at the end of his tenure, the governor has indicated willingness to work together with the national government. This hints at his readiness to dialogue.
"I respect the Deputy President and I would like to remind those speaking from different regions of Kenya trying to cause a rift between the county and national government and Nairobians on tribal lines that they will not succeed," Sakaja said early this month.
In a church service, however, he seemed upbeat and called out those seemingly supporting his, or the deputy president's, side, and hence fanning what looked like a tribal war.
"Let us not allow anyone to divide us on the basis of tribe in Nairobi," Sakaja said. "Don't try to divide our people. Don't try to sow discord. Our unity will be our marching anthem. The county will also be respected and we will remain on the path of restoring order and dignity and sanity in the city of Nairobi."
Kenyans have been drawn into this drama, just under four months into the new administration's reign.
"Stop undermining Nairobi Governor," tweeted Prof Alfred Omenya, an architect. "Sakaja is the age mate of your children. Just call him for a discussion. He will come. What are you afraid of?"
Sustained visits to the foot of Mt Kenya, where more legislators now find themselves hobbling to every morning following the DP's much publicised prayers, might just about quell any other fires that might be stoking. It might not calm his demeanour but if the prayers are answered, amidst the constant altercations, Kenya might just launch itself on a trajectory of prosperity.
"Facing Mount Kenya, I prayed to 'Mwene Nyaga' to give good health and wisdom to our Great Leader President@WilliamsRuto as he embarks on the economic transformation of our nation and the restoration of the dignity of the Kenyan people. Mlima is calm, steady, and stoic na iko sawa," Gachagua tweeted on January 6.
Related Topics