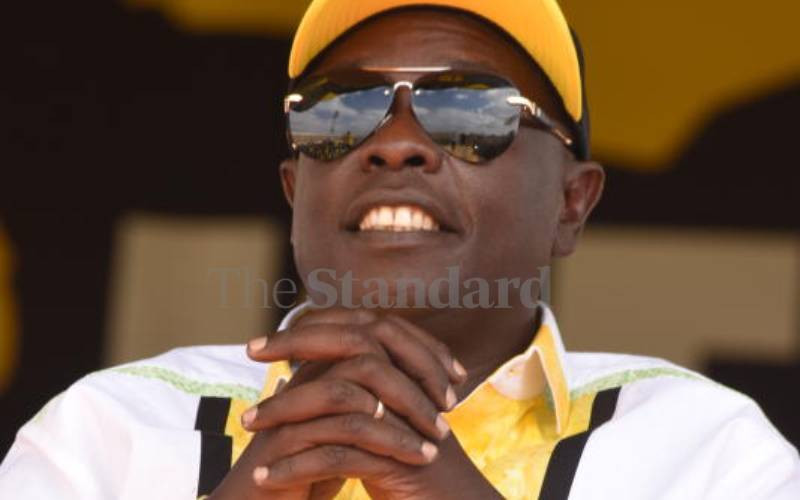 A political step by former president Mwai Kibaki set the stage for Rigathi Gachagua to rise in government.
While it was former president Daniel Moi that gave Gachagua a chance to serve in the government, it was Kibaki that created the opportunity for him to get the right connections and rise in the bureaucracy.
Like William Ruto, the man who will be his boss, Gachagua built his profile during the last 10 years of the Kanu government.
In an earlier interview with The Standard, Gachagua's wife Dorcas, spoke of seeing him at State House when he was a student at the University of Nairobi.
Dorcas spoke of at least two visits to State House in which her future husband was present.
Born in 1965 in Hiriga village, Mathira to Nahashon Gachagua Reriani and Lydia Nyaguthii Gachagua, the first term Mathira MP had his happy break when he was recruited as a District Officer Cadet in 1990.
He had completed his Bachelor of Arts (Political Science and Literature) degree at the University of Nairobi in 1988 when he got the job, a rarity those days.
Payback opportunity
That was the same year that Kibaki was demoted in a reshuffle immediately after the mlolongo elections.
Kibaki was named Health Minister and his place as Vice President and Minister for Home Affairs given to Dr Josephat Njuguna Karanja.
Karanja was just in his second term in Parliament having been elected Mathare MP in 1986 after Andrew Kimani Ngumba went to exile.
Karanja's pick as Kibaki's replacement surprised many even in Central Kenya.
Kibaki settled at Afya House but only waiting for a payback opportunity. That happened in 1991 after the country's return to multiparty democracy.
And that is where the Gachagua dots connected.
With Kibaki ditching Kanu with high profile ministers and MPs, the regime reached out to unlikely legislators to replace these who had resigned.
One was James Kabingu Muregi from Nyandarua but even more importantly was veteran Davidson Ngubuini Kuguru, the Mathira MP who became a minister in the Office of the President.
Kibaki's rival, Kuguru had a long-running political connection with the Gachaguas. The latter's family matriarch a was Kuguru's chief campaigner.
Gachagua also went back to his university student days with Head of Public Service and Cabinet Secretary Philip Mbithi. He had the right connections and a fast rising civil service career.
By 1993, Gachagua was working as one of the personal assistants to Secretary to Prof Mbithi at Harambee House in Nairobi.
Gachagua and Prof Mbithi gelled and soon some of his roles included piecing up speeches for the president.
In an interview early this year, Gachagua recalled how they would receive briefs from various ministries and run them up for verification before editing them and passing on to Prof Mbithi for fine-tuning.
Hardship areas
On February 29, 1996, Prof Mbithi was abruptly dropped as Head of Public Service and replaced by Phares Kuindwa.
Gachagua was among the pool of officers working directly under Prof Mbithi who got transfer letters to Provincial Administration offices in North Eastern, Marsabit and Turkana, which were considered hardship areas.
He would later return to more hospitable areas in Laikipia, Kakamega and Limuru.
One of the enduring images of Gachagua as a DO, was when he led anti-riot police officers in blocking a Ford-Asili delegation led by former Butere MP Martin Shikuku and area MP George Nyanja from holding rallies in Limuru.
Shikuku confronted the DO, telling him that the State had decreed that the Opposition be allowed to visit the country freely. But the young DO would not budge.
In 2002, Gachagua was seconded as a Personal Assistant to the then Kanu presidential candidate Uhuru Kenyatta.
He recalled that Uhuru was then a political greenhorn but one who learned quickly.
Uhuru would lose the 2002 presidential race to Mwai Kibaki but managed some tidy numbers for a first timer.
Gachagua stayed on as PA until 2006 when he went into business.
In an earlier interview, Gachagua said he believes Uhuru let down his friends, including himself and Ruto.
Before becoming Mathira MP in 2017, Gachagua edged out Ms Wambura Maranga, who then contested as an independent candidate claiming she had been rigged out in the Jubilee Party primaries.
Many attest that Gachagua is a good grassroots mobiliser as demonstrated by his almost successful attempt to lock Azimio from winning any parliamentary seats in the Central Region counties of Kiambu, Nyeri, Nyandarua, Murang'a and Kirinyaga as well as Embu, Tharaka Nithi, Laikipia and Nakuru.
Despite the fallout with Uhuru, he has vowed that his secrets while under Uhuru's employment are safe, describing himself as "an officer and a gentleman."
He has never built a home in Nyeri or Karatina towns saying he loves the countryside and can't pretend to be in rural Kenya but be holed up in a township.
Although he gained infamy for unguarded pronouncements on the campaign trail, he has, surprisingly always defended all the comments.
It is perhaps a demonstration of his tact going by the results of the 2022 elections in Mt Kenya.
Related Topics