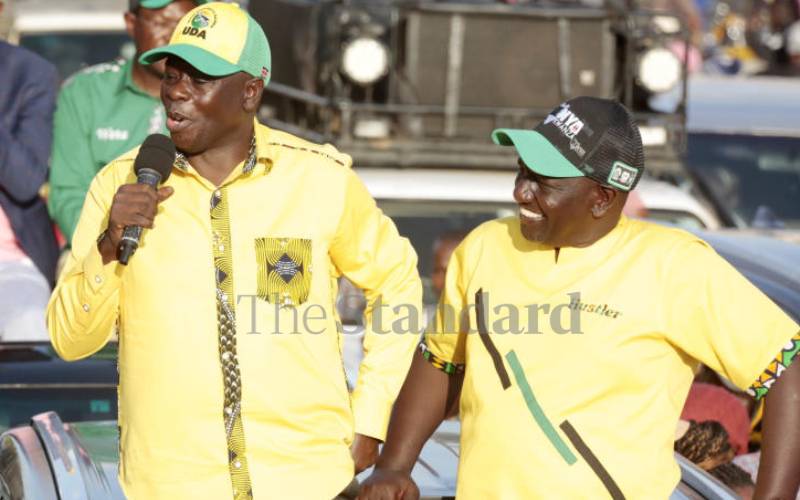 Kenya Kwanza coalition insiders are jittery over the recent utterances by their presidential running mate Rigathi Gachagua.
They feel his "careless" utterances are likely to trigger a voters' revolt.
Since his nomination, Gachagua has been making headlines over his unguarded remarks and firm stand against UDA affiliate parties which he considers fringe parties.
During the burial of his brother James Reraini on May 18 at Hiriga village in Mathira, Gachagua jokingly pleaded with the Deputy President William Ruto that upon his election as the president, he orders that during his visits the doors of Sagana State Lodge and others remain open for locals to enter and eat meat and rice.
"Let us slaughter 35 bulls and cook copious amounts of rice to go with the beef. Our people don't want anything else. This is what used to happen during the Moi era," said Gachagua.
Thinking about food
The remarks were taken by Gachagua's critics to mean that the first term MP is not keen on agitating for Mt Kenya region interests but was only thinking about food.
Critics of the UDA ticket have been sparing no opportunity to harp on the fact that the only dividends Mt Kenya will get under a Ruto government were "rice and beef."
During an interview with Inooro FM on Tuesday, Gachagua made remarks touching on Safaricom and Kenya Airways and their value to Kenyans.
His remarks have led to him being mocked on television talk shows and social media.
He had said Kenya Kwanza government "will grow the enterprises of small business people who constitute the majority instead of having giant corporate like Safaricom paying taxes, you can have such a company's investment and create many smaller companies that will pay taxes."
"Their impact will be 30 times more than from just one big corporate. So we are not chasing big corporates. We are saying that even small and medium investors be taken care of," said Gachagua.
His remarks have angered some principals of Kenya Kwanza affiliates in Mt Kenya region who want the first-term MP's tongue tamed lest he becomes the main spoiler for Team Ruto.
Farmers Party of Kenya chair Irungu Nyakera said he was concerned by Gachagua's outbursts saying he will be tabling his concerns when the principals meet next month.
"We are deeply concerned by Gachagua's remarks and if he is not tamed, he will weaken the coalition and cost us votes. Since he was nominated, he has been making careless remarks, we have compiled all the remarks and we will be tabling in our meeting with other principals," said Nyakera.
Communication experts
The Murang'a governor candidate is also aggrieved by Gachagua's decision to edge out parties within the Kenya Kwanza coalition but from Mt Kenya. "Instead of being a unifying factor in Kenya Kwanza he is dividing us," said Nyakera.
Nyakera also said that Gachagua should hire a team of communication experts to advise him on what to say on various subjects since he was now a national leader and not an ordinary Member of Parliament.
The Service Party of Kenya (TSP) party leader Mwangi Kiunjuri has also told off Gachagua for his six-piece voting message saying he should not purport to speak on behalf of Ruto.
"Everyone is entitled to an opinion but unless the statement comes from Ruto himself we will take them head-on," Kiunjuri said.
Asked whether he has tabled his grievances to Ruto or to other coalition principals, Kiunjuri said that was an internal matter being handled behind doors.
"I am a coalition principal and that is more of a boardroom affair which should not be discussed in public," said Kiunjuri.
But even with the opposition, Gachagua is unbowed.
He sees nothing wrong with his remarks and insisted his comments were well received and only taken out of context by rivals.
He also blames his opponents for paying bloggers to twist his remarks to taint him in a bad light.
"Bloggers paid by our opponents picked selected words, twisted them selectively and gave them negative meaning," said Gachagua.
"I said with the bottom-up economic model we shall empower the ordinary people expanding the tax brackets that will see ordinary people paying more taxes than established corporates like Safaricom."
Muranga Senator Irung'u Kangata has also defended Gachagua and praised him for being a pragmatic leader.
He said Gachagua was talking truth to power and was resonating well with the common mwananchi but their opponents saw an opportunity for spreading propaganda by twisting his remarks.
"We make no apologies for his wise thoughts," said Kang'ata. "Selling off Safaricom's government shares would earn Kenya billions. For Safaricom to grow it needs to axe government representation from its board."
However, Prof Gitile Naituli said that Gachagua's statements may cost votes and Kenya Kwanza luminaries should be wary of their running mate and institute moves to tame his tongue.
Related Topics