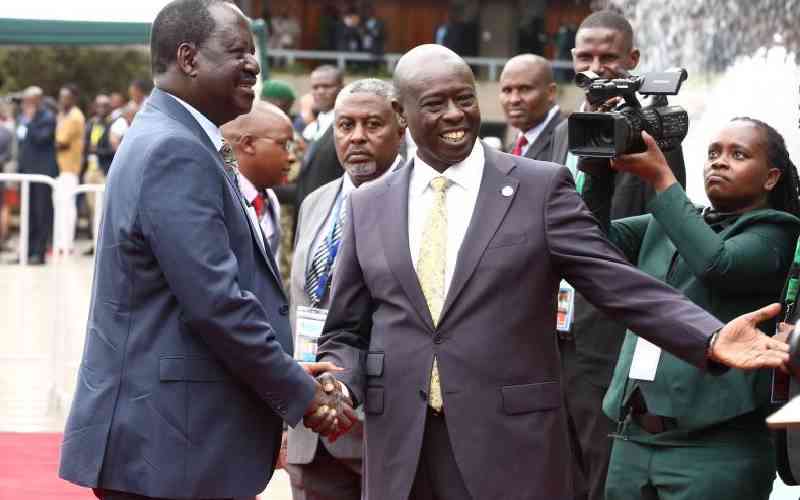 Deputy Prezzo Rigathi Gachagua aka Riggy G is an interesting man. As we say where I come from, he put a whistle in his mouth and blew at the top of his lungs that he would not greet "that man," whose proper name is Raila Odinga aka Baba.
That's when there was much talk about the possibility of a "handshake" between Baba and Prezzo Bill Ruto, after the latter realised there was no way to govern a country when protests were being staged every day.
Those were the protests that some folks blamed on former Prezzo UK prompting some crude chaps to threaten that they'd go to Ichaweri, the Kenyattas' rural home and pass water outside the homestead.
I don't know if the watering of the grounds was to replace the rains, which are eagerly awaited in huge swathes of the country.
Anyway, that was the time Riggy G, whistle in the mouth, swore he and Baba would never shake hands in this lifetime. But this week, Riggy G was deployed to meet Baba as he made his way to the Climate Summit.
In his public declaration, now doing its rounds online, Riggy G is heard warning that the perils of shaking hands with Baba included the prospects of perfectly normal individuals responding to the greetings by removing their undies and hurling them on their heads.
I know sufurias were used on the head to symbolise economic hardships, but I have no idea what undies on heads would mean, other than readiness to copulate, the sort of language that I wouldn't associate with Riggy G. Well, he may have publicly confessed to having a crush or two in his younger days, but that's as far as it went.
Anyway, the moment came and Baba stepped out of his car to find Riggy G's eager hand. He did not remove his undie and hurl it on his head, but he comically removed his hand from his pocket to stand in deference.
Related Topics