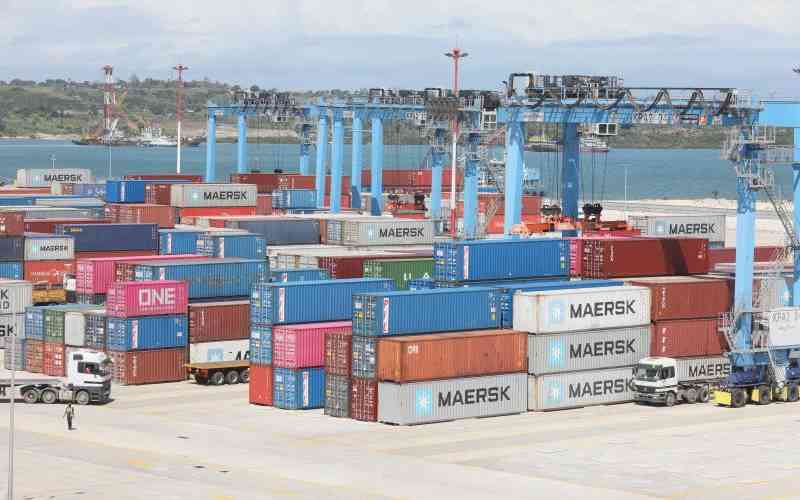 In an era of uncertainty and change, some moments breathe life into our spirits, igniting an extraordinary sense of delight and anticipation. I am thrilled to witness the profound impact of the African Continental Free Trade Agreement (AfCFTA) on the continent's economic landscape. The AfCFTA, which came into effect in January 2021, has the potential to transform Africa's future, and it is my earnest belief that every nation in Africa should take advantage of the opportunity to be a part of this revolutionary initiative.
The AfCFTA is a landmark trade agreement that aims to create a single continental market for goods and services, promote free movement of people, facilitate investments, and enhance economic integration across Africa. To boost intra-African trade, this agreement has already started yielding promising results, presenting a golden opportunity for countries that are not yet members to join the movement.
Kenya, being a member of both the East African Community (EAC) and the Common Market for Eastern and Southern Africa (COMESA), has already been reaping the benefits of regional trade cooperation. However, the AfCFTA takes this collaboration to a whole new level, by integrating 54 African nations into a unified market of over 1.2 billion people and a combined GDP of over $3.1 trillion.
The first and foremost advantage of the AfCFTA lies in its potential to boost economic growth and job creation across the continent. By eliminating tariff barriers and reducing non-tariff barriers, the agreement will foster a more conducive environment for businesses to thrive and expand. Increased trade will increase demand for goods and services, spurring investments and propelling economic development.
The AfCFTA is designed to unleash Africa's economic potential by creating a single market that fosters cross-border trade, encourages investments, and drives innovation. By removing tariffs and reducing trade barriers, the agreement seeks to promote economic diversification and integration, stimulating industrialisation and enhancing Africa's global competitiveness. This means businesses, including insurance companies, will have greater access to a broader customer base, more opportunities to collaborate with partners across the continent, and a chance to explore markets that were previously unattainable.
For companies operating within the East African region, joining the AfCFTA is a gateway to expanding their market reach beyond the confines of the regional trade blocs. While EAC and COMESA have played vital roles in fostering regional integration, the AfCFTA provides a broader platform that transcends regional boundaries. It opens doors to the vast markets of West Africa, North Africa, Central Africa, and Southern Africa, presenting companies with a more significant market share and a chance to tap into diverse consumer preferences and demands.
The AfCFTA is not just an economic agreement; it is also a testament to Africa's commitment to unity and cooperation. For far too long, the continent has been fragmented, with multiple trade blocs operating independently and sometimes competitively. The AfCFTA represents a paradigm shift as it encourages nations to work together towards a common goal: Harnessing Africa's collective strength for mutual benefit.
By pooling resources, expertise and knowledge, African nations can address common challenges, such as infrastructure deficits, logistical bottlenecks, and limited access to finance. This united approach will enhance the continent's resilience to external shocks and foster inclusive growth that leaves no country or region behind.
For companies based in East Africa and beyond, embracing the AfCFTA means embarking on an exciting journey of market exploration. As the insurance industry faces its challenges and opportunities, exploring new markets will be critical to driving sustained growth. By identifying emerging trends, understanding consumer needs, and offering tailored solutions, companies can establish a strong foothold in previously uncharted territories.
For instance, an insurance company in Kenya may find opportunities to provide agriculture insurance products to farmers in West Africa to mitigate risks from climate-induced challenges. Alternatively, a company specialising in healthcare insurance could venture into North Africa, where there is a rising demand for quality health services. These ventures not only benefit the companies themselves but also contribute to the overall economic growth of the continent.
As existing members of both EAC and COMESA, Kenya and other East African nations are uniquely positioned to leverage their regional integration experience to harness the potential of the AfCFTA. The EAC, established in 2000, has played a crucial role in promoting trade and investment among its partner states, facilitating the free movement of goods, services, and people. COMESA, on the other hand, has been instrumental in advancing regional economic integration in Eastern and Southern Africa.
These regional blocs have served as stepping stones towards broader continental integration under the AfCFTA. By aligning their policies and harmonizing trade regulations with the requirements of the AfCFTA, East African countries can ensure a seamless transition into the larger African market.
The AfCFTA is therefore a game-changer for the continent, and I urge all African nations that are not yet part of this initiative to join without delay. The benefits are immense, not only for our countries but also for our businesses and citizens. By fostering economic integration and encouraging companies to explore markets beyond East Africa, we can unlock Africa's true potential and pave the way for a prosperous and united continent.
Related Topics