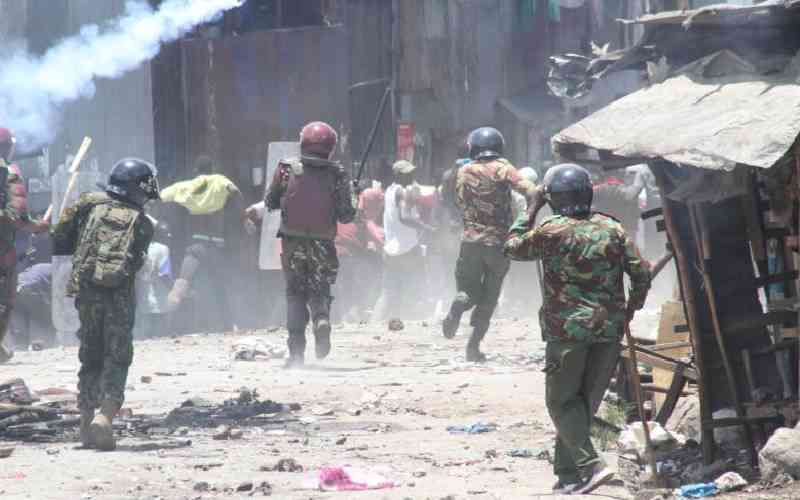 Kenya is literally burning. During last week's Monday protests, a Church and a Mosque were burnt down.
This was eerily reminiscent of the tragic torching of Kiambaa Church in Uasin Gishu back in 2008. Luckily, no lives were lost in these places of worship this time.
Tragically, lives have already been lost since March 20th when the demonstrations started. William, a 21-year-old Maseno University student is among those who have died in the protests. Why did he have to die?
In the course of these demonstrations and as a reaction to them, havoc has been unleashed on our society. Property has been vandalised. This includes the innocent multiple Kenyan small-scale entrepreneurs and the Kenyatta family's Northlands farm. It is not business as usual.
Last Tuesday, I was among a team of seven representing concerned Kenyans who met to brainstorm on potential peace pathways. They included Prof PLO Lumumba; Phillip Kisia; Charles Wambugu; Dr Charles Maranga, Florence Machio and Chris Kilonzo. Even among us, discussions were quite intense albeit fruitful. This mirrors the emotive encounters taking place across the country.
Empathy is the singular principle that will deliver the peace pathways that we seek. Empathy requires us to place ourselves in our political adversaries' shoes. As such, it is critical for Azimio to acknowledge that the current President was constitutionally sworn in after the conclusion of an elective and judicial process.
In the same breath, the ruling Kenya Kwanza coalition must also acknowledge the constitutional right of all Kenyans, including Azimio, to stage peaceful demonstrations. On their part, security agencies should facilitate and not antagonise peaceful protests. These demonstrations are partly fueled by the runaway high cost of living. The government must be seen to be decisively and transparently tackling this matter. There are two steps that can greatly help to drive down high cost of living.
Firstly, I suggest the government institutes a revolutionary debt programme. If we manage our debt, we will be halfway there since there will be much more money available to pump into the local economy.
Secondly, I suggest that the government upholds meritocracy across the board even as we implement the tenets of the famous Vision 2030.This will ensure inclusivity and cohesion.
At a more down-to-earth level the Executive, the Legislature and the Council of Governors needs to convene an urgent meeting to address the prevailing challenges particularly the cost of living. All these efforts of reviving the economy and unifying the country are dependent on peace. Absence of peace renders everything else impotent. That's why the urgent, vital question of the moment isn't about who is right or wrong. Rather, it's about what should be done immediately to restore peace and eventual unity in our nation.
Let us all remember that you can only enjoy legal or constitutional rights in a country that exists and functions. It is against this backdrop that our team of seven representing concerned Kenyans is emphatic in our call for national engagement, not just national dialogue.
Engagement transcends dialogue and encompasses holding each other accountable. It must be understood that anytime the two coalitions degenerate to personal attacks on each other, respective supporters take cue. Time is ripe for our leaders to start talking to each other, not at each other. Section 33 of our Constitution makes it clear that the right to freedom of expression does not extend to incitement to violence or ethnic incitement.
Leaders of Kenya Kwanza and Azimio must exercise zero tolerance to incitement. Of course, it is heartwarming for Kenyans to note there now exist back channels of hard discussions that have been opened between Azimio and Kenya Kwanza teams. May God bless those efforts.
For peace to prevail, every Kenyan must always commit to upholding peace. A heart-to-heart engagement does it. Think green, act green!
Related Topics