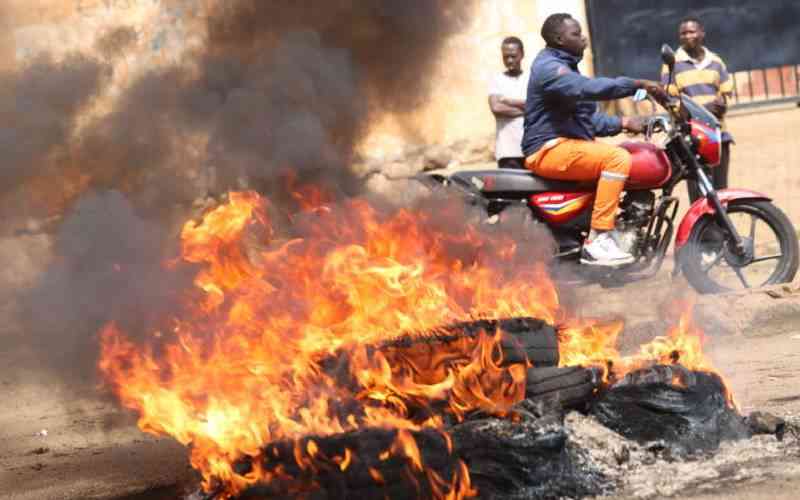 Once described as the West's stalwart pupil in Africa, a model of political stability, and a useful contrast to the chaos of Uganda and the failed socialism in Tanzania, Kenya is now fighting a deathly smell of failure because of its proud inability to put its act together.
The country is in ferment. The glue that has held this nation-state together for six decades, having undergone tremendous tests in recent years, can no longer hold. Or, more accurately, in the words of Irish poet William Yeats, "the falcon cannot hear the falconer" and "the centre cannot hold".
After the 2017 election, it took the truce between Raila Odinga and Uhuru Kenyatta for Kenya to move on. But, as most people agree, that truce didn't follow the right process. Allow me to explain.
Reconciliation of any kind is a function of truth and justice. One, in nullifying Uhuru's re-election, the Supreme Court established that the 2017 presidential election was not conducted in accordance with the Constitution and all applicable laws.
The Independent Electoral and Boundaries Commission (IEBC) failed to implement the Supreme Court ruling of 2017, motivating the opposition to boycott the repeat election. Part of the 2017 ruling by the Supreme Court required IEBC to grant the public access to its servers. This was not done.
Two, in failing to implement the Supreme Court ruling of 2017, the question of electoral justice was effectively aborted. The 'handshake' between Raila and Uhuru in March 2018 was, therefore, a miscarriage of justice and an act of national betrayal.
Some people have argued that Raila's decision to make amends with Uhuru was his greatest misdeed. And they are partly right. Like the rest of the political class—or Kenyans generally, for that matter—Raila is a very convenient politician.
After the handshake, Raila sacrificed the quest for electoral justice and suddenly realised that Uhuru was his brother and that Kenya was bigger than any individual.
If it took an unprecedented truce between two scions in 2018 to save Kenya's soul, it would take a moment of similar courage to rescue Kenya from total collapse.
Only that this time it will involve a familiar face in these things—Raila—and the son of a peasant who believes his rise to power is thanks to some heavenly decree.
You may not like it, but if Raila insists on using mass action to address Kenya's deep-seated electoral challenges, Kenya will not move on. You may move on as an individual voter, but Kenya won't move on economically, which basically means you will be directly affected.
Those who argue that Raila should be dealt with "once and for all"—by either incarcerating or assassinating him—are grossly misguided. Raila, the idea is stronger than Raila, the person. The problems facing Kenyan democracy cannot be fixed by fixing Raila.
And even if Raila exits the stage, what will we say when another Kenyan leads other Kenyans in protesting against popular rituals that are our elections using similar means that Raila has used over the years?
Gripped by the glorious collective misconception of the social contract that is the government, Kenyan political leadership has grossly undermined the power of a dissatisfied citizenry since independence. Until the political leadership understands and addresses this dissatisfaction, Raila the idea will still be with us.
In a country where excessive ethnic nationalism remains a necessary tool for acquiring and preserving political power and where politics is performed under religious dogma, the concept of democracy remains an increasingly troubled experiment.
We must realise, sooner or later, that we are not handling this experiment called democracy the right way. This is why the country finds it hard to move on after every election. That said, we don't need a 'handshake' after every election for Kenya to move on.
Ideally, an election produces a winner and a loser. In a presidential election, the winner forms the government while the loser becomes the opposition. That is what democracy, at least the way it is practiced in Kenya, expects.
That expectation, however, cannot be actualised if the process of determining the winner is the subject of constant contestation. Kenya's democracy is troubled because of this reason.
President Ruto must descend from the altar of political high-talking if Kenya is to squeeze the genie back into its bottle, at least temporarily. It may not be the best thing to do politically, but it is the right thing to do as a sober, rational leader.
In her successful book, 'It's our turn to eat', British journalist Michela Wrong describes Kenya as "the land of compromise and the fudge that has a knack for staring ruin in the face, backing off, and muddling along".
Kenya will survive this latest democratic test too, but some people will have to eat humble pie and make peace with the reality.
Related Topics