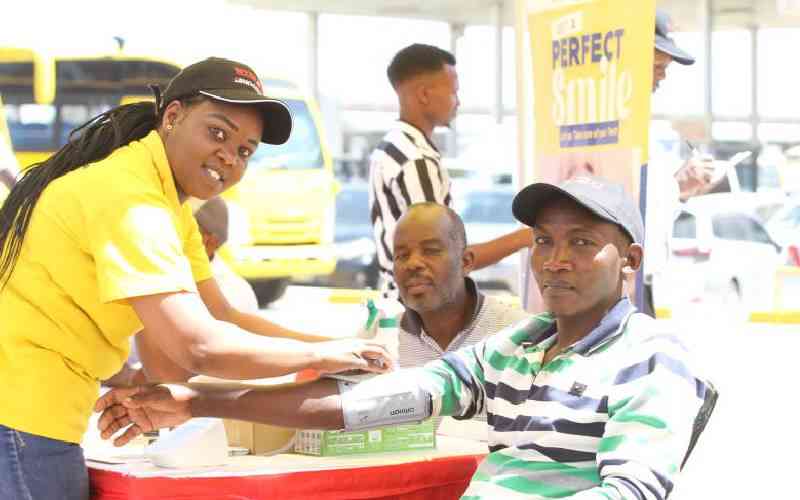 Access to proper healthcare is a major challenge to most Kenyans despite government efforts to increase investment in the health sector.
Non communicable diseases (NCDs) like hypertension and diabetes are increasingly affecting many even as the cancer burden in Kenya worsens.
Unfortunately, many people have failed to embrace healthy lifestyle changes that keep diseases at bay. Simple measures such as reducing salt intake, exercising and checking blood pressure go a long way in keeping hypertension away while screening for diabetes will help you stay healthy and avoid complications from severe disease.
Regular check-up also helps one keep track of their health and ensures early medical intervention to prevent hospitalisation. According to the Kenya Medical Research Institute, NCDs such as cancer, diabetes and others account for 27 per cent of deaths and over 50 per cent of hospital admissions.
The Ministry of Health notes that the risk factors include unhealthy diets, tobacco consumption and lack of exercise. According to the ministry, cancer is the third leading cause of death and the second leading cause of NCD after cardiovascular diseases.
The government has warned that the annual cancer cases are rising with 47,887 cases recorded in 2018 and 42,116 in 2020 with the five common cancers in Kenya being breast, cervical, prostate, esophageal and colorectal. The World Health Organisation estimates that, by 2030, deaths from NCDs are likely to increase by 17 per cent globally and by 27 per cent in Africa.
Communicable diseases like HIV, Tuberculosis and Malaria are also a major public health issue and a leading cause of death. The diseases are preventable and treatable but continue to have a devastating impact on people's health and livelihoods.
Despite the grim statistics, many Kenyans are reluctant to go for regular wellness check-up and shun free medical camps and only show up in hospital when they are sick.
Taking health insurance to cushion you when you fall sick should not give you comfort that you will get good medicare but let us make it a habit to attend wellness clinics. Health insurance is traditional, focusing only on medicare during sickness but to ensure a healthy population focus needs to shift to prevention and screening.
Vitality Health International (VHI) which recently launched in Kenya, is an innovative health insurance that focuses on mental and physical well-being by encouraging people to adopt healthy lifestyle changes, prevention and screening.
VHI offers comprehensive insurance that rewards healthy living through behaviour changes that have high potential to affect people's health outcome time like nutrition, physical activity and preventive screening.
We must take responsibility for our health through personalised physical and mental health goals besides prevention and screening to reduce disease burden. This will complement government efforts to boost healthcare and a productive population.
The writer is a sub editor at The Standard. [email protected]
Related Topics