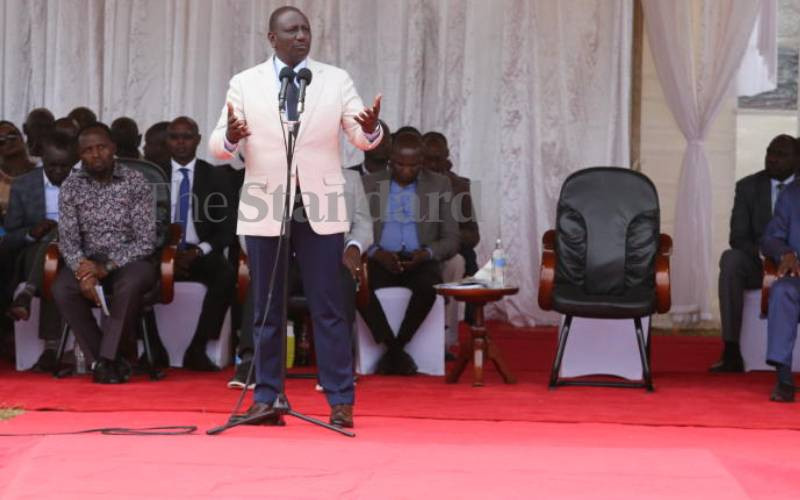 On January 14th while touring Siaya County, President William Ruto told residents: "Serikali ni serikali ya Kenya, na ni serikali yenu."
This is a government for Kenya, and this is your government. Indeed, the government belongs to all of us, irrespective of our tribes, religions, class or voting patterns.
At the helm is a legitimately elected President and a government voted under the law after a detailed due process was applied.
In mid-2021, a Reuters/Ipsos poll revealed that 25 per cent Americans surveyed, including 53 per cent of Republicans, still believed that Donald Trump was the 'true president.'
While their delusions can't change the reality of Joe Biden as President, they continue to widen the division in America. Kenya cannot afford to go down this route. We are too young a nation to start becoming irreparably divided.
We must therefore unify our efforts to make Kenya a better place for all Kenyans. To do so, we must do the following four things.
Firstly, we should step up national cohesion efforts and tone down divisive rhetoric.
Two thousand years ago, Apostle Peter warned that, 'whoever would love life and see good days must keep their tongue from evil and their lips from deceitful speech.'
It is incumbent on politicians from the ruling party and opposition to engage in constructive politics. Opposition is not illegal. So, it is fine to hold as many meetings as possible.
The important of consideration the leaders must make to make is where, why, when, how and with who the meetings are being held. They must be sympathetic of the fragility of our society.
The government response on the other part must be measured. We all agree that Kenya needs to heal from the high voltage emotions and stress that come with elections by appealing to the conscience of the people.
I liken my appeal to people who consume alcohol but chose never to do so in the presence of their children.
Secondly, we must speedily sort out the ongoing challenges in the Junior Secondary School (JSS). The Competency Based Curriculum is no longer theory and has for sure exposed the neglect in our schools over the years.
We cannot afford to let down the reported 1,268,830 learners who enrolled in Grade Six last year and have now proceeded to JSS. Parents and various stakeholders need clarity to instill confidence on the education system that they have entrusted about 11 million children in the primary schools.
It is life threatening to allow parents feel as if their children are being used as guinea pigs.
Thirdly, we must solve our pressing land problems once and for all. The media recently reported a story about Justina Mueni, a lady who died in 2005 yet Ministry of Land records show that she somehow 'came back to life' and sold her land in 2007.
Clearly faceless land cartels are back and land tenure is not secure. Land owned by prominent people and the community alike is under attack.
The government must guarantee the sanctity of our title deeds.
Fourthly, going by our current economic situation, we need every coin there can ever be through collection of taxes and sealing of all corruption loopholes. Still we must not politicise this subject.
Section 201 of our Constitution states that, 'the public finance system shall promote an equitable society.' In that regard, taxes are indispensable to our collective and individual wellbeing.
Currently, our tax revenue only accounts for 14 per cent of the country's Gross Domestic Product (GDP) yet in most developed countries it accounts for as much as 25 per cent.
Even as we demand for accountability, President Ruto's calls to raise our tax revenue from Sh2.1 trillion to between Sh4-5 trillion is spot on.
Our economic independence is directly proportionate to our tax revenue. Think green, act green!
Related Topics