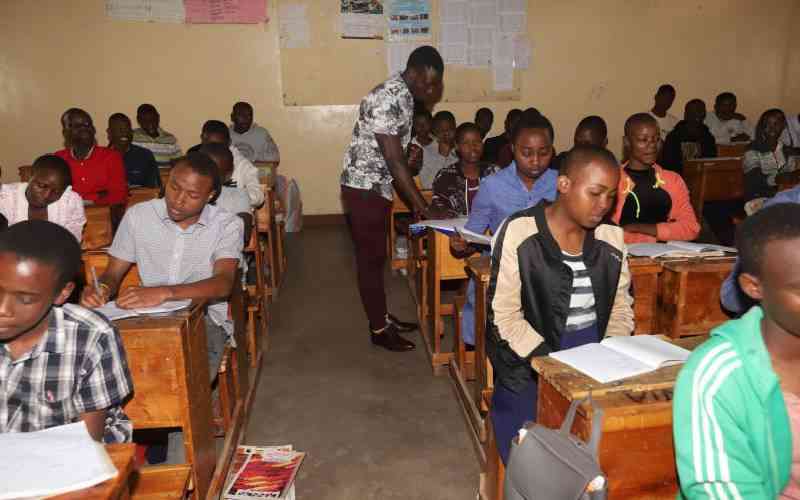 Teaching has transformed from a simple educational function into a complex profession. Teaching develops the minds of children and young adults, and prepares them to become worthwhile citizens.
The history of teaching can be traced to Confucius (561 B.C.), who was the first famous private teacher. Many ancient Greeks hired private teachers to educate their children. In the middle ages, learning institutions such as Cambridge University were founded and teacher training became a requirement.
In early American colonial days, housewives and ministers taught. The pilgrims established the first public school in 1635, and this was followed by "dame" schools, primarily for women. Subsequently, Latin grammar schools that offered secondary education for boys were also formed.
Massachusetts and Virginia passed laws requiring that for every 50 families, an elementary school was to be built, and for every 100 families, a Latin grammar school. Teachers taught reading, writing and religion in these schools, and much of the teaching was done by requiring students to memorise subject matter.
In early education in Kenya, teachers were employed by agencies that sponsored and built schools. These included churches, local government councils and non-governmental organisations. This meant that teachers would therefore not have uniform terms and conditions of service.
The need to have uniform terms and conditions of service is what led to the struggle by teachers through their union representatives to have universal recognisable and constitutional employers.
As a result, the Teachers Service Commission was formed in 1967 as a commission within the line Ministry of Education and was in 2010 made an independent constitutional commission through major amendments.
In the quest to streamline service delivery by teachers, the Teachers Service Commission has been formulating policies to guide their objectives.
A policy is a set of ideas or a plan of what to do in particular situations that have been agreed to officially by a group of people, a business organisation, a government, or a political party.
Some of the policies made include; delocalization, deployment, C+ KCSE grade in deployment of teachers to secondary schools, promotion of teachers to administrative positions, training of teachers for progressive development and teacher mentorship and coaching, among others.
All these policies were intended to improve the quality of teaching and learning, and more specifically to make today's teacher more effective and efficient. According to the Teacher Service Commission, delocalisation of teachers' was geared towards providing classroom teachers with a new working environment and also tap into their vast experience. The teacher delocalisation policy has been an issue of controversy that has caused uproar among teachers since it has its positive and negative sides.
The policy is tearing apart many families of teachers in that couples are being separated. On time management, some teachers travel long distances to and from their places of wok, hence wasting learners time.
For instance, if teachers working in counties far away from their home travel back home on Thursdays and report to work on Tuesdays every week, there is a high probability that two days go to waste.
As it stands now, the policy should be repealed. There should be no more movement of teachers from their current stations of work in the name of this policy. What has not been done by the employer is sending an official circular denouncing its existence and giving a roadmap of addressing those already affected.
Teachers continue to stream into our Knut offices to request for assisted to return to their former counties. Our call to the employer is that a structured system be laid out to address re-routing so that the affected teachers get justice.
Teachers, especially those in primary schools, should be employed in their local areas to improve effectiveness and efficiency. The notion that it is teachers who will cause national integration, as earlier thought by the policy framers, is not right. The curriculum is already packaged with lifelong skills and values that are inculcating nationalism and good citizenship.
The Kenya National Union of Teachers therefore strongly and unequivocally calls upon TSC to develop a clear structure of addressing policy matters other than just proclaiming their removal without action.
Moving forward, the employer should involve stakeholders in developing policies in the sector in the spirit of public participation. This is because stakeholder participation could help in identifying gaps and proposing remedies to the same.
Related Topics