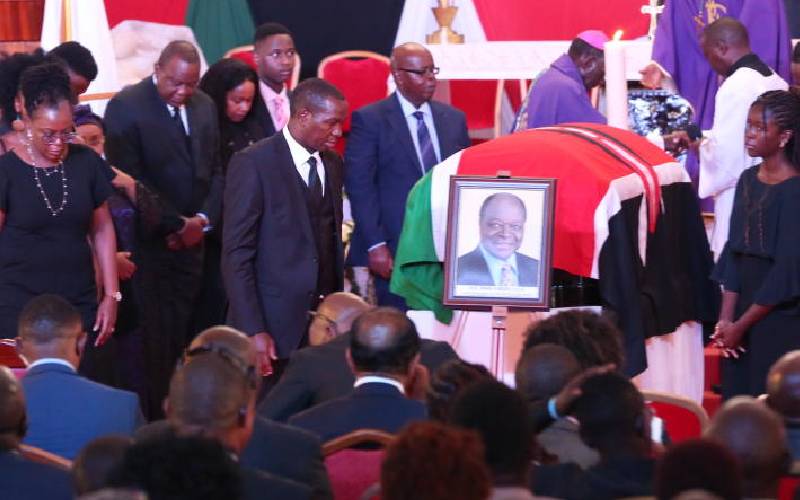 All of them arrived in Uganda by train. The construction of the Kenya-Uganda Railway, which started in Mombasa in 1896, reaching Kisumu in 1901, had reached Kampala, finally, in 1903. Transport was efficient—at least by then standards. And Uganda was a beautiful country. Earlier, Sir Winston Churchill had written in 1908 that "Uganda is from end to end a beautiful garden where the staple food of the people grows almost without labour. Does it not sound like a paradise on earth? Uganda is the pearl (of Africa)."
Once in Kampala, they would then take a bus, a slow one, from Wandegeya to the hill. For Makerere University was built on a hill, perhaps a symbol of the intellectual heights they were expected to conquer to be truly prepared for the future.
It is inside these buses that they would meet other students, both newly admitted and continuing ones, of the college from other countries. They would strike friendships, some that would outlast their days in Makerere. It would be a new world to them, and life would never be the same again.
These young men and women represented the best of this country intellectually. Called to Makerere to pursue mostly art-based courses, they had all qualified with distinctions to join the only university college in Eastern and Central Africa that offered diploma courses pre-1949 and degrees post-1949 after it became affiliated to the University of London alongside the University of Ibadan in Nigeria and the University of Ghana at Legon.
Joining Makerere University was a Herculean task. In Kenya, only four secondary schools admitting African students were authorised to offer the Overseas Cambridge School Certificate Examinations, the ticket to Makerere: Alliance, Mang'u, Maseno, and St Mary's School, Yala. But that was not enough! Students had to again pass Makerere Entrance Examination to secure slots in the university that to them was heaven.
"Unfortunately, half of my class in Maseno failed the entrance examination and had therefore to find other avenues to pursue higher education. I was one of the lucky few who qualified to go to Makerere, others being Joab Ochieng, Thomas R Odhiambo, Burudi Nabwera, and Samuel Onyango Ayodo," Prof Bethwell Ogot recalls in his autobiography, My Footprints on the Sands of Time.
If there is an institution of higher learning that has contributed immensely to the development of post-independent East Africa, then that is definitely Makerere University. With its motto of "Pro futuro aedeficamus," which translates to "We Build for the Future," Makerere truly lived up to it, at least before the World-Bank-inspired neoliberal reforms at the turn of the millennium that watered down focus on the academy. It gave sons and daughters of African peasants the intellectual and social exposure to take their independence in their hands at the fall of the British Empire in East Africa.
Sense of patriotism
These students would, upon graduation, return to their countries to contribute to nation building. Although some would go overseas to further their education, it is undeniable that Makerere had infused in them a sense of patriotism to their countries. David Rubadiri, for instance, went to Cambridge after Makerere, then went back to Malawi to be its first ambassador to the United States.
Prof David Wasawo graduated with distinction from Makerere, went to Oxford, then rejoined Makerere as a tutorial fellow. He would return to Kenya to help build the University of Nairobi. Other academics in this category are Prof Ogot, Ngugi wa Thiong'o, Anyang' Nyong'o, Thomas Odhiambo, among others.
President Mwai Kibaki spent the evening hours of his life journeying between his Muthaiga home and Nairobi Hospital. Old age had come with his stool and assumed a permanent residence in the former president's house—to paraphrase Nigeria's celebrated author Chinua Achebe.
Sharp as a tack, articulate, and secure in his achievements in his heyday, old age had dealt a blow on Kibaki's physical and neurological capabilities. He finally gave up the ghost on April 21.
As tributes from friends and people who worked with him poured in, one aspect that was almost a permanent feature of the testimonies is Kibaki's education in Uganda. It appears universally accepted that it is Makerere that truly built him for leadership in post-independent Kenya.
Beyond the skies, he will reunite with old boys of Makerere who also served as presidents. Milton Obote, Ben Mkapa, and—the diamond of them all—Julius Nyerere.
"Why are you here, Kibaki," the oratory excellent Milton Obote will enquire.
To which Kibaki will respond, "I have done the State some service, and they know't—No more of that."
Adieu, Mwai Kibaki.
The writer is a medical researcher for the University of Nairobi
Related Topics