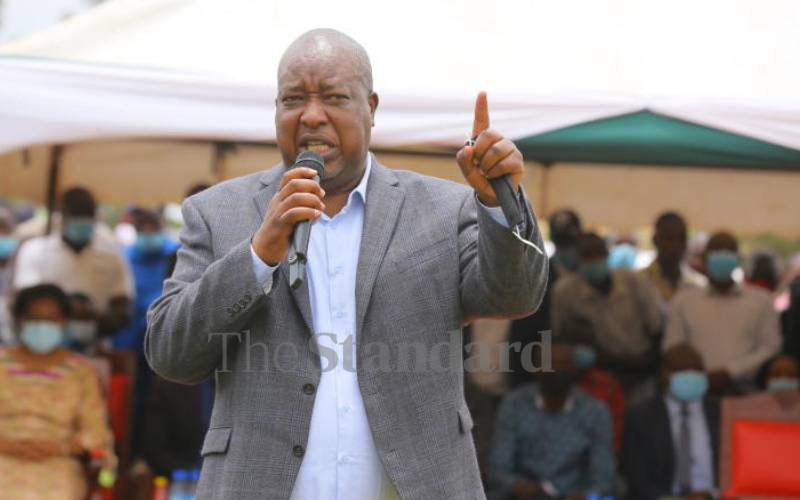 Stakeholders have raised an alarm over the high rates of child neglect and abuse in Nyamira in the last few years.
Speaking in Nyamira on Friday while launching the County Child Policy, a legal framework that will forge enhanced coordination in protecting the rights of children, stakeholders claimed several have dropped out of school because of neglect by parents.
They are hoping the policy will play a crucial role in rescuing children whose future faces uncertainties as a result of child abuse.
The policy was made public by Governor Amos Nyaribo in the presence of the Country Representative of Catholic Relief Services Rebecca Hallam and Nyamira County Commissioner Onesmus Kyatha.
The judiciary and national security agencies were also involved in the launching of the legal framework.
The players said the development of the policy was a stride towards containing the currently worsening situation of child abuse and neglect which they termed a threat to development.
According to data recorded by the Children Protection Management Systems (CPIM) between 2020 and 2021, out of every 10 children in Nyamira, four of them are neglected by their parents.
Additionally, statistics from the Directorate of Children Services indicate that at least 13 out of every 100 children are entangled in parental custody disputes.
"We have so many children who have been left in the care of elderly or sickly caregivers with little or no income and this is a major concern," said Nyaribo.
According to the county chief, the neglect is part of the reason the county is witnessing cases of teenage pregnancies and school drop-outs.
"With this policy, we shall incorporate other players effectively in making sure there are enough interventions towards improving situations vulnerable children find themselves in," Nyaribo said.
Kyatha promised to steer the security agencies in addressing the underlying factors that were making the lives of children difficult.
The Country depends on its younger population for the future and if we don't protect our kids, then we may not have a nation in the future," Kyatha said.
Ms Hallam on her part said CRA will continue partnering with the county and other key players in bringing down the vices that affect the development of children in school.
Related Topics