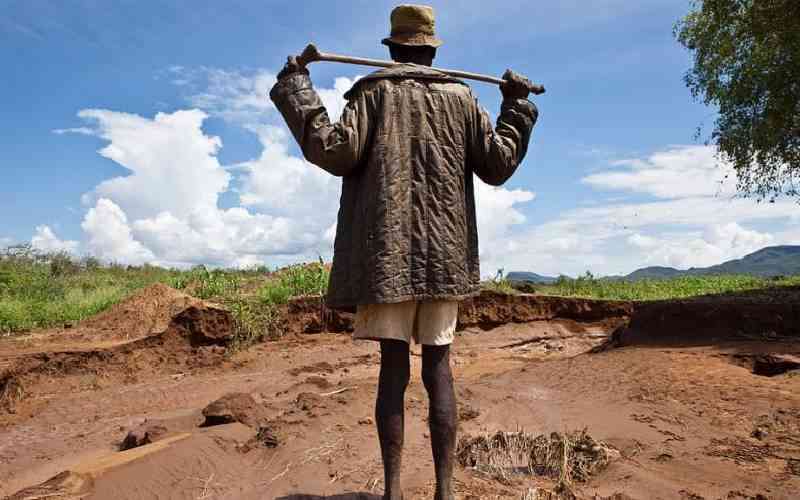 Migori County has partnered with several Non-Governmental Organizations (NGOs) in a journey aimed at restoring degraded land.
The county and the NGOs are banking on about 14,000 farmers from within the county to implement the redegradation plan seeking to restore 6.4 hectares of land.
The Restore Africa plan further seeks to suppress 8 million metric tons of carbon dioxide in the county.
The farmers have been placed at the center of the program which has Restore Africa-World Vision, Africa Harvest and Green Belt movement joining the county in an initiative aimed at lowering the effects of climate change in the region.
The initiative has focus placed on Nyatike constituency, which is among counties that have been for years affected by effects of climate change due to land degradation.
Environment CEC Rahab Robi said Nyatike was chosen as the main area of focus as there are lands that are degraded in the region which include the mining areas.
"Climate change is about adaptation and mitigation. It takes a stakeholder and eagles eye to work on this and also to improve the forest cover of Migori," Ms Robi said.
Governor Ayacko's administration plans to have 15 million trees planted within seven years.
Kimani Kiunga who is the director for Restore Africa pointed out that the program dubbed Resore Africa said the initiative will help restore communities through climate smart agriculture that can withstand the effects of climate change and establish 14 million trees in agro forestry systems.
He said the organization will be laying a five-year foundation in the program that will run for 30 years.
"We aim at offering sustained improvement in ecosystem restoration, livelihoods and resilience to climate change for smallholder farmers and pastoralists," Mr Kiunga said.
It targets 250, 000 households in five counties which include Migori, Narok, Elgeiyo Marakwet, Kwale and Kilifi where they aim at restoring 250 hectares of land.
The farmer-driven program would accelerate the adoption of echo-system based land restoration approaches such as Farmer Managed Natural Regeneration (FMNR) and other complementary agro forestry practices.
Restore Africa program will see direct planting of 728, 800 trees where it will have 392, 000 trees managed through FMNR in Nyatike.
Agriculture CEC Lucas Mosenda said they would work jointly with farmers to ensure they get the right information and are supported to undertake practices that are in line with climate smart agriculture.
"This initiative not only looks at forest cover but also looks at the restoration of livelihoods. We are also on a program of educating our farmers on the type of crops that are likely to perform well," Mosenda explained.
He said they were deploying preparedness to ensure that farmers in the county are not affected by the climate change effects that keep standing on their way in terms of the benefits they are supposed to be getting from their lands.
The minimum global forest cover should be 10 per cent, but Migori is way below the mark as it has only 0.3 per cent.
Related Topics