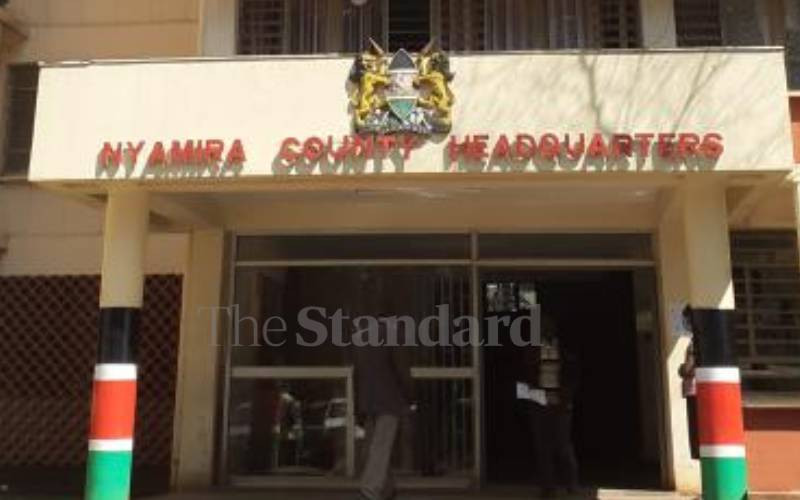 Senior county government officials are at pains to explain how a junior staff was to be paid more than Sh25 million last month.
In a payslip dated February 25 for the staff at the Ekerenyo Market was paid Sh25,018,852 in special allowance.
The 31-year-old woman also received Sh4,770 in what the county termed as basic salary arrears, a "special salary" of Sh8,404, commuter allowance of Sh4,000 and Sh1,500 in commuter allowance arrears, raising her total gross earnings to Sh25,037,526.
According to the payslip, the employee was to have a total deduction of Sh9,604,692.40, remaining with a net pay of Sh15,432,833.60.
And following an uproar, the Human Resource Director Godfrey Kiriago termed it an error. In a letter dated March 6, the administration said the woman was paid the Sh25 million as house allowance instead of Sh2,700 for the month of March.
"Please note that the excess salary paid to you erroneously has been deducted from your pay, but your salary for March 2023 has been paid plus your accrued salary arrears and allowances totalling Sh19,052," said Kiriago.
A similar incident was reported last year after a payslip alleged to be that of Governor Amos Nyaribo leaked, showing the county boss was to receive Sh6.5 million pay.
The alleged payslip for the month of September, 2022, showed the Governor was to earn arrears amounting to Sh5.6 million. After deductions, the Governor was to take home Sh4 million.
On November 10, the County Government Press Service issued a statement saying: "The arrears reflected as a result of upward adjustments for Deputy Governors emanating from a case between the County Government of Kakamega and SRC. All counties had effected the ruling except Nyamira."
"When the Governor assumed the role of governor in January 2021, he continued receiving the deputy governor's salary until August 2021 when it was adjusted and the difference between January and August paid in arrears."
Following the anomaly, a senior accountant in the county government has questioned the capacity of the staff working in the payroll section and those in the Finance Department.
"Unless the county has employed quacks, this would have been detected during the payroll reconciliation. Even the bank should have questioned the huge salary. Financial Management Systems do not make errors of such nature. Must have been done manually," said the official who did not want to be identified.
The leaking of the payslip, according to some staff at the Finance Department, could be an inside job.
Related Topics