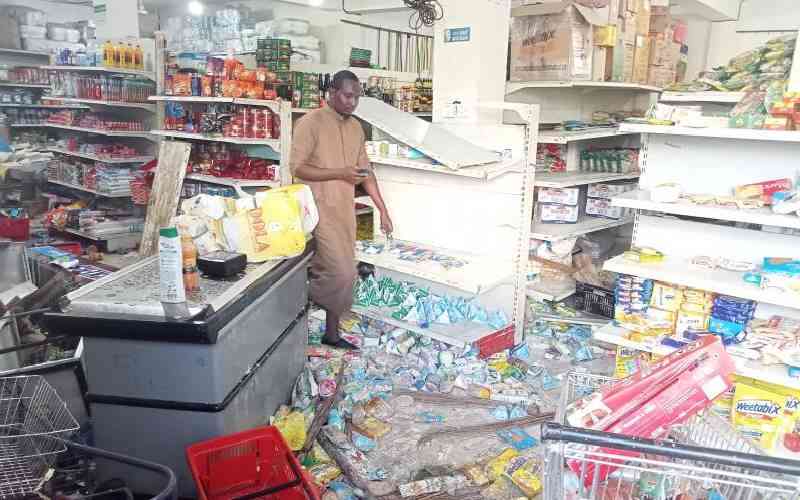 Traders in Nyanza are counting heavy losses as the region's economy begins to feel the pinch of the biweekly demonstrations by the Azimio la Umoja-One Kenya coalition.
This has been compounded by goons taking advantage of the protests to rob innocent residents and loot business establishments sparking economic anxiety.
In Migori, the goons are even forcing residents to buy stones between Sh10 and Sh20 before being allowed to pass illegal road blocks erected along the Migori-Isebania highway.
Apart from the destruction and looting of property worth millions of shillings, the demos have also led to the loss of lives.
Economic experts as well as a section of traders fear the effects of the protests will cause ripple effects that will take several years to address, adding it will take elaborate efforts to boost investor confidence again.
On Thursday, when the guns fell silent and smoke that had been billowing from several parts of Kisumu town disappeared to mark the end of another day of mass protests, a number of businesses had suffered huge financial losses.
For Hussein Hassan, the proprietor of Jamia Supermarket, it was a day that saw a huge chunk of his investment estimated to be worth Sh13 million looted by violent protestors who broke into his supermarket.
When The Standard on Saturday caught up with him, the pain of his loss was written in his face as he emotionally recounted how he watched helplessly as the goons looted goods from his shop.
"They broke into the supermarket and stole goods. They stole commodities like wheat flour, maize flour, milk and sugar from the shelves," said Hussein.
The protestors had claimed his shop was providing police officers with water and milk before attacking it.
Yesterday, a police officer who was also attacked next to the premises succumbed to his injuries while undergoing treatment at Aga Khan hospital.
According to a police report seen by The Standard, the deceased was part of a contingent of police officers deployed to Kisumu from Nyamira.
They had been engaging protestors next to Jamia Supermarket before the protestors overwhelmed them and forced the officers to retreat.
A few metres from Jamia Supermarket, a number of mechanic shops at Jua Kali area suffered heavy losses after a teargas canister lobbed at protestors exploded in one of the shops and ignited fire.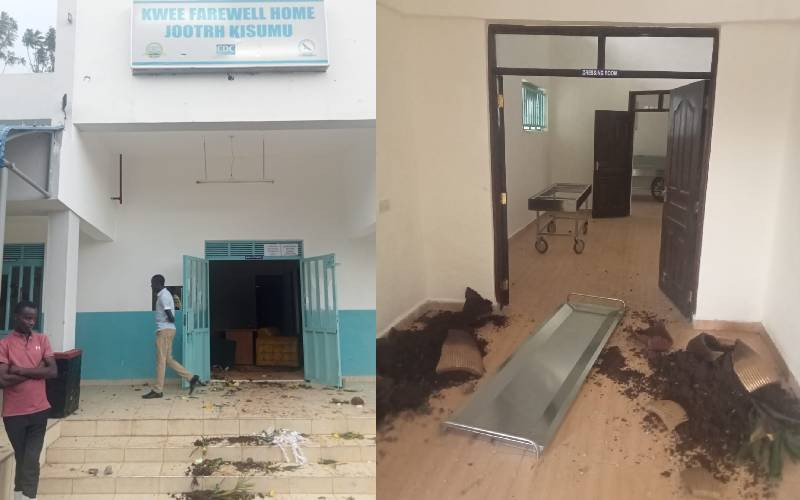 Maxwel Otieno, one of the traders, claimed he lost vehicle spare parts worth Sh1 million.
"It is a big blow for me. I was financing a loan that I used to restock my shop," he said.
A night club was also looted in Kisumu during the first day of the protests. Sarova Imperial Hotel was also targeted during the first day.
In Migori, a KCB bank branch was raided as protestors attempted to storm it.
A newly built Sh 37 million funeral parlour at Jaramogi Oginga Odinga Teaching and Referral Hospital in Kisumu was also destructed.
The looters had targeted equipment that was installed at the facility barely two weeks ago.
The morgue christened "Kwee Funeral Home", which was barely one week ago, was launched by Governor Anyang Nyong'o, on March 28.
The group gained access to the morgue to confront police who took the body of a man killed by a mob at Nyamasaria to the facility. The protesters broke window panes, brought down the gate and stole hospital equipment.
Lynched by a mob
Trouble started when protestors saw a police vehicle ferrying a body to the facility. The protestors accused the police of sneaking dead bodies into the morgue.
The deceased was lynched by a mob for snatching a mobile phone from a protestor in Nyamasaria.
Chaos ensued as the rowdy group forcefully entered the facility and broke the doors. They catered to various equipment from the facility and threw out chairs.
The trail of destruction was visible from the damaged doors, destroyed furniture to scattered equipment.
Nyong'o condemned the attack and claimed that goons masquerading as protestors were behind the attack.
He described the attack on the new funeral home- the first of its kind in Nyanza, as barbaric.
The Governor wondered why the police did not protect the facility from the gang, which also carted away computers and other valuable equipment. He asked the police to hunt and arrest the criminals.
The state-of-the-art mortuary has a 24 body refrigeration unit, an indoor body trolley with a tray, an outdoor body trolley with a tray and cover, a post mortem table, a sample safe, an embalming table, an autopsy set, and a hydraulic body lift. The looters vandalised some of the equipment they could not carry.
The goons also mugged residents, including those walking home from work.
At Nyamasaria, goons erected a illegal road block and forced motorists to part with between Sh100 and Sh200 to allow them to pass. A similar scene was also witnessed at Kondele and Car Wash areas.
Fred Ouko, a resident of Migosi estate, claimed that goons snatched his laptop bag while on his way back home.
"They harassed me and violently took my bag," he said adding that he was also forced to carry a stone as a sign of solidarity with the group.
Those boarding boda boda had been forced to pay Sh20 for a stone for them to pass. County Commander Mark Wanjala said they have not received reports of the incidents.
"Save for the case where protestors broke KCB Bank's door in Rongo where nothing was stolen, we have not witnessed any case of stealing," Wanjala said.
Leaders, including Governor Ochillo Ayacko, condemned destruction and urged residents to hold peaceful demonstrations.
Israel Agina, chairman of the National Chamber of Commerce and Industries Kisumu, said businesses have lost income as a result of the protests.
"All of us know that when you close and you don't operate your business can not generate any income. We have also been very much affected by acts of vandalism and looting that happens during the protests," Agina said.
He challenged police officers to protect property during the demonstrations.
[Harold Odhiambo, Clinton Ambujo, Anne Atieno and Olivia Odhiambo]
Related Topics