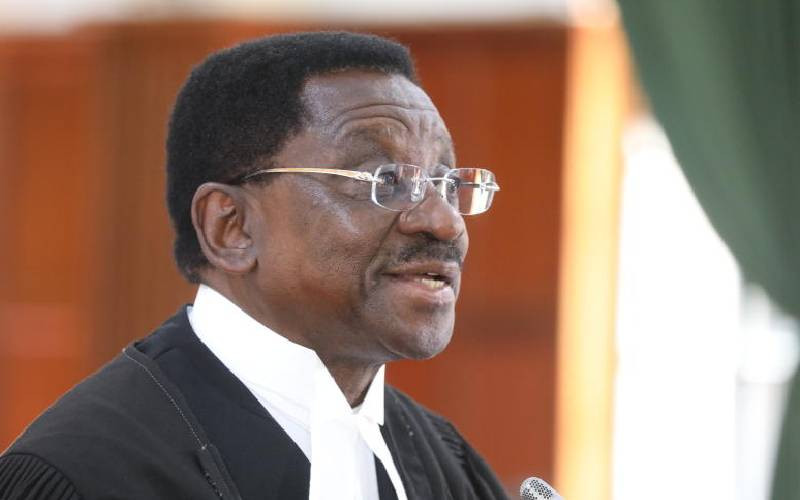 A leadership row has emerged pitting Governor James Orengo against his deputy William Oduol as cracks begin to appear over the running of the devolved unit.
The development is bound to present Mr Orengo with the first major headache as he strives to steady his ship that has run into a storm, barely six months since the two walked into office.
The Sunday Standard has established that the row has been building over the last few months, with allies of Mr Oduol piling pressure on Mr Orengo to address a number of issues.
Mr Oduol believes there are forces within the Executive keen on sidelining him and the people of Alego Usonga sub-County where he hails from, but has vowed to fight for what he describes as his "rights and the rights of his people".
On Friday, however, the differences played out in public during a burial in Alego Usonga after Oduol admitted that he has ideological differences with Governor Orengo over the running of the devolved unit.
In an interview with journalists, Oduol confirmed that he had disagreed with the governor on managing county affairs but said he is open to resolving the woes.
"There is no fallout between us. It's just ideological differences on how to manage the county affairs," said the deputy governor.
But speaking at a funeral in Alego Usonga on Friday, Oduol went bare-knuckle and claimed that his allies were being mistreated by Orengo's administration.
He claimed he has also been sidelined in activities of the county, adding that he has not been assigned duties by the Executive, even as his allies continue to walk a tight rope.
"They are now planning to impeach the County Executive for Water who comes from Alego-Usonga," said Oduol, adding that a number of projects in Alego-Usonga have also been removed from the budget.
Among the projects he claimed have been reversed include the construction of Governor and Deputy Governor's residence in Got Akara and Segere road that was initiated by former Governor Cornel Rasanga.
Oduol, who vowed to continue exposing what he described as "rot" in the county government, said Alego-Usonga are the majority and cannot be ignored in management of the devolved unit.
The deputy governor went on a tirade in a WhatsApp group for Siaya professionals dubbed 'Siaya Political Forum', where he vowed not to resign, claiming he will not allow the county's resources to be plundered.
"I will not resign. I will defend the people of Siaya," he wrote in part.
But Orengo, through his director of communication Ben Agina, has downplayed the fallout and denied knowledge of any rift between them.
Although Orengo's fold appears uninterested with the issue, recent developments indicate that the row has split their supporters and attracted the attention of ODM party.
In a statement by Alego-Usonga sub-county ODM Chairman John Orwenjo last week, a section of residents of West Alego ward, where Oduol comes from, urged the two leaders to iron out their differences.
"We elected the two leaders on a joint ticket and we expect them to work together without one person being sidelined," said Mr Orwenjo.
Hours after Orwenjo's statement, Orengo's supporters in Bondo sub-county laughed off the claims, saying Oduol was not only representing Alego-Usonga where he comes from, but also the entire Siaya County.
"We want to remind the people of Alego-Usonga that they need to know that a deputy governor has no specified role and therefore Oduol needs not to complain even if he is assigned duties or not," said William Agot.
However yesterday, Alego Usonga Member of Parliament Samuel Atandi, who is an ally to Orengo, said he was optimistic that the issues between the governor and his deputy will be resolved.
"Those perceived differences are expected especially in a new administration. I'm convinced that everything will be sorted out since the Governor has the capacity to lead," said Atandi.
Related Topics