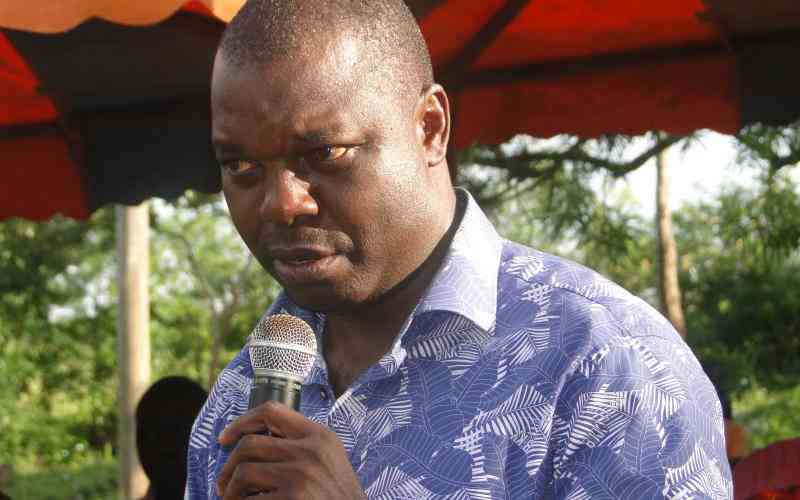 Bondo MP Gideon Ochanda is straight talker who loves shooting from the hip. He is among the few ODM leaders who have enjoyed a love-hate relationship with the Orange party but continued to win three consecutive terms.
If it was the wish of some ODM titans, Dr Ochanda could have already been thrown under the mighty weight of the ODM bus in Nyanza and his attachment with the party blown up in flames.
In the party, he has seemingly been treated with suspicion since 2013 and has battled the "mole" tag for several years amid an onslaught from top officials keen to thrown him out.
All the attempts, including fronting senior ODM member Oburu Oginga to wrestle the seat from him in 2017 as well giving support to his 2022 competitor Andiwo Mwai, have all crumbled under the Ochanda's defiance. In last year's General Election, he was among the few Luo MPs who were never granted the luxury of a direct party ticket to defend their seats. He had to work tooth and nail to fly the party's ticket.
And now, the lawmaker is putting on a brave face in the wake of another controversy as key party officials intensify efforts to kick him out of the ODM after he met President William Ruto alongside seven other party MPs a few weeks ago.
However, a defiant Ochanda has chosen to stand firm and fight to save himself and his career. He is not a stranger to controversy and appears ready to battle the fresh quest to bundle him out of the party over alleged disloyalty.
"We have our colleagues in the party who brand everyone who holds contrary opinion as moles and single-handedly choose and invites politicians to attend functions with the party leader," says Ochanda.
Since his entry into politics more than two decades ago, Ochanda has battled several controversies as he struggled to stay on course.
In his youthful years, he was among the aides of Jaramogi Oginga Odinga but has now lost the faith of the Jaramogi family after being branded a rebel. The lawmaker, who is serving his third term after succeeding Oburu in 2013, has been on the receiving end.
Political enemies
Ochanda's woes started in 2016 during ODM's 10th anniversary celebrations in Mombasa where party leader Raila Odinga was endorsed as the party's presidential flag bearer. He was missing. The development attracted criticisms from party members who claimed he was courting their political enemies.
The following year, the party piled pressure on him to step down for Oburu as the party's candidate for the Bondo seat in 2017. He declined and went for nominations with Oburu and won.
Ochanda's win was nullified after Oburu rejected the results, with the party ordering a recount amid protests and chaos from Ochanda's supporters. Following the party's decision to uphold Ochanda's victory in the official party list after an intense pressure from his supporters, Oburu accepted the outcome. It marked the beginning of the unending feuds between Ochanda and his predecessor's allies.
In 2020, Ochanda survived a removal from the Budget committee in Parliament after he was accused of being disloyal to the party. Despite the pressure, he did not quit the party.
In a statement issued by the then Bondo ODM sub-branch Organising Secretary George Mawere, the officials accused the MP of having links with the then Deputy President Ruto.
"As the party's official in the constituency, we no longer have confidence in our MP," said Mawere.
In the run-up to the August 9, 2022 polls, Ochanda was involved in another battle to secure his seat after his main challenger John Andiwo challenged his victory in the primaries held on April 13, 2022. The MP's nomination was nullified and a repeat election ordered.
For the last ten years, the lawmaker has been loved and hated in equal measure, because of his double-edged personality and leadership style.
When he first declared interest to unseat Oburu in 2002, his critics wrote him off as a political novice. He vied on Social Democratic Party (SDP) and garnered 6,741 votes against Oburu's 42,270. He unsuccessfully made a second attempt in 2007 before winning the seat in 2013 after Oburu declared interest for the Siaya County governor's seat.
His supporters praise him for standing firm despite being a target in the party. They claim he is a performer who has developed his constituency. Among the projects that have earned him praise include the universal Sh6,000 bursary for all secondary day school students, school feeding programme and renovation of schools.
"Ochanda is a politician who will never stand any form of violence or confrontation. If you were to attack him with words or otherwise, he will sit back and watch you. He doesn't know how to quarrel," says Salim Odeny, a political analyst.
Ochanda, who has maintained that he has no links with Kenya Kwanza administration, accused some politicians of surviving on blackmail.
Silent and careful
He says he has been deliberately quiet and careful on what to say and where to say it. "Bondo is not an ordinary constituency because our party leader listens to his elder brother Oburu more than any other person," says Ochanda.
According to the lawmaker, he has no personal issues with his predecessor. "Many times when I do things, it might appear to be a problem to Oburu and not Raila. That's why I always choose to keep away in order to avoid a showdown with the 'palace'," he adds. The MP, who is alleged to be leading the ODM renegades, says he wants to work with the government in order to see key development projects in the constituency.
"It is clear we are behind in development because of politics and the only time we got anything tangible is when we bowed back to the government. I therefore don't regret having made this decision," said Ochanda.
Last week, the party suspended him from his position as the secretary for Bondo branch and replaced him with Yimbo East MCA Francis Otiato in an acting capacity.
Further, the delegates led by the branch chairman Oburu announced that they will write to ODM headquarters to take action against Ochanda for allegedly breaching party rules.
Oburu, who is also the Siaya Senator, accused Ochanda of attacking the party and its policies.
"The current situation in our party is that people who are cowards are leaving the party. The MP is giving fodder to our enemies. We cannot allow this to continue," said Oburu.
Related Topics