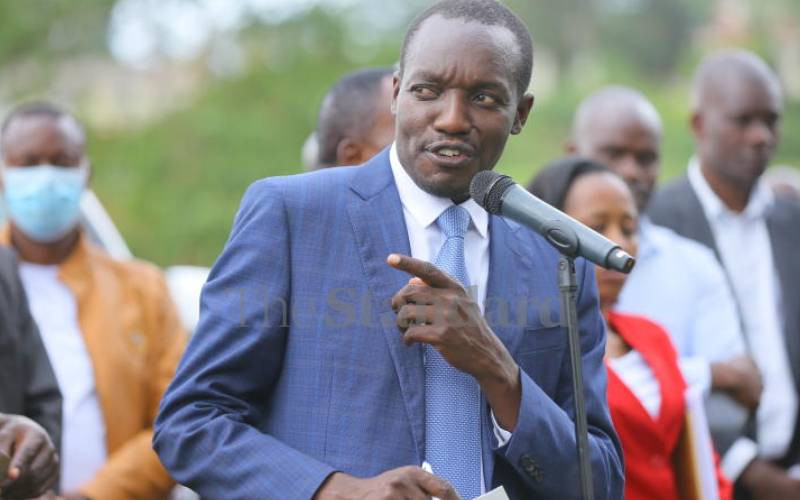 If the supplementary budget is approved by the assembly, Kisii Governor Simba Arati plans to spend Sh10 million on the verification of academic certificates for all of his staff.
Arati said the exercise will be conducted for the 5,900 county employees at half the normal rates charged by the Kenya National Examinations Council (Knec).
The governor said some of the staff had presented fake documents for their employment in the county after presenting himself for the staff headcount exercise at Kisii Agricultural Centre.
"I know it will be difficult. The funds will be used for certificate verification. We will need to obtain the correct grades that they received."
Knec charges Sh2,320 for an application for a statement of examination result within the county and Sh3,480 for cases outside the country.
In Kenya, validating or confirming the authenticity of education certificates is accomplished by submitting an application to Knec for a statement of examination results.
As the country-wide crackdown on forgeries continues, the Kenya National Qualifications Authority (KNQA) has launched a new system for reporting cases of fake certificates. The county had hired the Institute of Human Resource Management to carry out the exercise and report back within 30 days.
"We need to reduce our wage bill by ensuring the right people are paid. The wage bill is excessive, and it is eating into our development budget.
"The Salaries and Remuneration Commission and the Controller of Budget have both warned us about the rising and high wage bill; we must change," Arati said.
According to a memo signed by the County Public Service Board chairperson, Nyamwange Nancy, a week ago, the staff headcount exercise was held on November 15, 18, 21 and 22.
All employees were required to bring original copies of their appointment letter, letter of current position, letter of promotion or re-designation, national identity card, last three months' pay slips, academic and professional certificates, filled headcount questionnaire, and coloured passport photos. The county conducted its first staff headcount in 2014, but the report has never been made public.
Related Topics