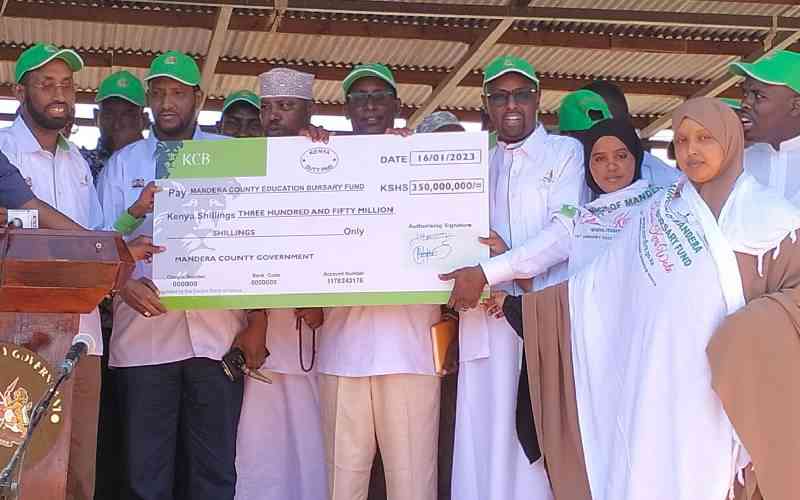 Over 16,000 students in Mandera's public school are set to benefit from a subsidized scholarship Programme.
This is after governor Mohamed Kalif unveiled a Sh350 million plan that will see the students across the county get upto to 60 per cent of their total fees.
Governor Kalif said the money will cater for those in public secondary schools with an additional 10 per cent going to those in day schools to make it 70 per cent.
He said about 16,030 students will be relieved of school fees burden as they benefit from the programme which will specifically cater for tuition fees.
"As promised in my manifesto, my government has allocated Sh350 million for bursary funds for this year. No child should thus be sent home for school fees," said Kalif.
The county boss said God willing in his five-year tenure, he will ensure despite the challenges the county is facing, students remain nin school to maximize on the school calender.
He said the plan to introduce the subsidized scholarship programme was occasioned by the current ravaging droughts that have left many residents off the balance.
His sentiments were echoed by county director of education Abdi Sheikh who warned all the principals over sending students home for school fees.
"I want to assure all parents that no principal will send public secondary schools children home for failing to raise school fees. I will close the office of any principal who will dare go against this directive," said Sheikh.
Hafsa Abdi, a camel herder who thanked the government on the disbursement of the schools money said she had previously sold her camels to pay for the fees for her children.
"All my livestock have died due to the current droughts and I was worried on where I will get money to pay for the school fees. I am relieved because through this plan, they will all be in school for the next four years," she said.
Lawyer Abdinasir Abdullahi (Grand Mullah) said the governor should be supported by all stakeholders within the county to actualize the plan.
"Mandera Governor Khalif must be commended by all for providing 100% bursary for every needy secondary school student in Mandera...this is a revolutionary act that will transform education in the county...Governor CONGRATULATIONS". Said Abdinasir in a tweet
According to the chairperson of bursary board Mr Kullow Aftin, the money for this year will be disbursed in three phases of 50, 30, and 20 per cent in the respective terms.
Related Topics