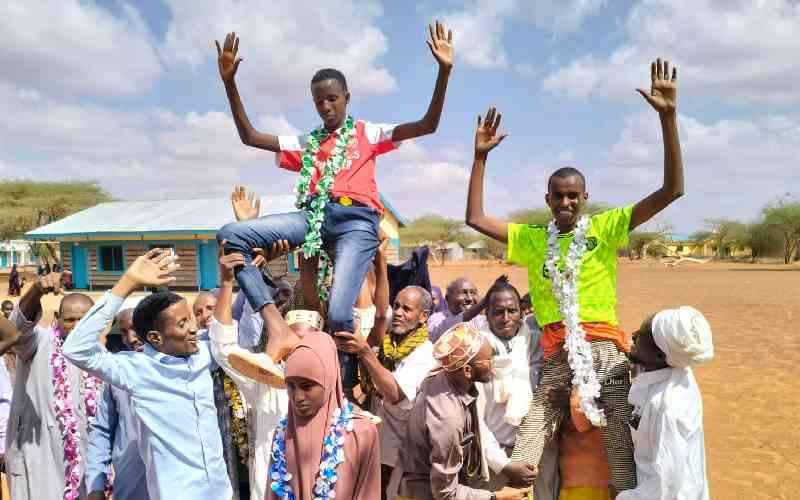 Lafey Boarding Primary School in Mandera County has experienced constant insecurity threats posed by Al Shabaab militia.
Due to the threats, the school has operated without enough trained teachers for more than a decade.
But the school with a population of 1,305 pupils defied the odds to produce the top candidate in Mandera County among public schools in the just-released Kenya Certificate of Primary Education (KCPE) examination results.
The best pupil, Abdikadir Abdisalam Hussein, scored 403 marks out of 500. Other top candidates from the school were Kheira Adan Hajir with 399 marks and Mohamed Abdi Dayib with 394 marks.
Abdisalam and Adan aspire to be doctors while Abdi hopes to pursue engineering.
Citing several instances when teachers are forced keep switching sleeping locations at night in a desperate bid to avoid Al Shabaab attacks, school Headteacher Khalif Ali Ahmed lamented how insecurity had disrupted learning and preparation for exams.
"Apart from insecurity, we are in dire need of classrooms and more teachers since we only have 16 teachers for a school with a population of 1305 learners," said Mr Ahmed.
The bottom candidate scored 248 marks.
Lafey MP Mohamed Abdiker promised to sponsor the best performers.
"During my campaign I promised to sponsor the best five candidates and God willing I will deliver the promise," he said.
Abdiker said his office was committed to investing in education, which he said was the only means to turn around the living standards of the border constituency.
"I have committed myself to work on the education sector of our constituency by making sure that our institutions get the necessary support," he said.
Related Topics