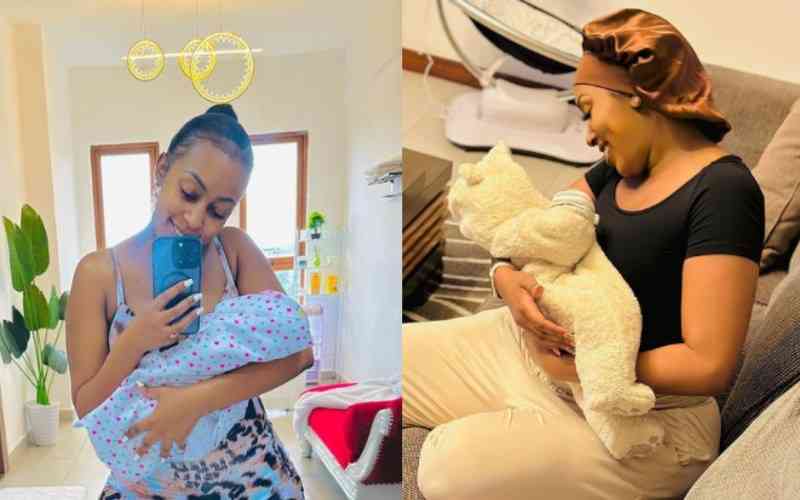 Socialite Amber Ray has turned to her online fans to help her figure out ways to increase her milk production after revealing she is unable to breastfeed her one-month-old daughter.
Opening up on her dilemma in a recent Instagram post, Amber said she has tried various recommended ways to increase her milk but to no avail.
"There is something that is really bugging me and I just felt like I need to ask you guys. Mothers on here who are breastfeeding, what do you do to get breast milk because I have tried everything, I have eaten everything. I've tried the lactating cookies, I've tried the pills, I've tried everything but my milk is soo little. The maximum I can get is 50ml. seriously, what are you guys using?" she shared.
Incapable of figuring out the problem, the social media influencer questioned whether getting a child later in her life might have been a contributing factor to her lack of breast milk, explaining that things were better with her first child and she had so much milk.
"The funny thing is that with my first born I had so much milk or I've hit menopause already? Guys help, what is happening. I have tried pumping it's not working, I had to introduce my baby to formula and the thing about this is that she is now refusing to breastfeed," she said.
Not too long ago the excited new mom threw a party for her one-month-old daughter Africanah and fans could not keep calm.
"I am intentional with my relationships and this comes with intensity. Who I am is where I am and it requires the whole of me. So today I choose to celebrate the gift of lives, to thank God for one month with baby @africanahrapudo, riches and beauty, for money doesn't bring you beauty, money comes to grace your beauty…. Happy 1 month Baby @africanahrapudo," she wrote.
View this post on Instagram
A post shared by Amber Ray (@iam_amberay)
Amber Ray and her fiancé, businessman Kennedy Rapudo welcomed their first child together in May and judging from their respective online uploads, have been enjoying every moment of parenthood.
"About the saying 'you only live once "I'm starting to wonder how true that is! Could it be true that one day is like a thousand years and a thousand years like a day? I may have a few more unanswered questions, but as for now…My man is with me as the angel of my house and I'm a brand new mummy! Welcome home baby A… I have felt you all this life and now I get to see you, hear you and touch you…It's a brand new life. A life of many lives," wrote Amber.
Related Topics