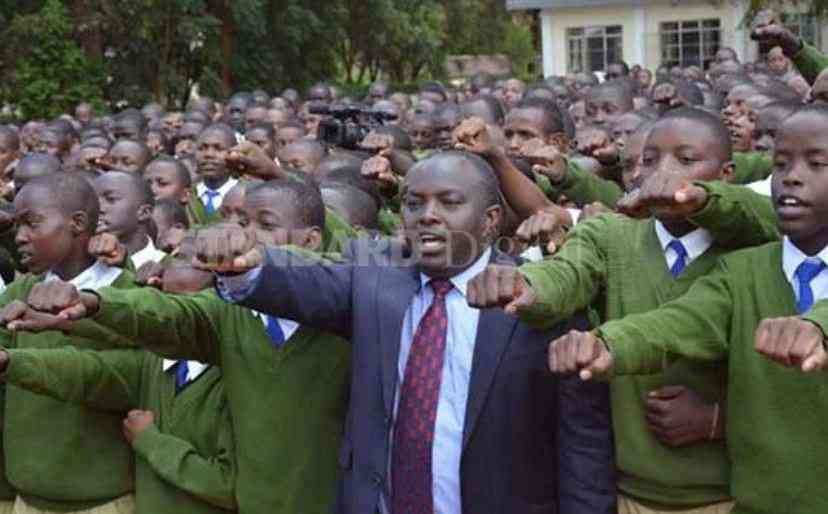 This week started with all the hullabaloo and excitement that comes with the emerging of the KCSE exams, and even on WhatsApp groups, the teasing talk, even by Wannabes, was about 'which school did you go to anyway?'
There were jokes along the lines of 'zamani, Wakamba never used to pass exams, so unawapata wamejaa jeshi which used then to take D+ and D plain.'
There used to be secondary schools, and then there were 'high schools,' in quotes for wannabes. Let me place them in their rightful categories .
National Schools: These was where the crème de la crème of those who passed KCPE went, literally to be 'promoted to higher glory,' and our brilliant Bush friends like Article 19's Mugambi Kiai are still convinced a better school than 'Alliance Boys' does not exist in the region.
That was why the genius Judge Majanja's comment about being 'in Alliance' became a trending meme and caused both mirth and consternation in equal measure.
I am sure if an Alliance Old Boy were to pass away, then you begin his eulogy from university, the corpse would knock the coffin top open, say 'Don't forget I WAS IN ALLIANCE ...'; before going back to its state of eternal rest in the casket.
Group of Schools: CS Kagwe's son had a hit song last year about 'mali safi huenda chain chain.'
GOS are those ones with a fleet of school buses, hefty fees and kindergarten-to-college chain.
Kids from Upper (most) Middle class families attend these schools, and some are good. Others are full of 'wannabes' who spend their years there playing rugby and/or chasing high school girls; but because of connections, after USIU, these wannabes will still find jobs – even at the top.
Provincial School Wannabes: The students in provincial high schools, more often than not, still manage to go on to college – and quite a number become quite senior in their workplaces.
But among them are Wannabes who feel life just shortchanged them a little bit, the sub-editor who says they 'missed Law by a point' (and wants to discuss finer points of defamation all day) or the mwalimu who yells students:
'I was meant to be attending to patients, not sick, silly students like you ...' as s/he moves around the biology/chemistry laboratory of a provincial school in a white lab-coat.
International Schools: You will never, or seldom, see or even interact with these wannabe offspring of the wealthy; the closest being on those memes at the start of school terms marveling at how someone can pay a million bob in fees per term. These ones go for school field trips abroad, as we wannabes get excited about 'Fort Jesus' for the fourteenth time.
Then disappear to universities in the UK and the US whose annual fees can construct houses.
District High Schools: This is where the majority of Kenyan high school students end up being accommodated, and I believe it is this Wannabes who bring ethnicity as a national issue. You go to primary and secondary school in your district, speak your vernacular, flop KCSE, join a local polytechnic, impregnate a Standard 8 drop out, never leave the county – and you're supposed to comprehend national animals like 'BBI' during referendum?
Private 'Academies' Wannabes: You can find these 'schools' everywhere from Langata to Zimmerman, where a fly-by-night businesswoman puts up a few bricks, calls it 'Harvard High School' and gets all the estate dolts to come pay fees, only to emerge with 'D' and 'Es' in 2024.
'Village Schools' – I will always imagine 'Nyakeminchia' of olde on my mind. These are technically not secondary schools. They are concrete, but more often other materiel contraptions – and they exist to churn out village idiots.
'Approved Schools' – juvenile delinquents spend their years here – ironic, because no one approves of 'approved' schools. Then when they grow up, they 'graduate into crime' and eventually get jailed. And use their educational skills to send you those funny 'reverse
Mpesa' messages or fake calls. If you call them out, you'll know walikuwa 'Approved School' when they say: 'Wewe ni mtoto wa mbwa wa Muthurwa na Malaya wa Majengo,' before hanging up.
'High Schools.' When I was a day scholar in Starehe sometime ago, near where we picked our 'Easich' mats, there was this Wannabe secondary school in the CBD called Rivals/Raffles/Rabbles/ Ravels. It was on the third floor of a decrepit badly wired building, between a bar and a cyber cafe.
The only thing I could think of a student emerging from that strange wannabe institution was a diploma in 'high school & photocopy studies.'
Related Topics