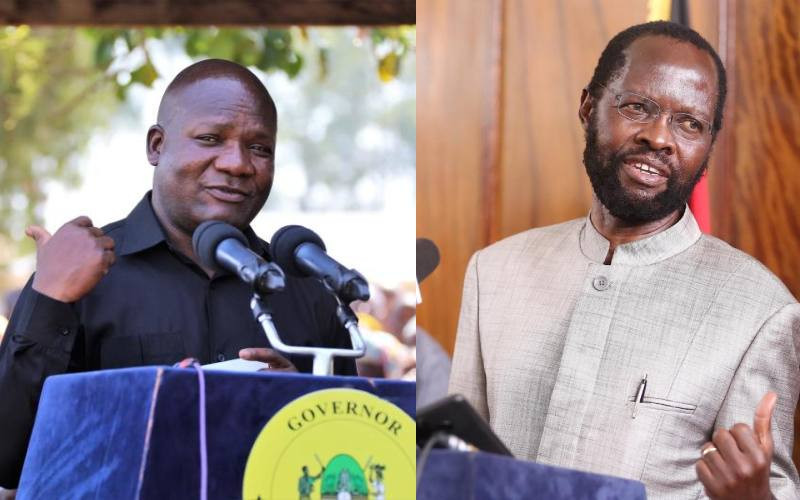 Kisumu County Governor Prof. Anyang' Nyong'o and his Kakamega counterpart Fernandes Barasa have opposed the state's plan to hold AFCON games in Nairobi and Eldoret.
This comes amid speculations that the state is planning to name the capital city and Uasin Gishu as the venues for the games. However, the government has not pronounced itself on the issue.
In a joint statement on Sunday, October 1, the duo argued that Western and Nyanza Regions are the home of football.
"This is a joint statement by Kisumu Governor, H.E Prof Peter Anyang' Nyong'o, and Kakamega Governor, H.E FCPA Ferdinand Baraza concerning the hosting of the Africa Cup of Nations in the three East African countries in 2027. The UDA government has announced that the AFCON 2027 football matches shall be held in Nairobi and Eldoret." the statement reads.
"This, in our view, is a tragic decision. Western Kenya should have been included with either matches being held in Kisumu or Kakamega."
Jointly, Barasa and Nyong'o have said that since Western and Nyanza are the home of most football fans, therefore, having the matches in Nairobi or Eldoret will attract fewer fans.
"The Western region of Kenya is where football fans exist in plenitude. NOT in Uashin Gishu, or Eldoret for that matter. The success of the matches will be on the turn-up at the stadium where the matches will be held. Eldoret has athletes and athletic fans in millions. But not soccer. And that is the naked truth. This means the Afcon matches will be played in empty stadiums with very little impact."
"It should be noted that our neighbors who are cohosting the tournament with us, under the PAMOJA proposal, have each chosen three venues namely: Uganda Kampala, Lira and Hoima; Tanzania-Dar e Salaam, Zanzibar, and Arusha. Why can't we do the same in Kenya?"
After six months of intense lobbying by Kenya, Uganda, and Tanzania in a joint plan termed "East Africa Pamoja Bid," the Confederation of African Football (CAF) on Wednesday handed the three East African countries the hosting rights of the 2027 edition of Africa's premier national football tournament that is held after two years.
Related Topics