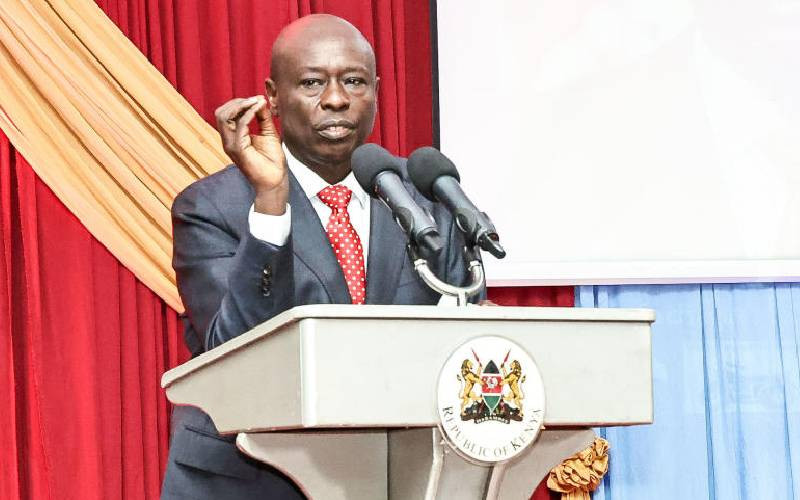 Deputy President Rigathi Gachagua has expressed frustrations in his mission to dislodge the lucrative coffee industry from profiteers he has labelled cartels.
Gachagua said although the government has succeeded in reforming the tea and dairy sector, the coffee industry is a hard nut to crack.
The deputy president regretted that the cartels have infiltrated government offices where they are spreading rumours and propaganda that the coffee market has been affected by the reforms.
"We have been defeated, not because we are lazy or because we have failed to work but because the cartels are too entrenched in that sector. There are about three to four cartels who are well organised," said the Deputy President.
Speaking at Kagere PCEA at Othaya in Nyeri county on Sunday, Gachagua explained that the battle to revive the sector was not for the faint-hearted but vowed to soldier on until he succeeds.
He said the cartels have regrouped and employed a new strategy of blackmailing and forcing the government to allow farmers to sell produce to them so as to frustrate efforts to revive the New Kenya Planters Co-operative Union (New KPCU).
"They take the biggest share of the farmers' produce in the name of grading but while exporting the produce they sell without grading and billing losses which they claim to be 35 per cent of the total sales where farmers are not present to determine the authenticity of the claims," he said.
While pleading for farmers to be patient, Gachagua said the coffee sector reforms will turn around their fortunes.
"The Bill for the reforms advocates for one man one job. If you are a marketer you will not be allowed to mill coffee and the cartels are opposed to it since they could not silence me, they are now crisscrossing trying to come up with propaganda and lies by creating an artificial problem," he added.
In January, the DP claimed that his brother, former Nyeri Governor Nderitu Gachagua, was poisoned by powerful coffee cartels suggesting how ruthless they are.
"Our family believes and we know that our brother was poisoned by the cartels, he was very healthy but when he declared war on cartels, his health deteriorated," he told Inooro TV.
Gachagua painted a picture of highly connected and convoluted coffee cartels who had deep pockets and have controlled state officials to deny coffee farmers their hard-earned money.
"When my brother declared war on cartels, they joined hands and went abroad and blocked the Kenyan coffee, a move that later incited locals against him. We are ready for that and have instituted certain measures that I won't disclose," he said.
He further claimed that the cartels had approached him and Agriculture Cabinet Secretary Mithika Linturi for bribes.
"When we appointed Linturi, they tried to bribe him with Sh30 million to fall for their trap but Linturi informed me and the Head of State. They had approached me and had offered Sh7 billion but I refused," Gachagua said.
His latest revelation comes two weeks after private millers met senior government officials at Weston Hotel, Nairobi, where they said the reforms would lead to mass job layoffs and closure of coffee mills as their licenses had been canceled.
James Mureithi, a representative of seven commercial millers whose licenses have been cancelled, said they will have no option but to lay off staff.
"Because our licenses have been cancelled, we cannot keep the staff and we have given them notice and before the end of October we will be laying a substantial number of about 18,500 employees," said Mureithi.
He noted that they have more than 7,000 hectares and produce around 10,500 metric tons out of the 51,800 metric tons that the country produces.
"The group manages to produce a little more than 20 per cent of Kenyan coffee and they finance up to 60 million dollars in the coffee sector," explained Mureithi.
State Department for Crops Development Principal Secretary Kello Harsama said they have received petitions from players indicating closure of some millers including four in Kiambu County and one in Nyeri County.
Farmers have in their stores coffee produce which is not processed and families relying on coffee are suffering with children staying at home because of lack of school fees.
"There have been indications that a number of employees have been laid off. Coffee mills have been closed very little coffee has been traded at the Nairobi Coffee Exchange because value chain actors have been disengaged and therefore coffee farmers are unable to efficiently trade," explained the PS.
National Coffee Cooperative of Kenya chairman Francis Ngone told The Standard Tuesday that the revelation by the DP was factual as the cartels are determined to thwart reforms.
"We are aware of high octane strategy to frustrate the efforts but Gachagua is giving us hope. He has transferred the coffee sub-sector reforms to the Cooperative Ministry and we thank him for this because we understand the behind the curtain games that are ongoing in the Ministry of Agriculture," he said.
Ngone said one of the biggest challenges the reforms were facing was some coffee societies working in cahoots with the cartels.
"Gradually some coffee societies have agreed to work with us but others are working with the private millers to frustrate the reform agenda. Nyeri and Meru are among the areas where we experience challenges," he said.
However, Githunguri MP Gathoni Wamuchomba said the revelation by Gachagua was a true testament that the country was in a crisis, especially in coffee-growing regions.
"While we support the reforms, they should not come to paralyze or kill the coffee sector value chain. In one of the private millers in Kiambu, over 400 people have lost their jobs and this will lead to a rise in insecurity incidences," said Wamuchomba.
She likened Gachagua's cry to that of a father whose children expect to bring bread but instead retorts to crying.
"By accepting that he has been defeated, he has owned the D- grade that he was offered by pollsters," Wamuchomba said, noting that another coffee miller has hoarded more than 500,000 bags of coffee after the licenses were cancelled.
The legislator wants the government to release Sh2 billion and pay farmers who have continued to languish in poverty as a result of the crisis.
Related Topics